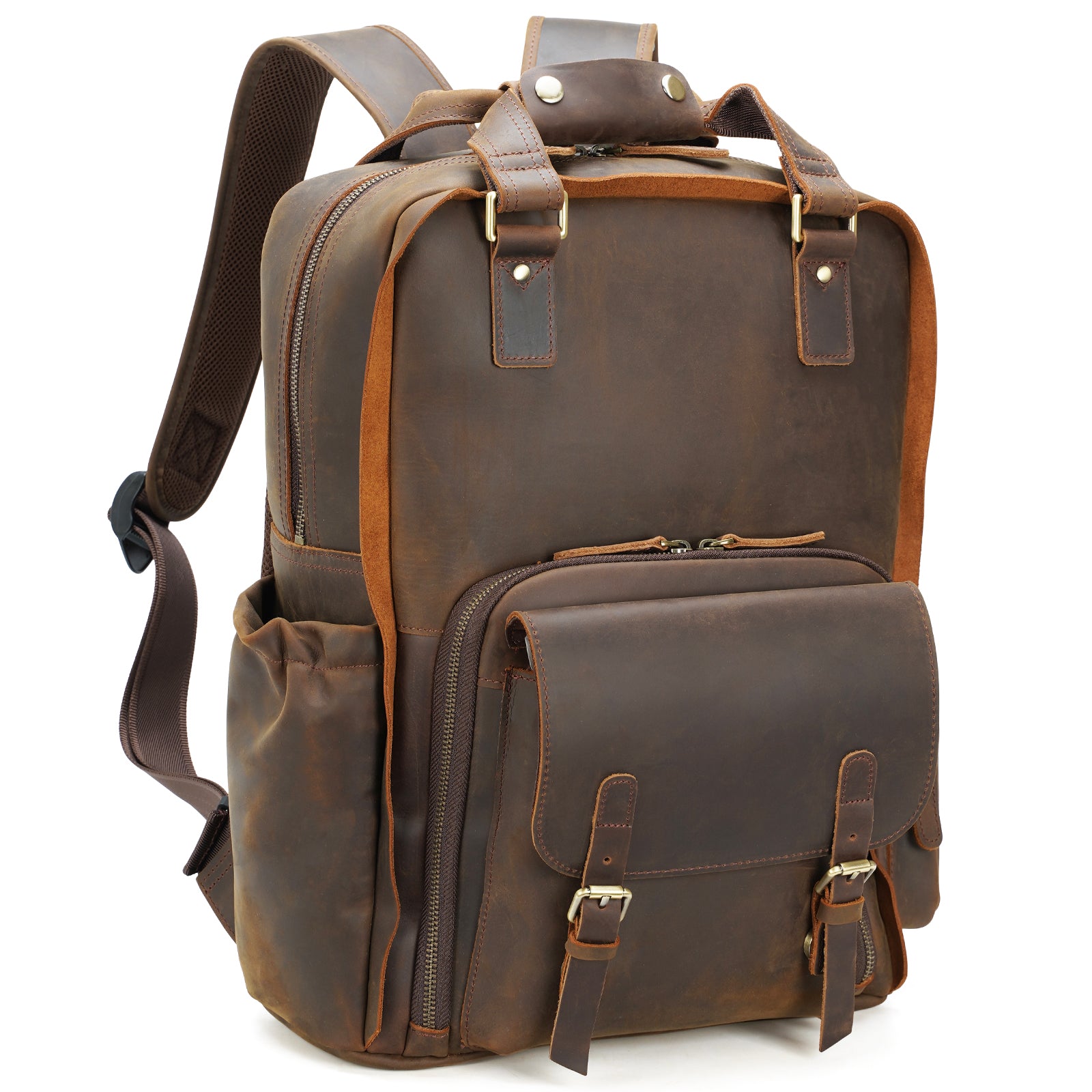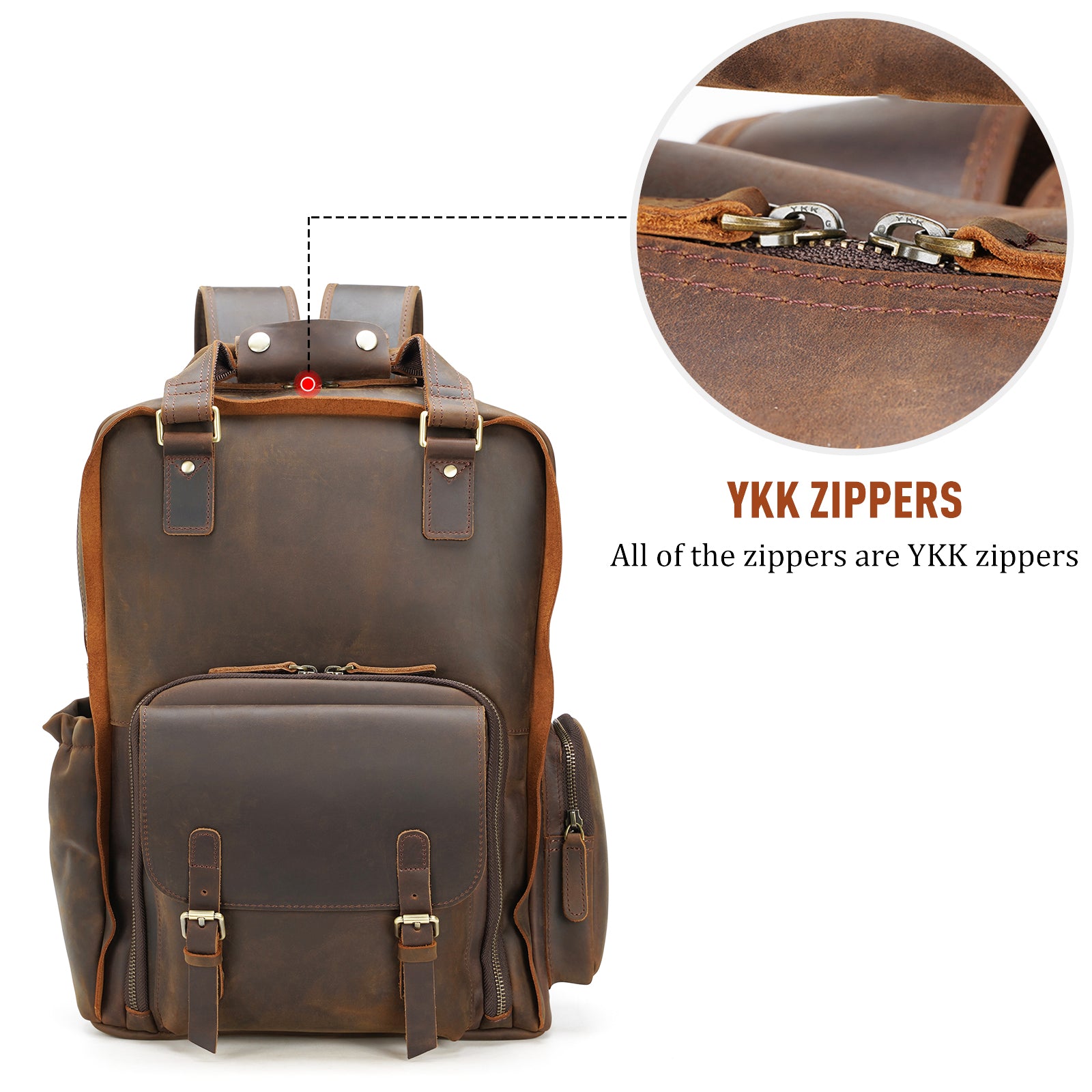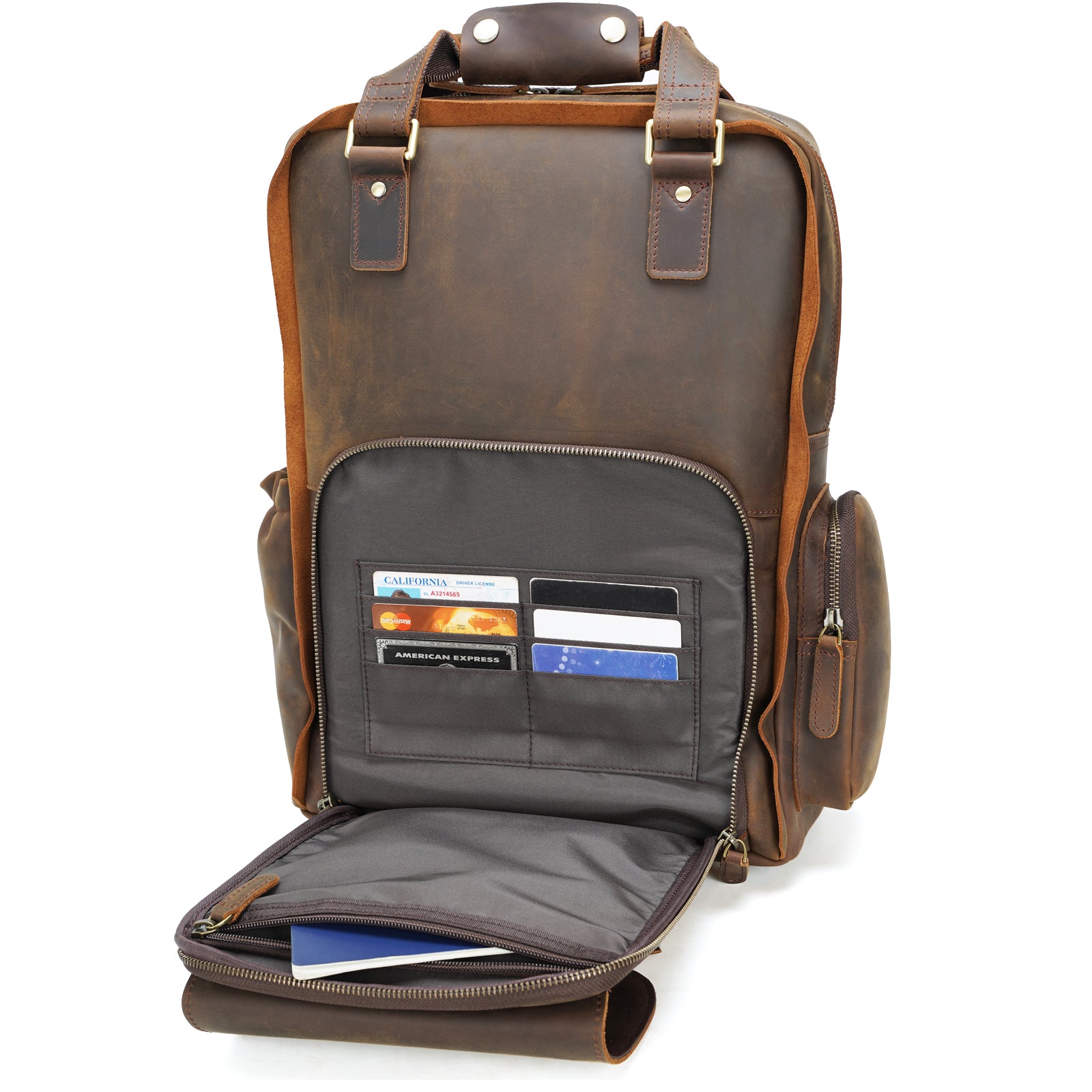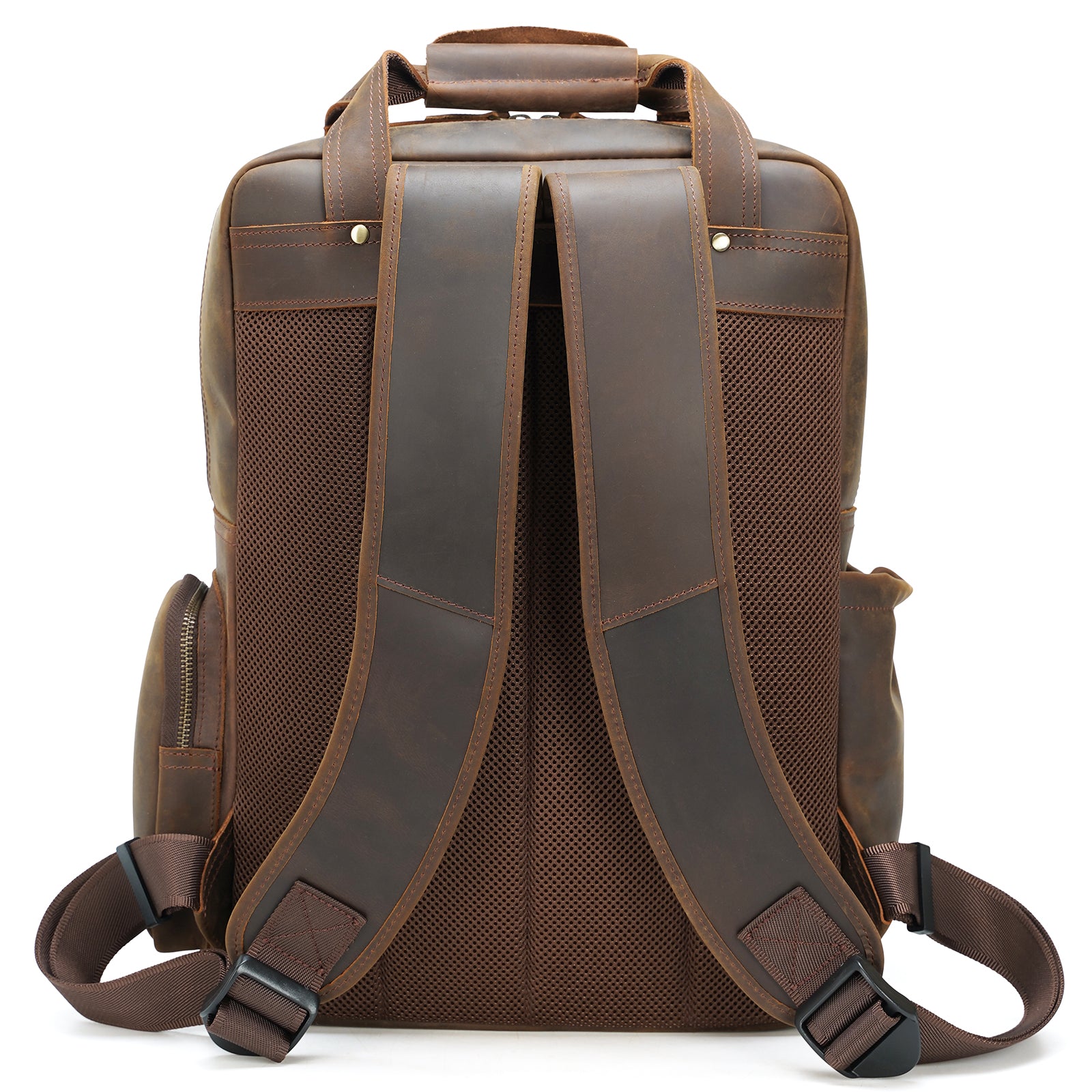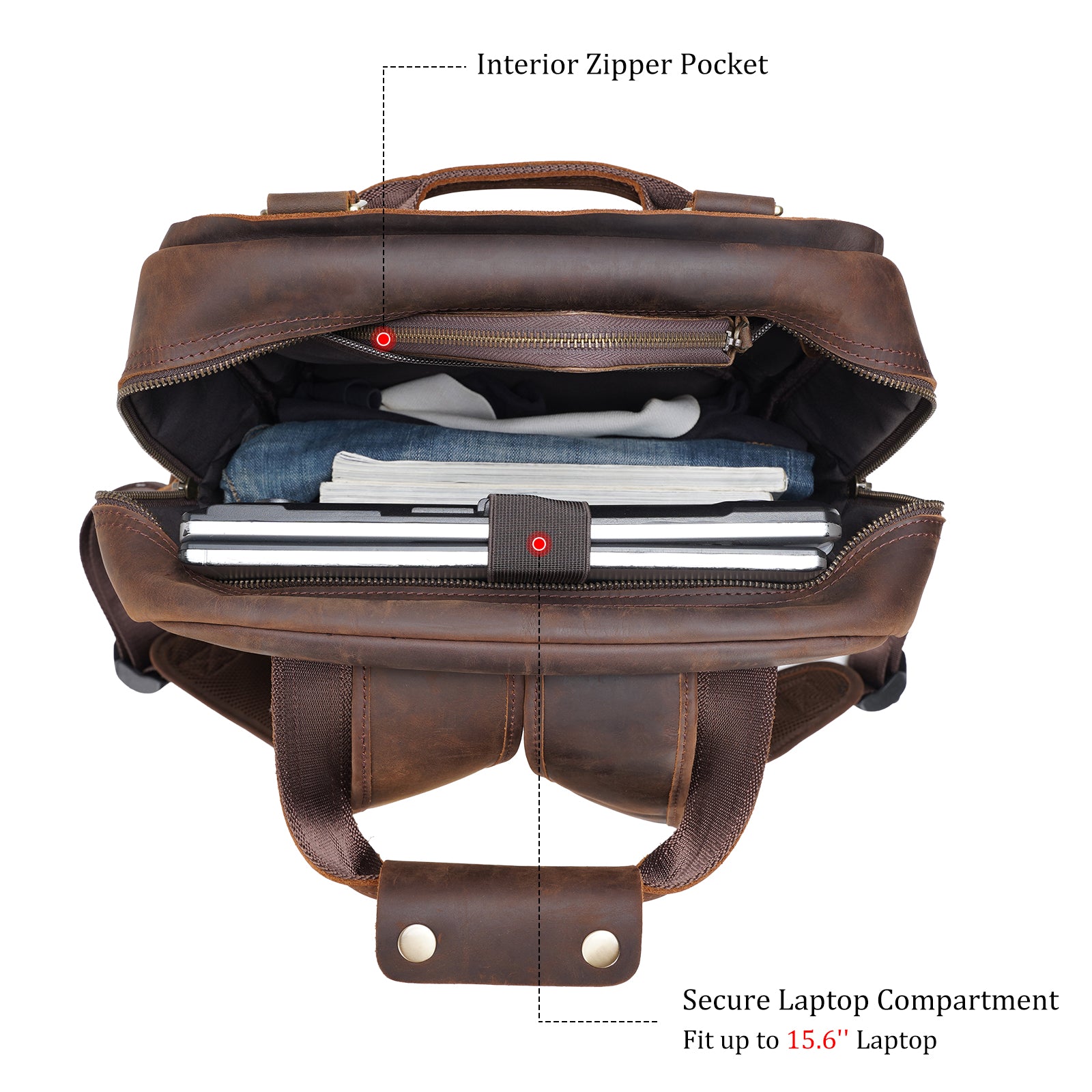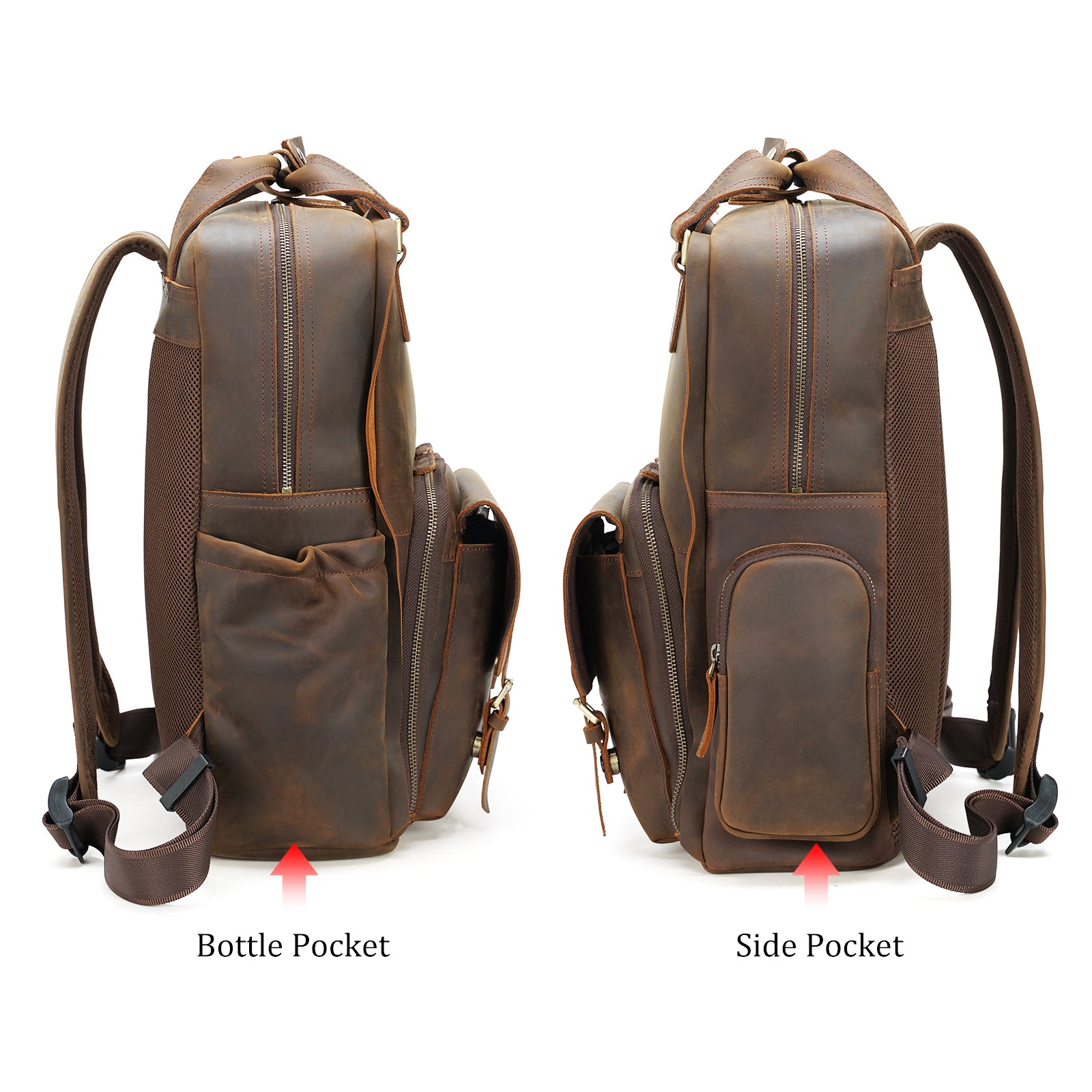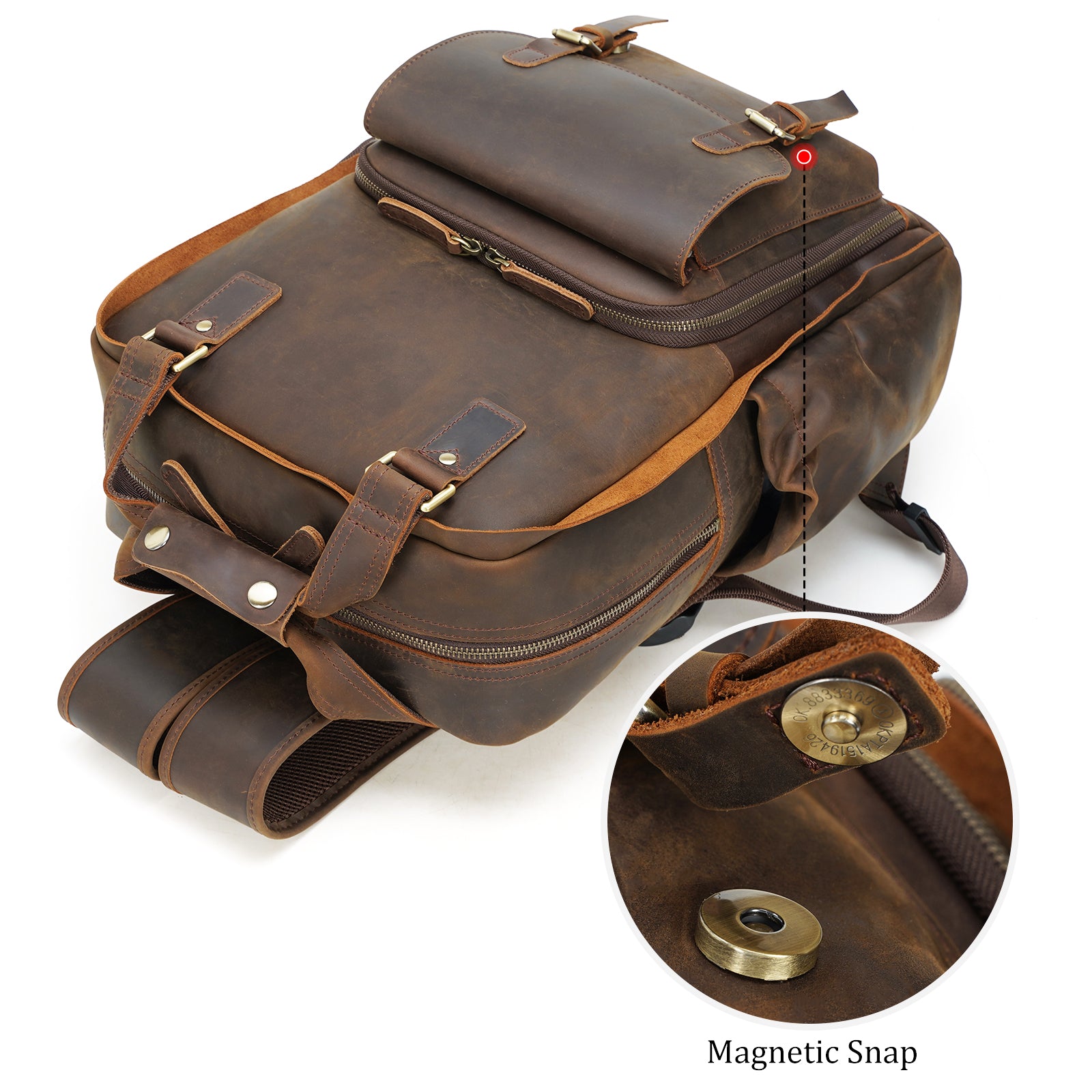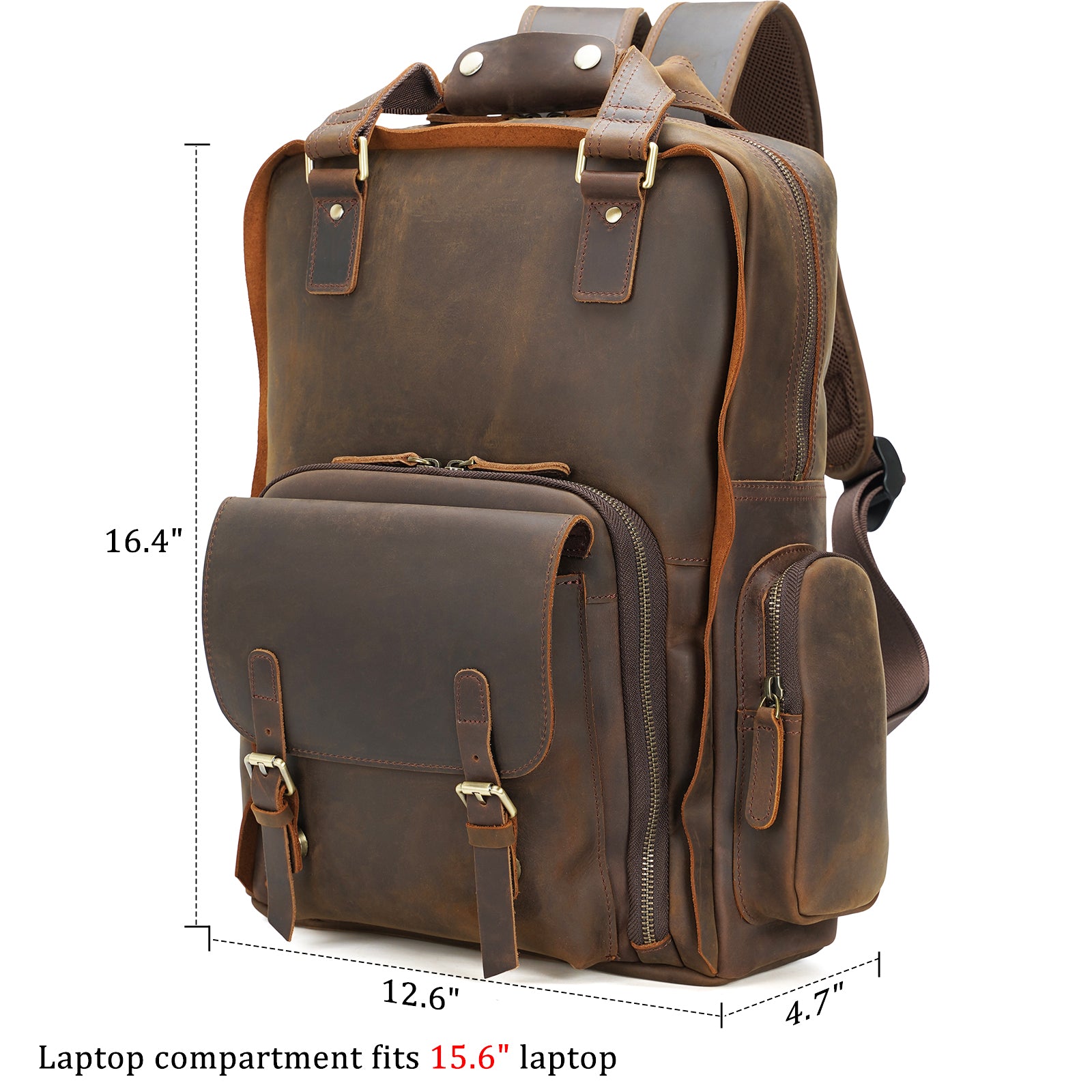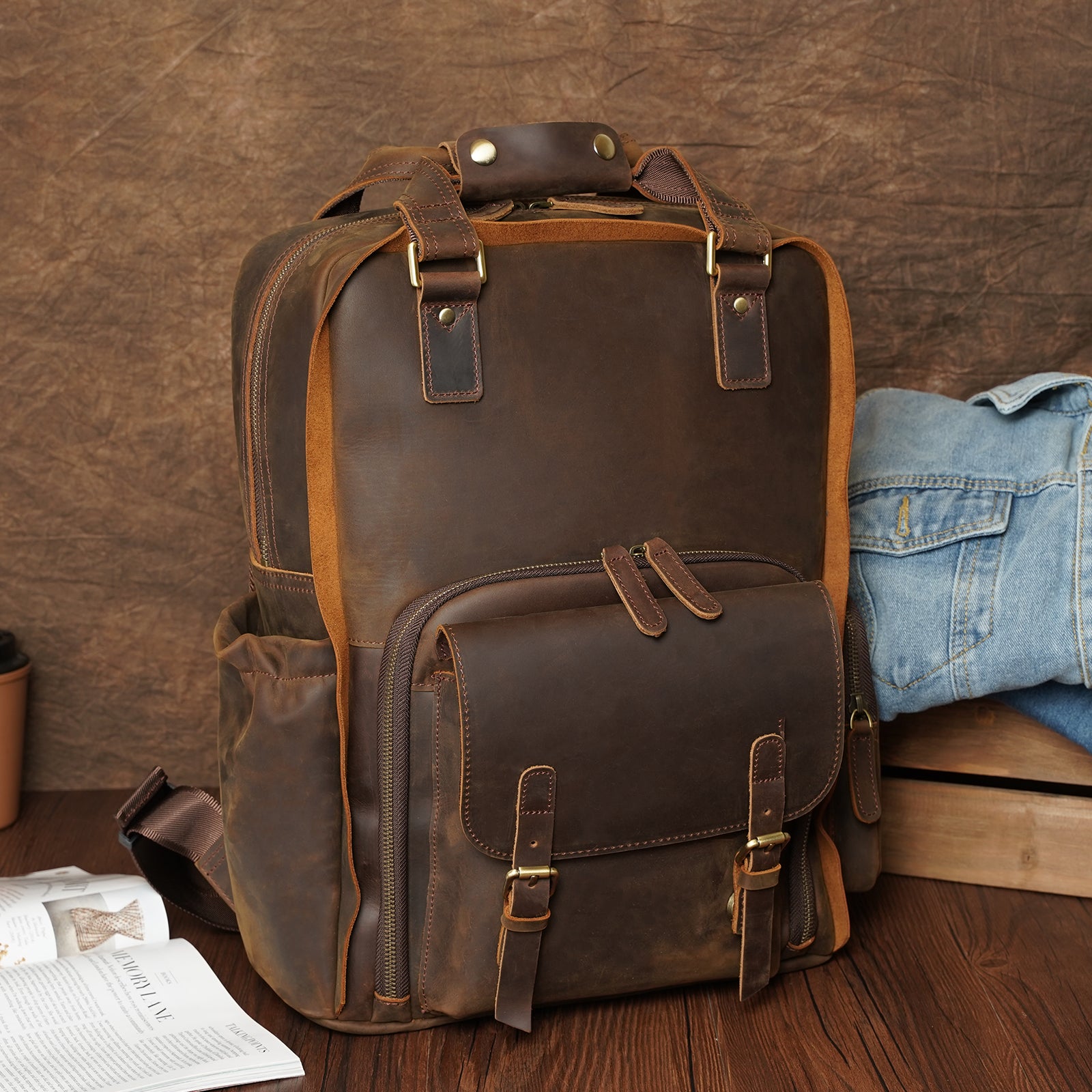 Polare Large Vintage Full Grain Italian Leather Backpack 15.6 Inch Laptop Bag Hiking Travel Rucksack for Men with Premium YKK Zippers
---
100% Full Grain Leather - Each of our backpacks is made of luxurious full grain leather which is very durable and ages beautifully, creating a unique bag for your own. The interior lining also features a cotton cloth, it is softer to touch.
 Dimensions - 12.6"L x 4.7"W x 16.4"H. Weighs 3.53lbs. The laptop compartment can fit up to 15.6" laptop.
 Large Capacity - This vintage style backpack has 1 large main compartment and multi pockets allow you to carry your wallet, clothes, camera, cell phone and other items easily.
 Utility - Adjustable padded shoulder strap is perfect for outdoor sports, hiking, traveling, camping, business trip etc.
 Buy Without Risk - We guarantee 1 Year Quality Warranty and Lifetime Customer Service!!!
  1 YEAR MANUFACTURER'S QUALITY WARRANTY!!!! If you have any problem after purchase within 1 year,pls contact us:service@polareoriginal.com. We will try our best to support you.
Product details

- Style: Laptop Backpack/Backpack
- Material: 100% Pure Genuine Leather
- Color : Dark Brown
- Dimensions: 12.6"L x 4.7"W x 16.4"Hinch.
Ships Same Business Day, Delivery Time: Within 3-7 Business Day!

POLARE proudly offers FREE shipping on all orders to United States and Canada.
We will ship in same business day when get paid, The delivery time is within 3-7 business day!
Love it

The pockets, zippers etc allow me to have access to all my items without searching through the entire bag. The overall look is amazing

Amazing Quality Leather Product

Couple of weeks ago I received my Polare bag in the mail, instantly the packaging and outside quality stood out as excellent. Usually leather items within shipping get creased or are damaged with a scratch or two but the excellent packaging with this bag prevented that outright. Beyond that, the inside quality is spectacular too.
There are 6 pockets with each of them lined with a durable lining and for different purposes. The front pocket that unlocks using two magnet pins & it has a very nice grippy suede pocket & the lining is a excellent parachute material. It keeps anything you keep in there from getting scuffed up and doesn't allow water through because of the design of the bag. Behind that is a zipper pocket which also has a really soft and durable lining. Inside that zipper pocket you have a supply carrier where you can cary cards, pen, pencils and smaller composition books.
Moving onto the bigger pocket now. It has a separated chamber for your laptop that has a lot of padding in it. It keeps your laptop from getting scuffed up by other items in your bag such as textbooks, binders or even sharper objects. The access is very easy and durable. There a couple pockets inside the main chamber allowing you to carry even more smaller items which makes this bag more versatile.
I haven't had a single issue with the bag looking bloated once I got everything I needed in there. The straps are nice and comfy, they allow for breathability and are adjustable with very durable straps and braces, making sure the bag doesn't sags or breaks when you are carrying heavier items. The side pockets on the side for water bottles or other drinks are a nice touch and also have a zipper in case you want to zip up the contents. Overall this is a excellent bag that looks good with great quality leather, the capacity and layout for it to be able to taken around in almost any use case. 10/10 would recommend buying.

Thank you for your support.

Roomy, Thick Leather and Well Designed Backpack

When I bought my first Polare leather bag, I became brand loyal because of the quality construction and thick leather used.
So, when I was looking for a leather backpack I knew my first choice....Polare. The relatively inexpensive Polare backpack does NOT disappoint.
Multiple roomy pockets and divided compartments along with the quick access front pocket with magnetic front straps make this my favorite backpack for weekend travel.
Comfortable, adjustable shoulder straps along with the sturdy top carry handles make this very versatile.
LOVE, LOVE, LOVE this backpack.

Thank you for your support.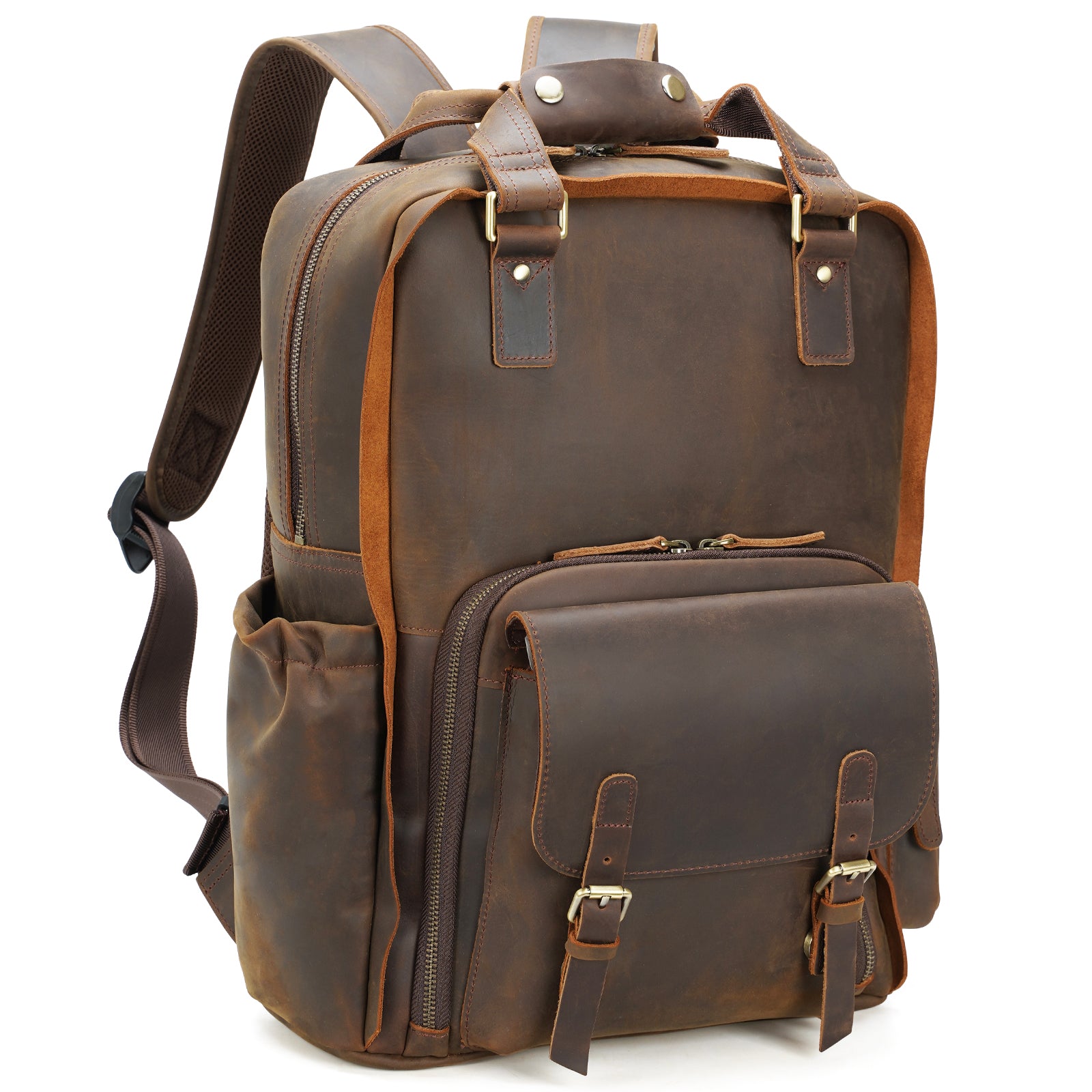 Polare Large Vintage Full Grain Italian Leather Backpack 15.6 Inch Laptop Bag Hiking Travel Rucksack for Men with Premium YKK Zippers
Sale price

US$139.99
Regular price

US$159.99
Choose options