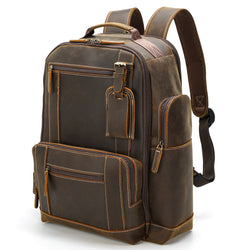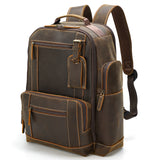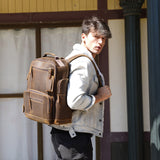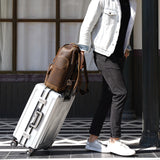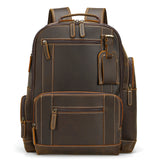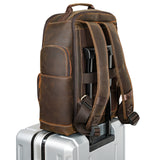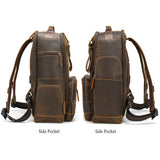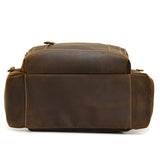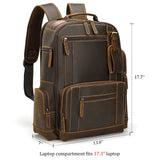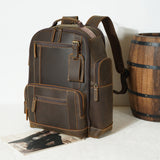 Polare Vintage Full Grain Leather 15.6 Inch Laptop Backpack For Men Camping Travel Daypack Rucksack
Cotton lining
Zipper closure
Handcrafted by Artisans - Made of Full Grain Leather with YKK Zippers, durable hardware and soft cotton lining. Over time and use, a nice unique patina will develop.
Dimensions - 13.8(L)*7(W)*17.7(H) inches. Weight: 4lb.
Designed for Storage - Features two large compartments, front main compartment has multi-function pockets to keep everything neat and organized. Back main compartment designed with a sleeve for 15.6" laptop and a sleeve for 12.9" iPad Pro.

PRODUCT FEATURES:

- Color: Dark Brown

- Style: Laptop Backpack/Casual Daypack

- Material: 100% Pure Real Italian Leather

- Dimensions: 13.8(L)*7(W)*17.7(H) inch

- Ship From USA

1 YEAR MANUFACTURER'S QUALITY WARRANTY!!!! If you have any problem after purchase within 1 year,pls contact us:service@polareoriginal.com. We will try our best to support you.
POLARE proudly offers FREE shipping on all orders to United States and Canada. We will ship in same business day when get paid, The delivery time is within 3-7 business day!
Very good backpack, but not perfect.
Overall this Polare backpack is pretty nice, it mostly uses high quality materials (especially high quality leather) and seems well put together and fairly rugged, I would expect it to last longer than most backpacks.
The best thing about it which comes across as fairly premium is the leather which makes up most of the bag, it averages around 2mm thick on most parts of the backpack and has a really nice feel to it, much better than most leather bags that I've handled.
This bag also had a lot more storage space than I expected it to, both the laptop compartment and the main storage compartment are massive and have a much greater volume than I would have thought. Besides those two compartments, this bag also has 5 other smaller compartments that you could use to hold smaller objects like pencils, tools, maybe a computer mouse.
The stitching on the bag seems decent, it uses a synthetic fiber which is not uncommon but it's still nice since it means you can fray the ends if a thread comes loose. The top handle and shoulder straps have some reinforcement stitching as well.
Aesthetically the backpack looks mostly premium (I'll come back to that), the color of the leather is dark enough that it looks pretty professional but is not so dark that it looks edgy. And all the pockets give a little bit of a rugged outdoorsy look to it.
But the bag does a couple very questionable design choices.
My biggest problem with this backpack is the mesh padding. It doesn't actually provide much padding and it really makes the bag look cheaper and takes away from the premium feel. If it was just leather it would've looked a lot better.
The backpack also uses nylon buckles on the straps which similarly to the mesh, really takes away from the otherwise very premium feel. It surprises me that the buckles aren't metal.
The description of the backpack says that the interior lining is cotton when it is immediately apparent that it is a synthetic fiber and not cotton. I contacted Polare about it and they told me that it is a cotton/polyester blend. Now personally I prefer that to cotton lining because it's smoother and more durable, but it is different from what the description says.
And one very odd aesthetic issue is that the backpack has both straps made of cotton webbing and straps made of nylon. Having straps made from an organic fiber *and* straps made from a synthetic fiber really clash with each other. It wouldn't keep me from buying this backpack or from recommending it to others, but...it's not a good design choice.
Overall though, it's a very good backpack that I'd recommend if you're looking for one in this price range.