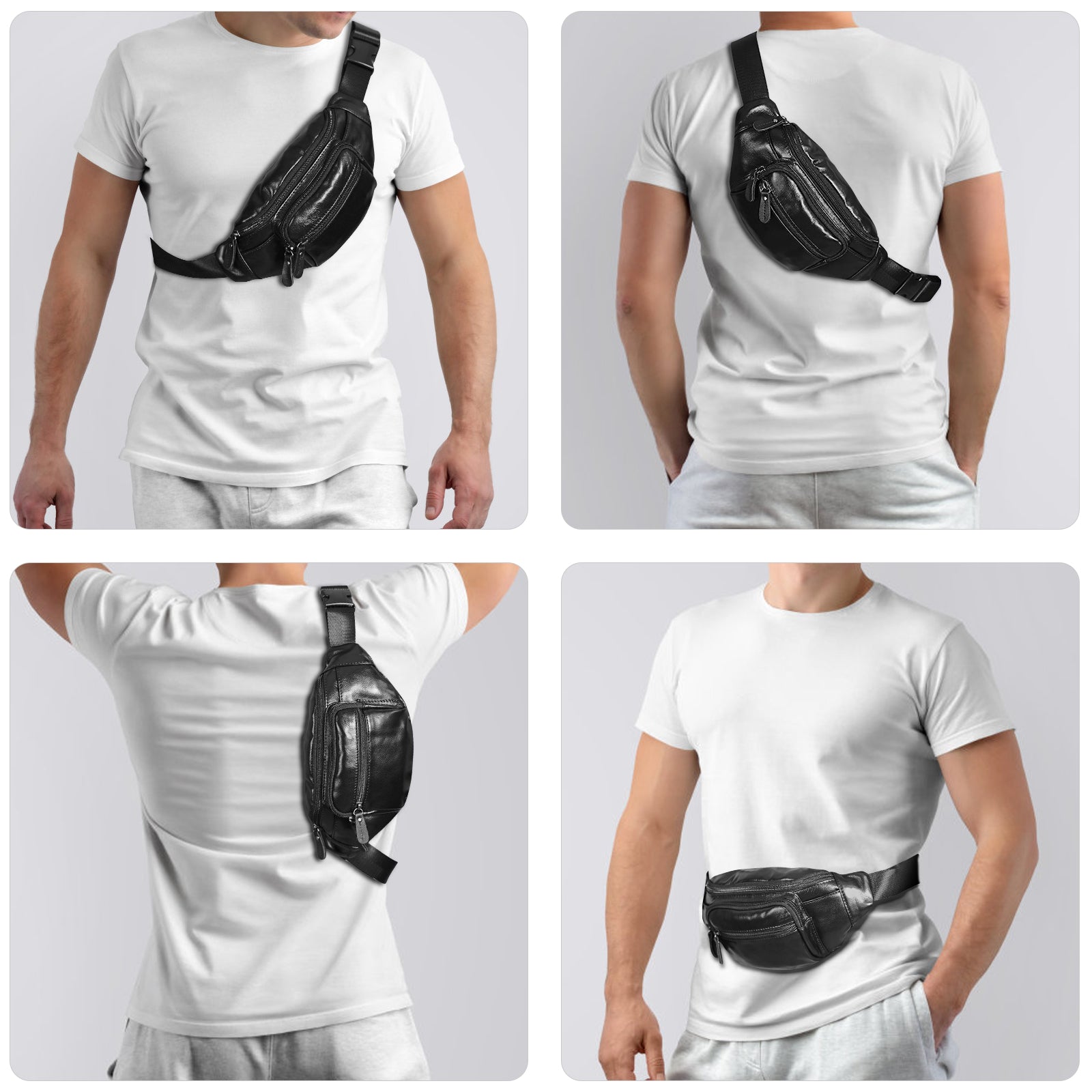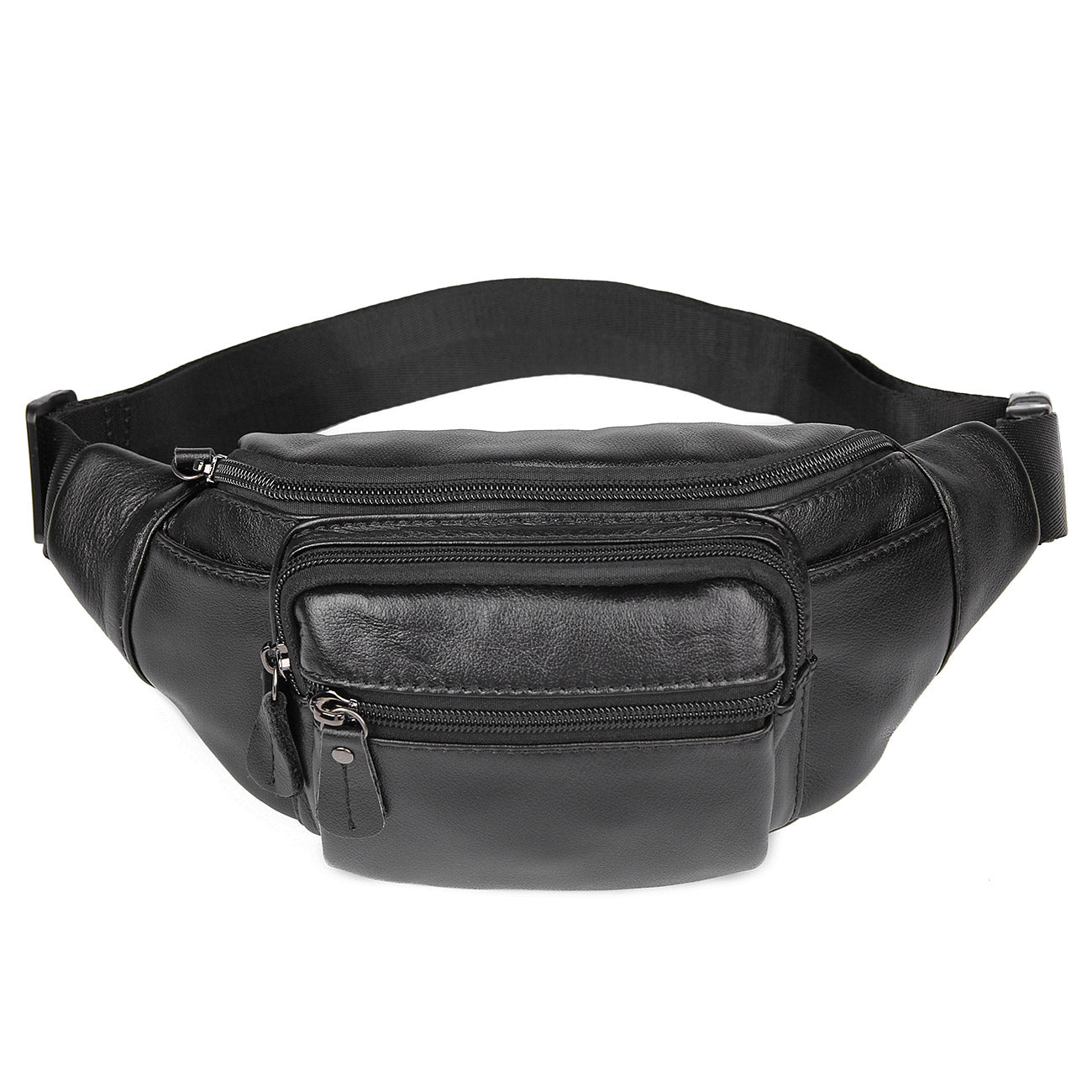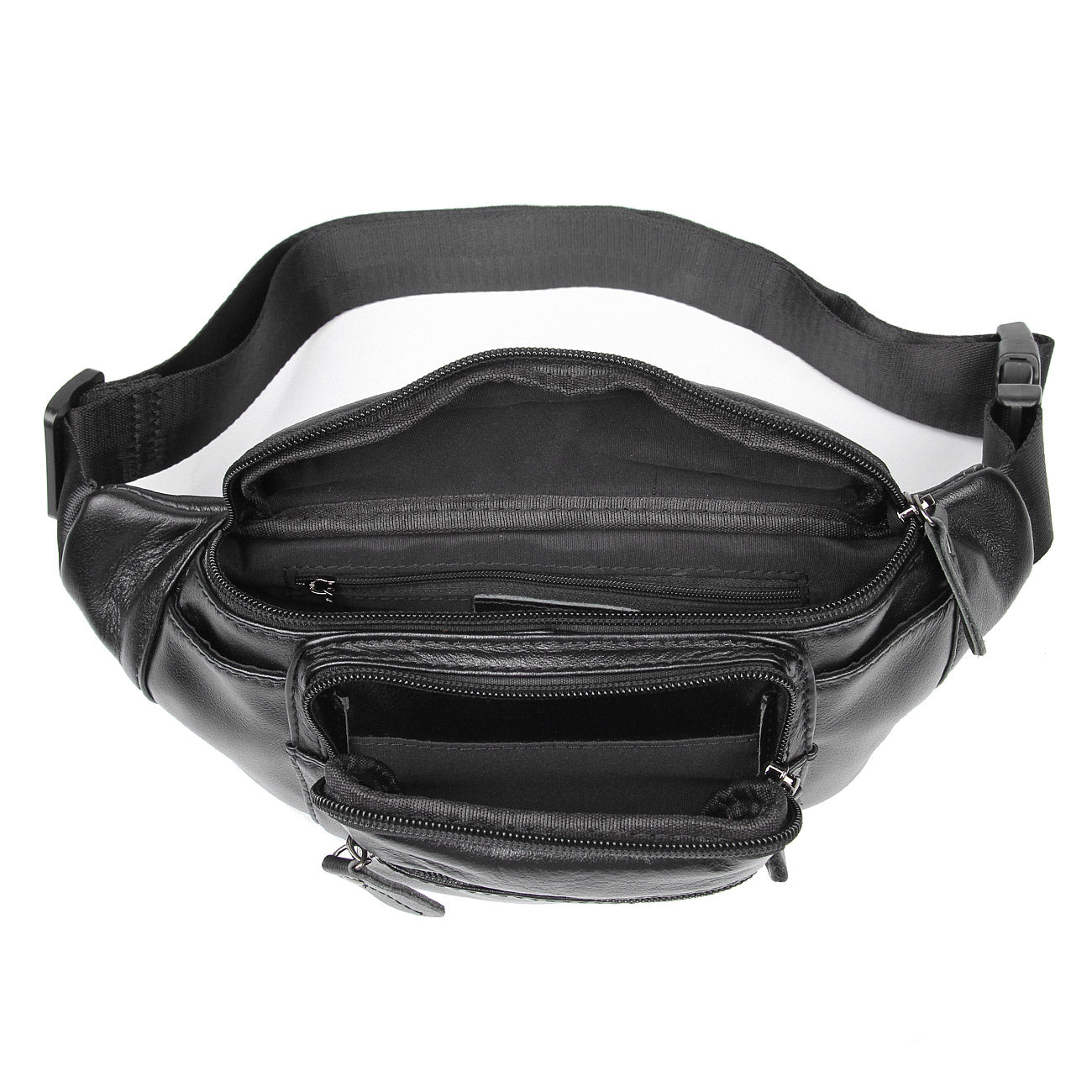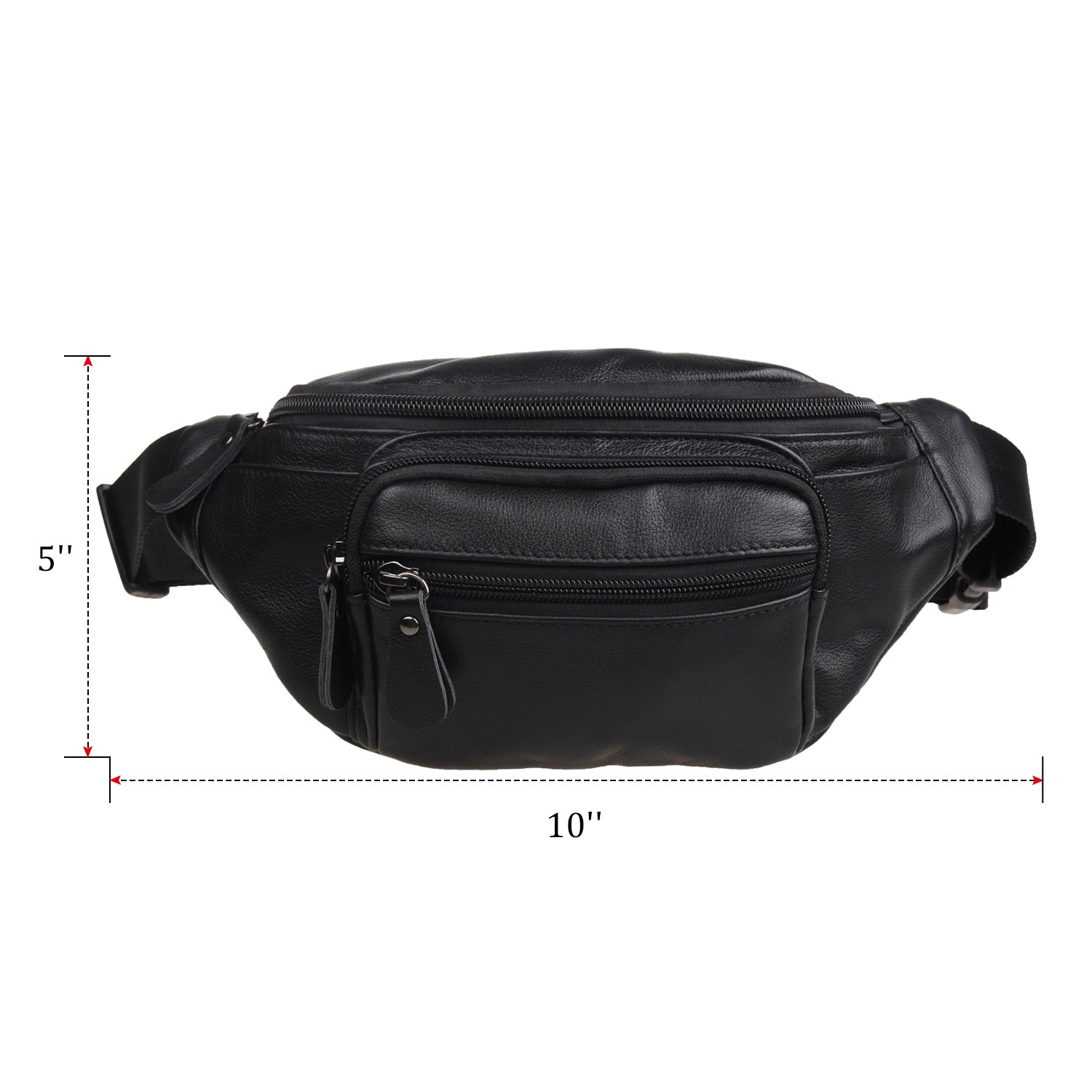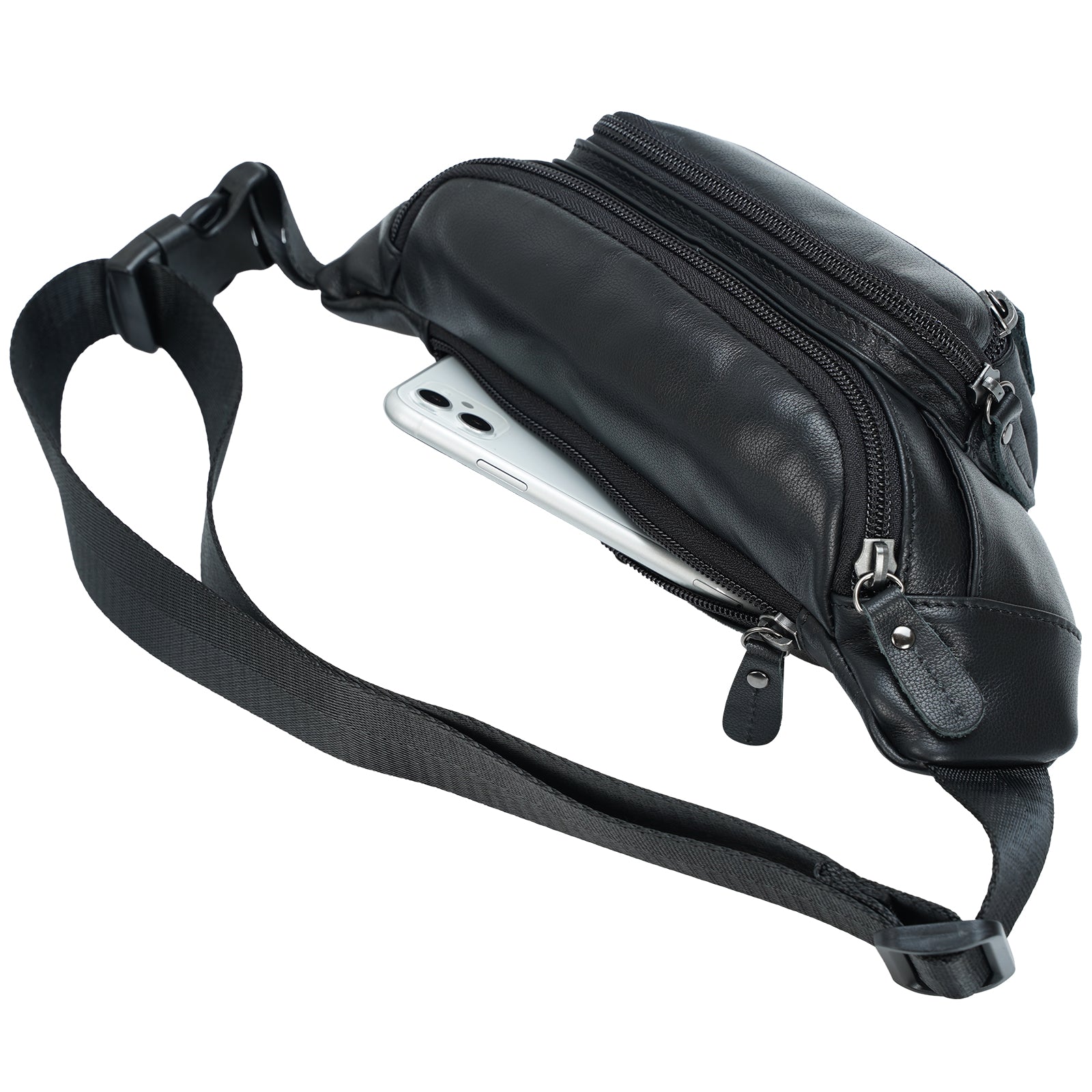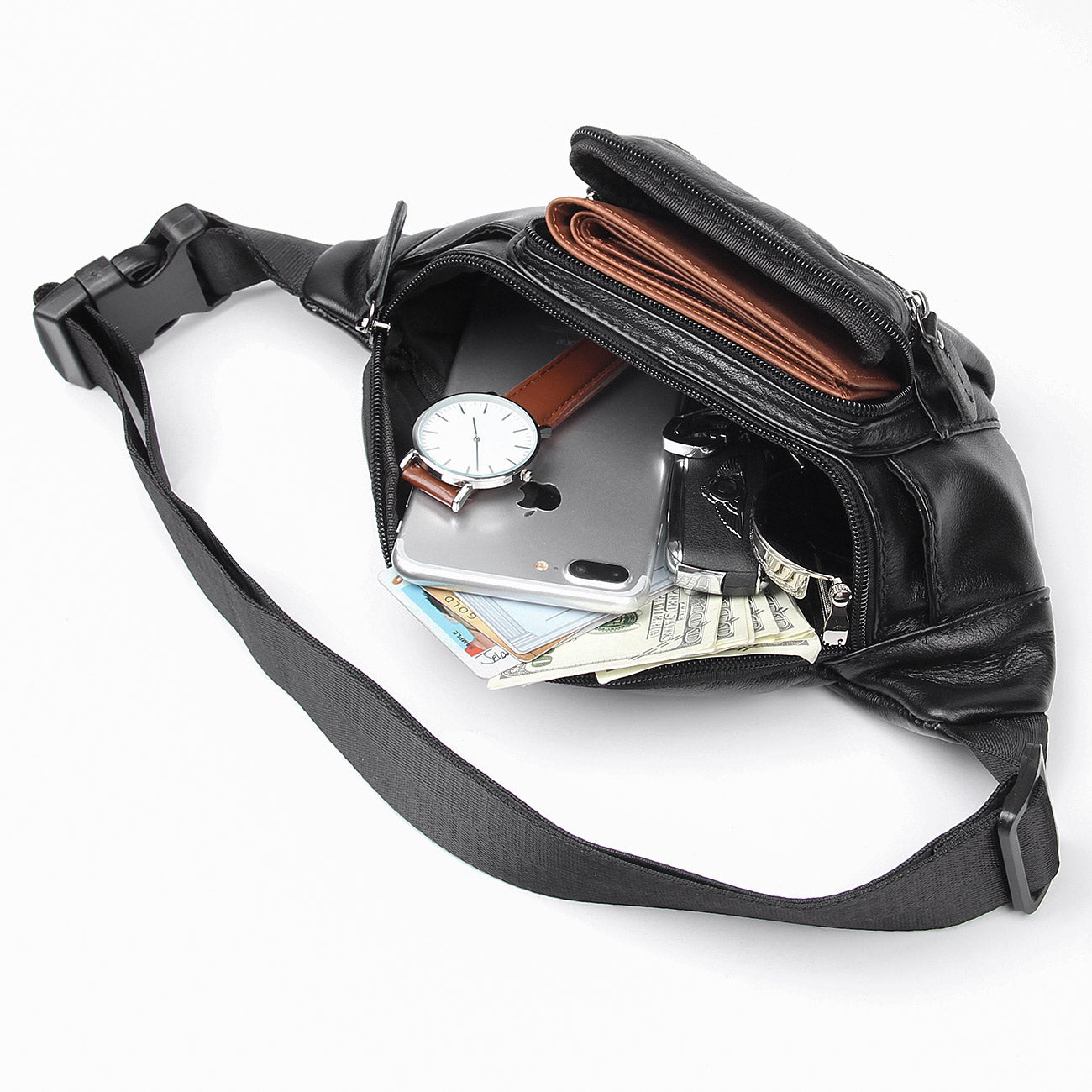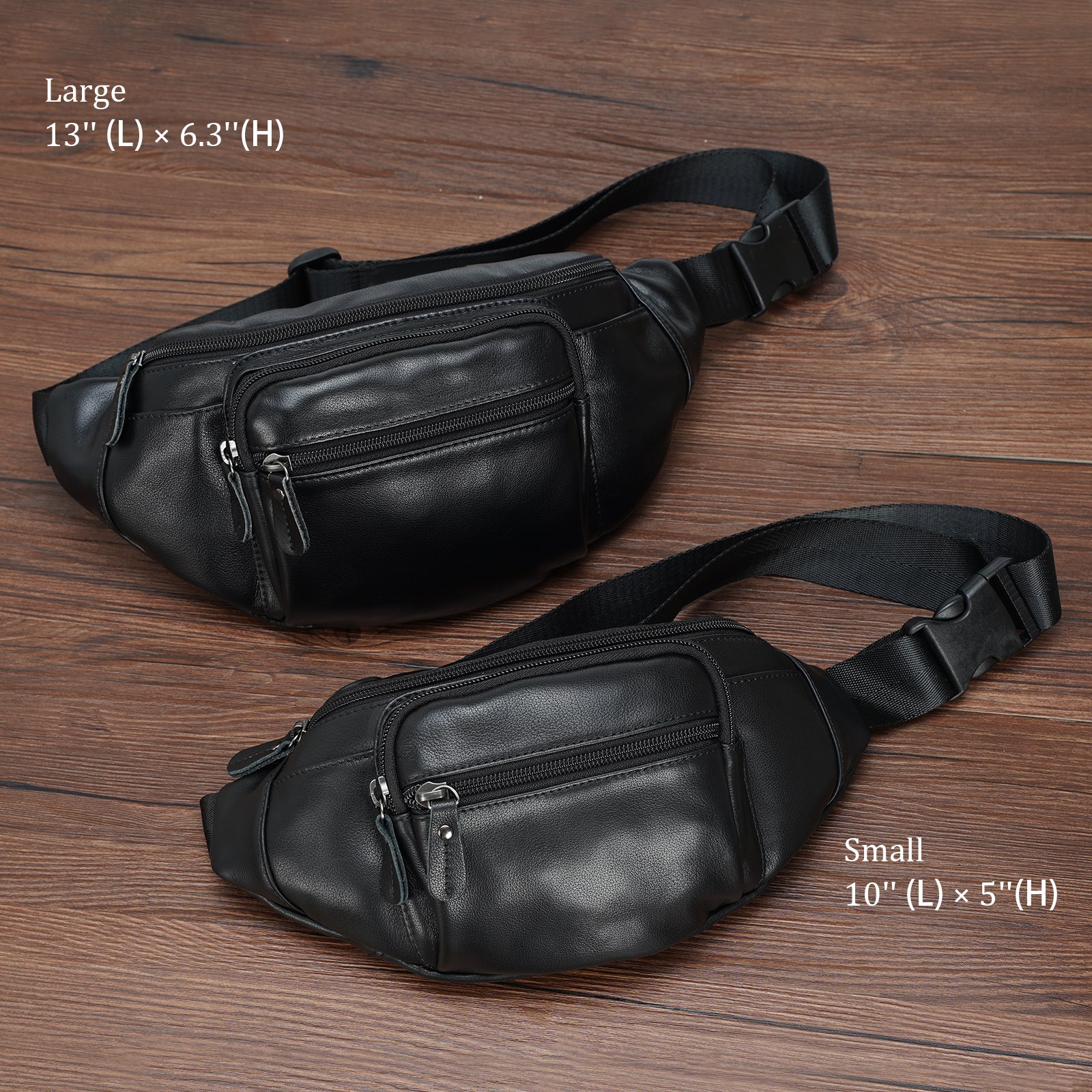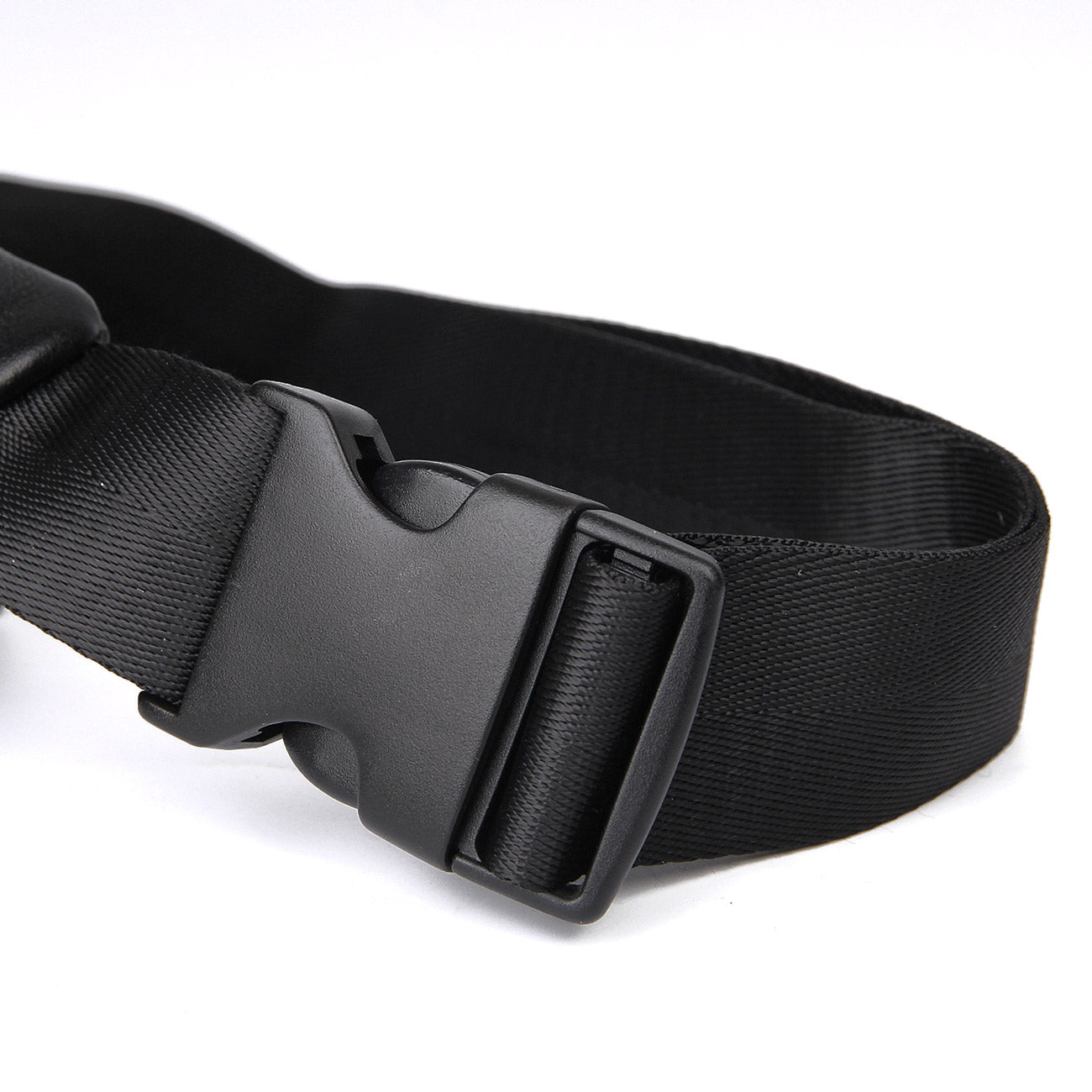 Polare Genuine Leather Fanny Pack/Waist Bag/Organizer (Classic Style)
---
Zipper closure
Material: Napa Cowhide Leather. Interior: Cotton lining. Size: Small/ Large.
Small Dimensions: 10''(Length)X5''(Height) inches. Weight: 0.66lb.
Large Dimensions: 13''(Length)X6.3''(Height) inches. Weight: 1.32lb.
Perfect to securely carry documents, bills, coins, passports, ID's, keys, phones, and accessories. Terrific leather waist-pack organizer for hands-free travel and shopping!
Belt is fully adjustable to fit up to a 48" waist.
1 YEAR MANUFACTURER'S QUALITY WARRANTY!!!! If you have any problem after purchase within 1 year,pls contact us:service@polareoriginal.com. We will try our best to support you.
Product details

- Type: Waist Bag/Fanny Pack
- Material: 100% Real Italian Cowhide Leather
- Color: Black
- Size SMALL Dimensions:10(L)*5(H)inch
- Size LARGE Dimensions:13(L)*6.3(H)inch
Ships Same Business Day, Delivery Time: Within 3-7 Business Day!

POLARE proudly offers FREE shipping on all orders to United States and Canada.
We will ship in same business day when get paid, The delivery time is within 3-7 business day!
Bottom Line: A Great Product & Superb Service

Almost two years ago, I purchased the small fanny pack. (More about the product soon.)
I wore it daily since it contained my iPhone, hard-case billfold, glasses, business cards, pad & pen, car keys, and many other items. In other words, it saw some hard use.

The product came with a one-year warranty. I was really disappointed when the zipper on the next to the smallest pocket failed. Looking at the Amazon product ad, I noticed the words "lifetime customer service". I thought "Yeah, what does that mean? " I assumed it was just hype but, on a whim, I sent the company an email on 2/2/21 at 1:30 PM telling them about the zipper failure and asking them what "lifetime customer service" meant the them and asking them if they could fix the zipper.

I received a reply from their Sales Manager at 7:18 PM the same day, asking for more information. (We're in the same time zone.)

I responded with what she wanted to know at 7:53 PM. At 11:27 PM, still the same day, she explained that fixing the zipper wasn't possible and offered to sell me a new pack for half off.

I saw her email the next day. The offer was definitely a win-win situation and more than fair so, of course, I said "yes" & "thank you". She responded with instructions on how to get my pack at half price. (It's pictured below.) All of this took place in less than three days.

The service was so far above anything I've ever received that I wanted to post this review.

PRODUCT REVIEW:
I was looking for something compact so I chose the smaller of the two packs.
The first thing I noticed about the pack was the quality of the leather. It's soft, smooth, and very durable. Side by side, I see little difference between the one I'd used for two years and my new one (See photo, the old pack is in the front.).

The pack has an amazing number of pockets.
The very back pocket is perfect for my iPhone SE (2nd generation). (For the largest iPhones, you would need the large version or put it in the large pocket.)
It can be hard to access the phone if the pack is tightly buckled against my body but the quick-release buckle works for me. I also often wear my Plantronics earpiece, which allows me hands-free access.

The main pocket has a zipper pocket inside that I use for my Honda keyless fob, a sleeve for seldom-used ID cards, and some hearing aid batteries.
It also has a small and a medium internal pocket that I use for a small Rx container & a small Altoids box. Loose in the main pocket, I keep a notebook, pen, & eyeglasses.

The middle pocket is for my Flipside credit card wallet (available from Amazon), and the small front pocket holds my business card case.
There are two small open outside pockets which are perfect for my nasal inhaler & lip balm.

The Polare product is excellent and the service is amazing. That's why I gave it 5 stars.

Thank you for your support.

Love it ! Just the right sizes , i carry everything in it

They take care f the customer

They backed their products and sent me a new item. Thanks Polare!

Thank you for your support.

Pleased with this product and with the Seller

I've been wearing fanny packs every day for years. This one is my first leather one! What I love about it: it is comfortable, has enough pockets and room for my needs, and I love the durability of the leather. I did have a problem with the zipper and wrote a not so positive review here, but the Seller quickly sent a replacement on its way to me. If I could do it over again, I would have contacted the Seller about the issue before writing a negative review. For every product, there are two things: the product and the Seller or manufacturer. This fanny pack IS a good product and the Seller was friendly and quick to replace the product as soon as they learned of a problem. I've updated my review from 2 to 5 stars.

Thank you for your support.

Very good quality

Due to ongoing lower back and neck issues, I use this fanny pack as an over should purse. It limits how much I can put into it so the weight is never a problem. The fanny pack is also useful to lock it in place around the handle of a cart or chair to dissuade someone from walking by and doing a snatch and grab. If I'm somewhere where there are many people, I lock it around my waist. It is very well made and good quality leather. It has 5 zippers. The main compartment has an inside zippered area to keep secret money and another small pocket that's the size of a credit card. There 2 zippered compartments on the front and an additional zippered compartment nearest your stomach.

Thank you for your support.
Polare Genuine Leather Fanny Pack/Waist Bag/Organizer (Classic Style)
Sale price

US$39.99
Regular price
Choose options