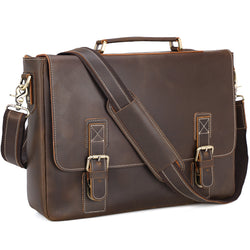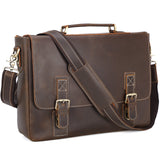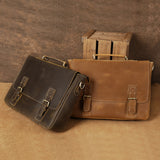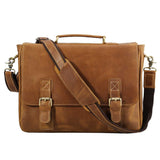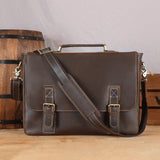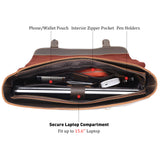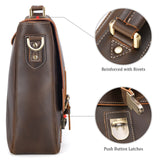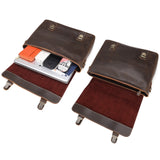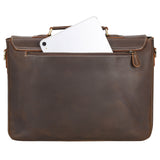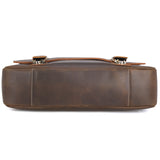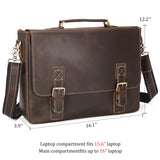 Polare Vintage Full Grain Leather Tote Briefcase Professional 16'' Laptop Shoulder Messenger Bag with YKK Metal Zippers
 HIGH QUALITY MATERIAL. Made of natural full grain leather and YKK metal zippers for a professional and trendy appearance. All the hardware are made of metal.INSIDE OF BAG HAS LAPTOP PADDING. The laptop padding fits 15.6 inch Laptop. The main compartment fit 16'' Laptop.
 GREAT SIZE FOR CASUAL AND WORK. Length 16.1"x Width 3.9" x Height 12.2" - Handle approx. 2 inches. Item weight: 3.5lb/1.6kg.
 HANDCRAFTED. Strong stitching, handcrafted by professional artisans for long lasting durability that looks better with age. The side part leather stitching with D-ring are double stiched.
 1 YEAR QUALITY WARRANTY!!!! For any questions and problem, pls contact our seller support anytime, we will try our best to resolve it.
PRODUCT FEATURES:

- Color : Dark Brown/Light Brown

- Style: Messenger Bag/Shoulder Bag/Briefcase

- Material: 100% Pure Full Grain Leather

- Dimensions: 16.1''*3.9''*12.2''inch.

- Ship From USA

1 YEAR MANUFACTURER'S QUALITY WARRANTY!!!! If you have any problem after purchase within 1 year,pls contact us:service@polareoriginal.com. We will try our best to support you.
POLARE proudly offers FREE shipping on all orders to United States and Canada. We will ship in same business day when get paid, The delivery time is within 3-7 business day!
There is no comparison
I got mine as a gift at the beginning of the year...
I wasn't going to write a review until I felt that I had given it enough time and put it through enough daily use to really state what I wanted to say...
If you buy from anywhere else, whether it costs you 10x more or 10x less... then a fool and his/her money are soon parted.
The craftsmanship, the durability, the feel, the look... there is no comparison...
... but don't take my word for it, order it... then try and convince yourself to return it... you'll thank yourself.
Maestro
Amazing!
Purchased for work to carry around my 15.6 inch laptop, fits perfectly and looks amazing. I've only had for a week at this point but the build quality seems so nice i feel it will last for years to come. Great purchase!
Thank you for your support.
He is very happy with the bag
This was a Birthday gift for my husband.He is very happy with the bag.The bag is well constructed and the design is beautiful. The leather is the highest quality full grain leather I have ever saw. I have never purchased leather goods made by Polare before, but I would look to them first for any future leather purchases. I would recommend Polare product to my friends. Amazing and beautiful bag.
Thank you for your support.
Where did you get that bag?
Purchased this briefcase to use with my MacBook 15 and my clients all ask me "where did you get that bag?" They are amazed when I tell them where and the value of the Polare products. This bag is a complement to to the other Polare bag purchased, I am hooked! Well made and the leather looks fantastic.
Thank you for your support.
Exactly what it's billed to be
It doesn't have as many pockets or as much customization as my last bag but it forced me to downsize my daily needs, which is great! Quality seems great and it looks great.
Thank you for your support.