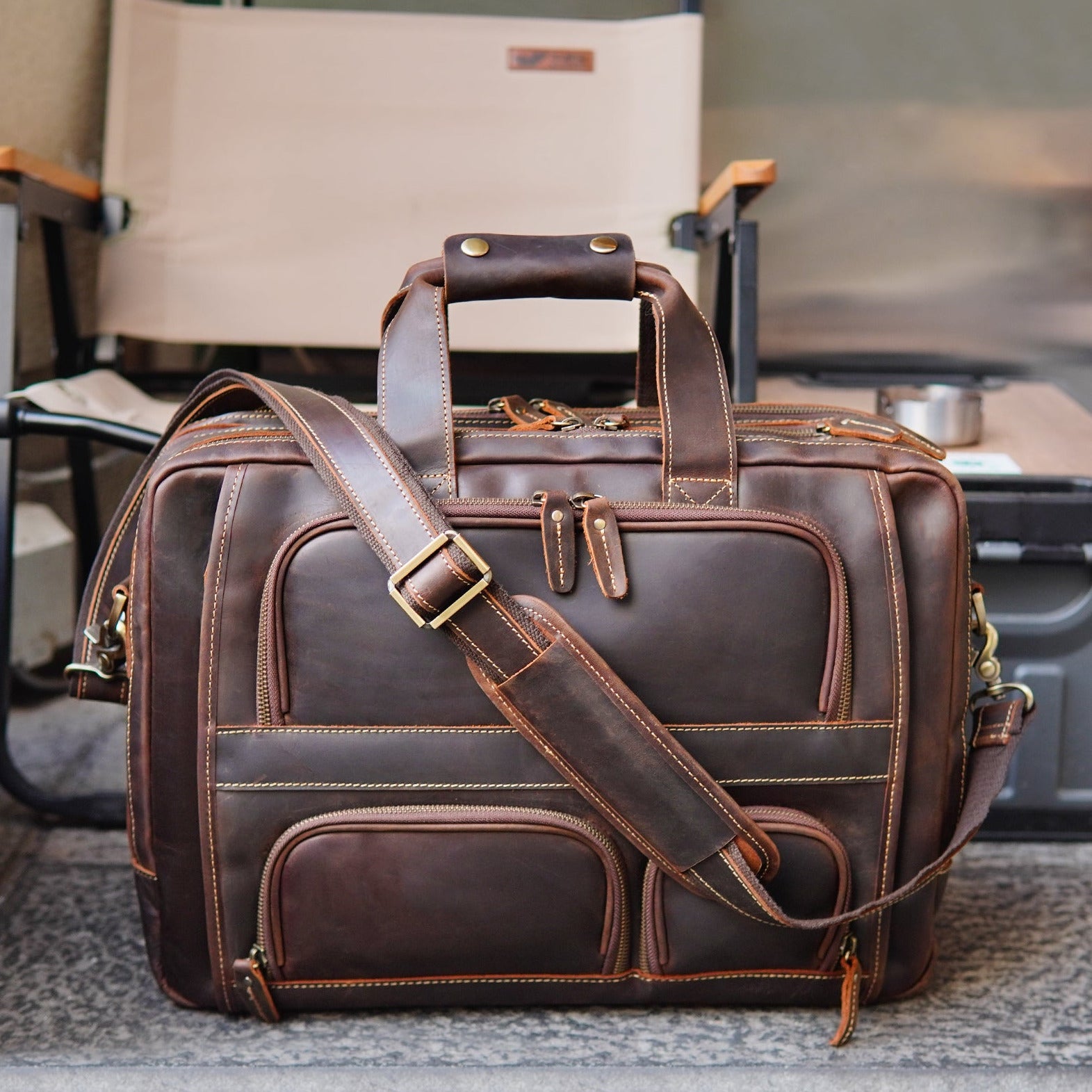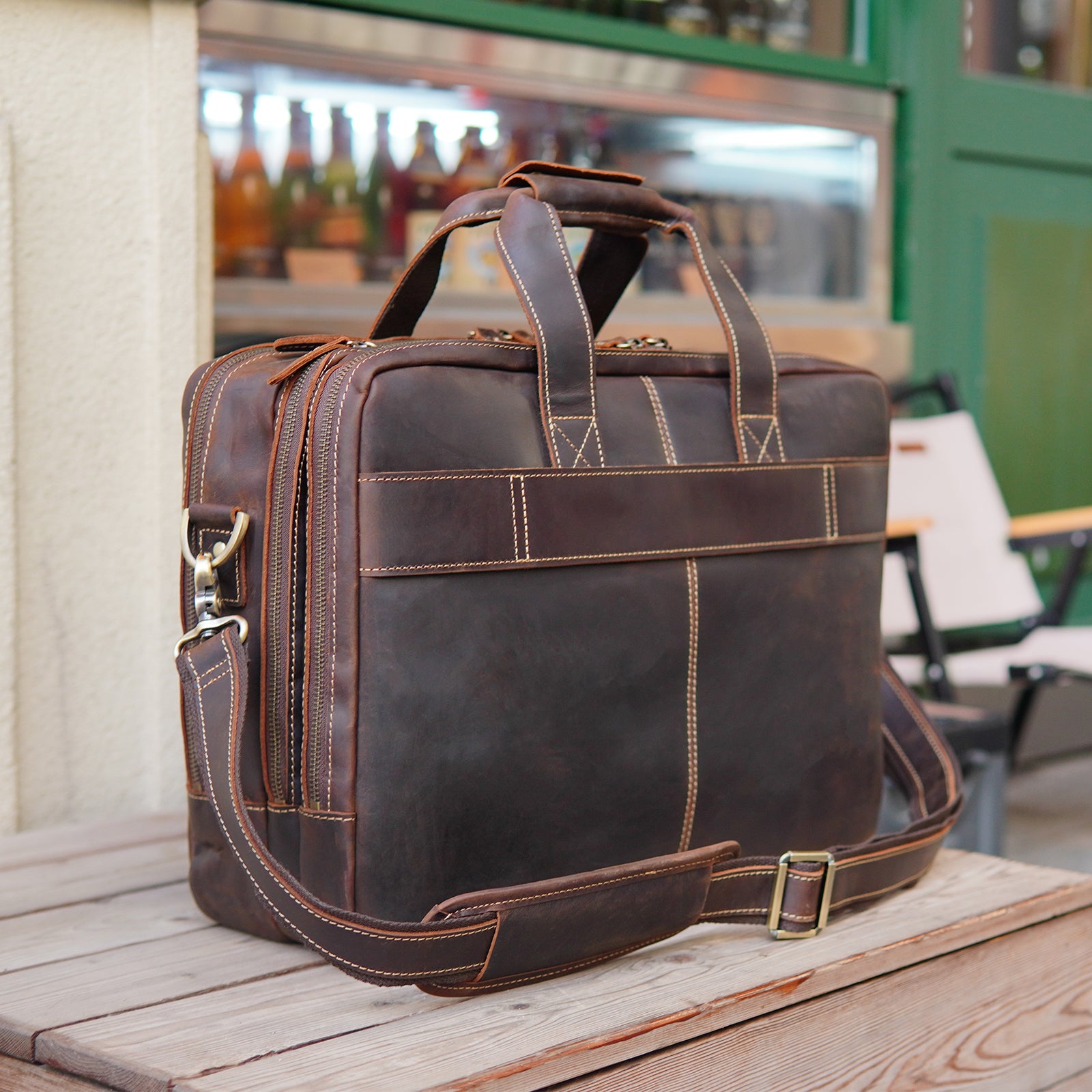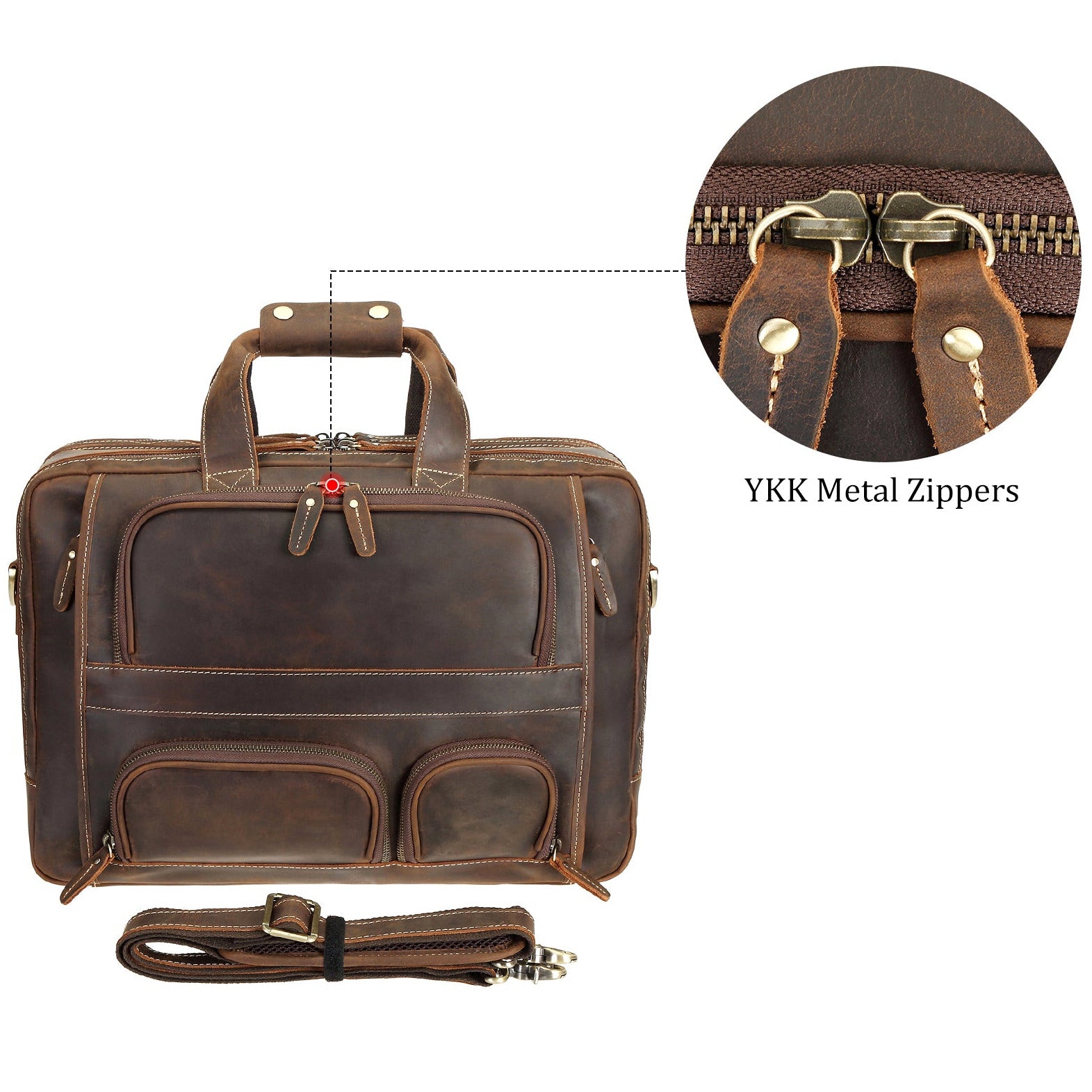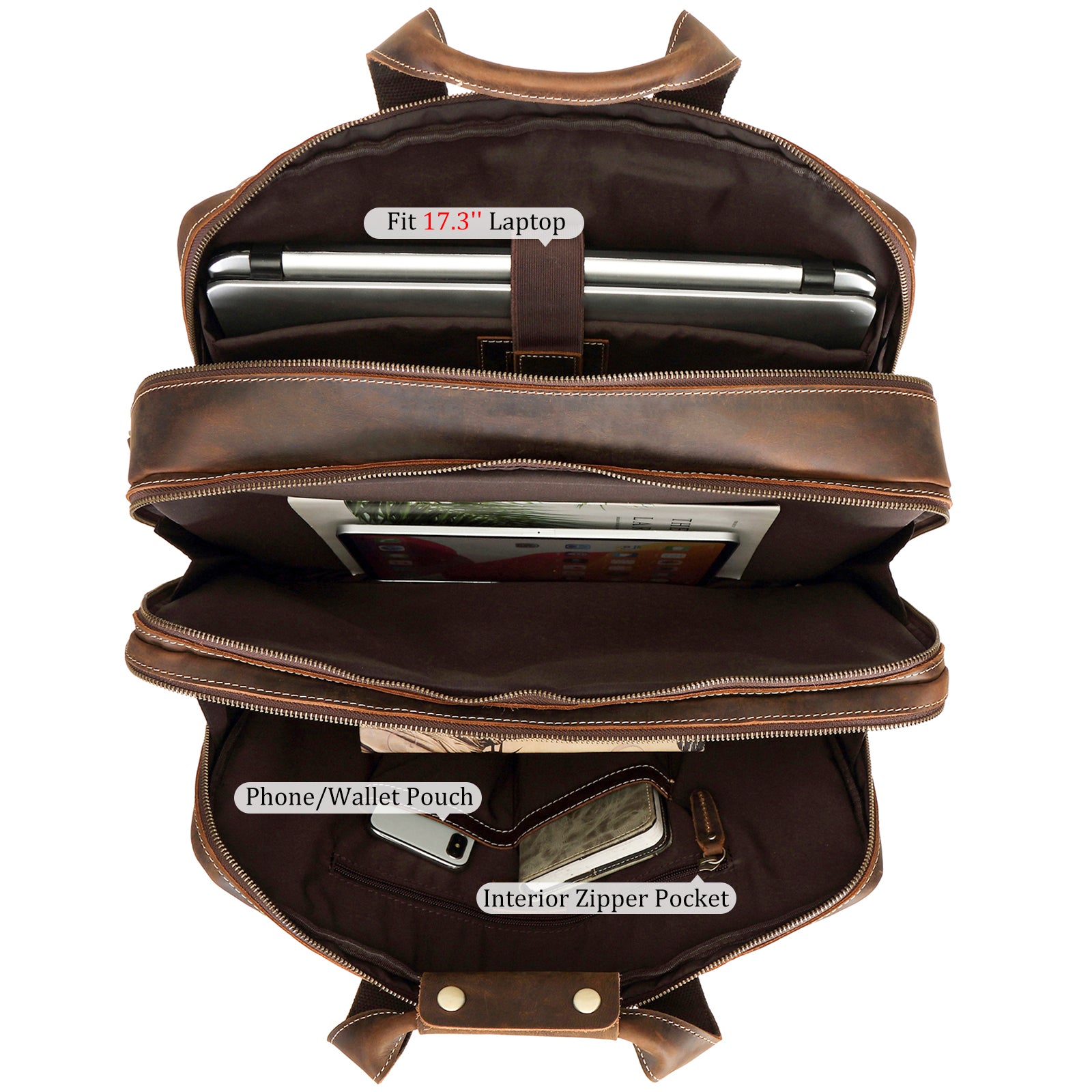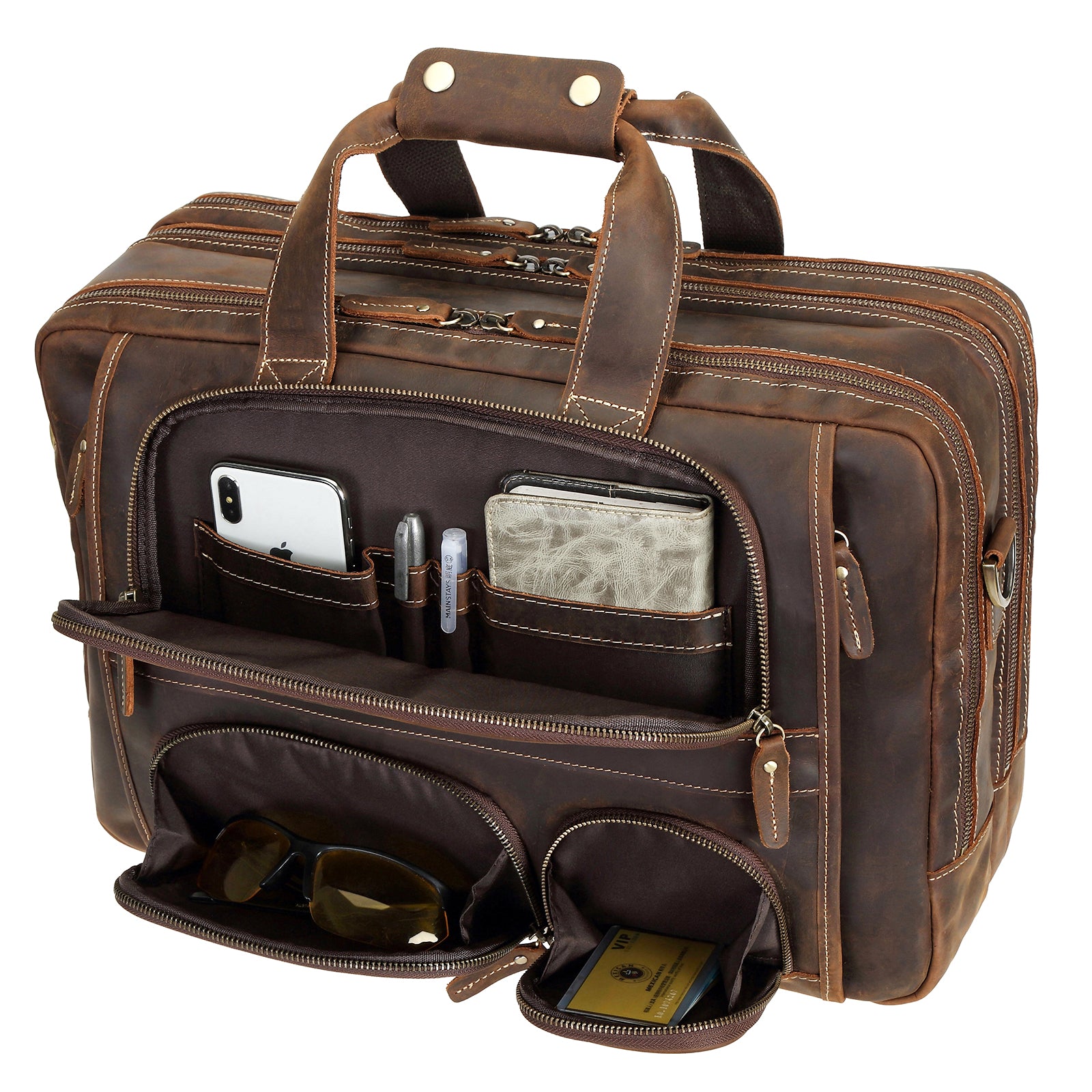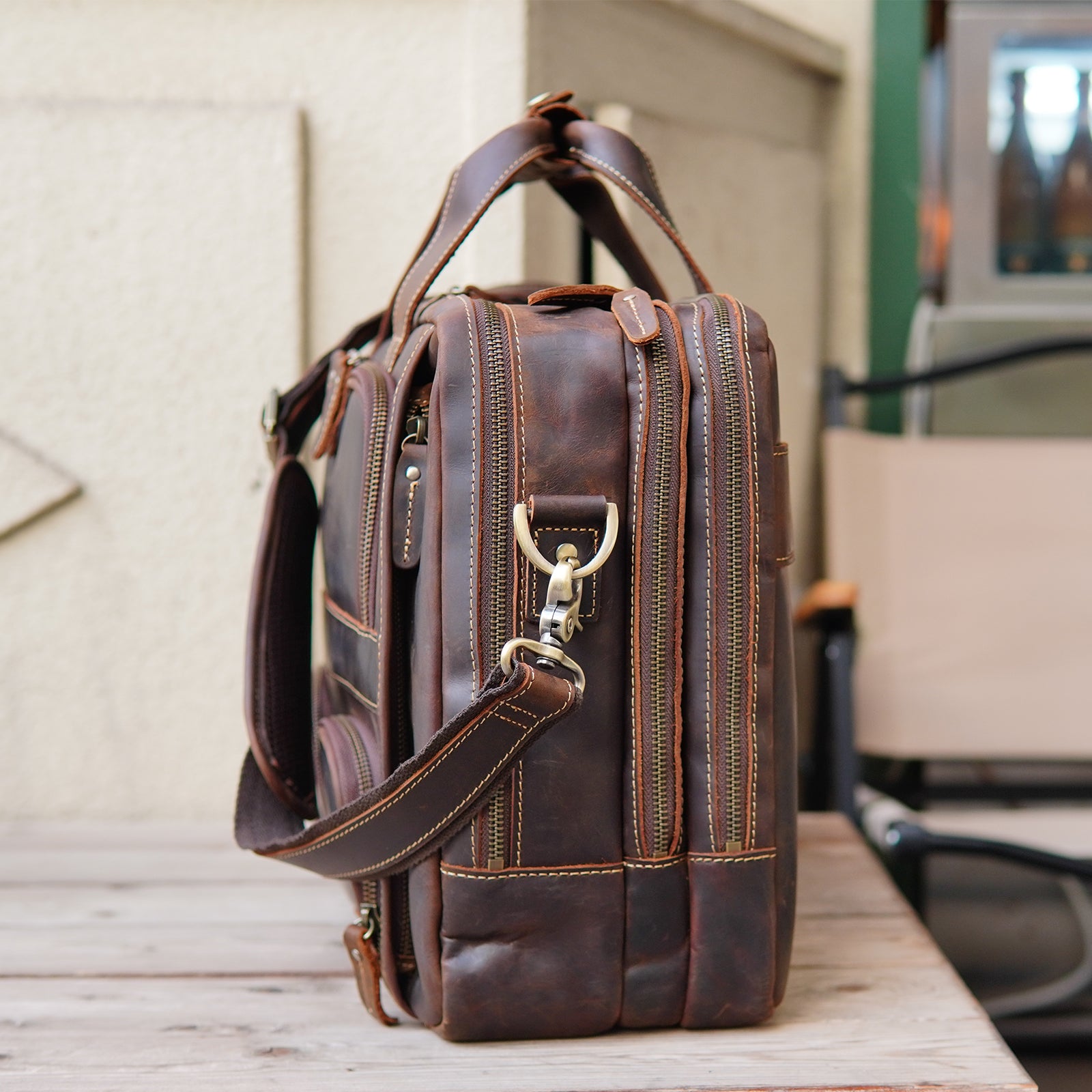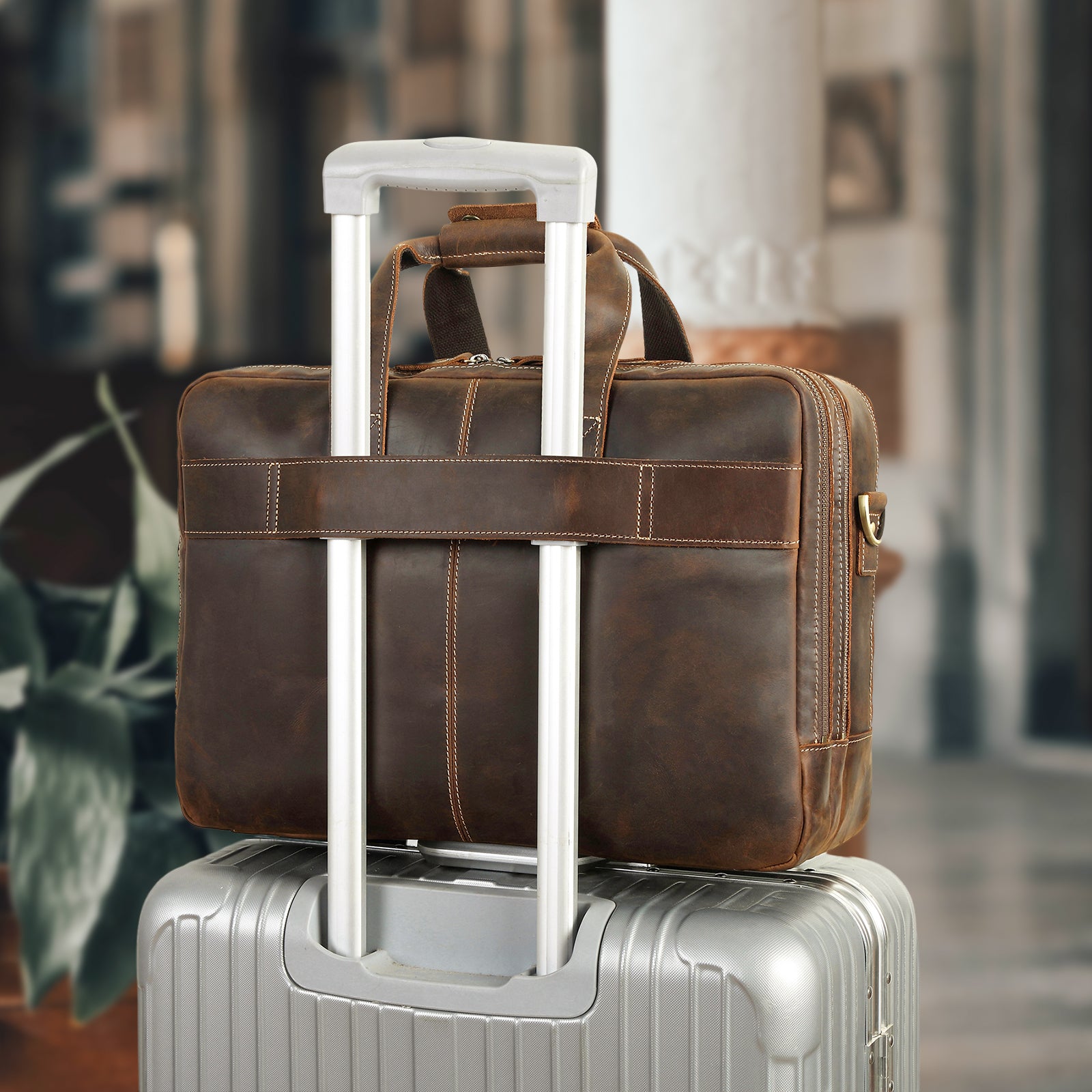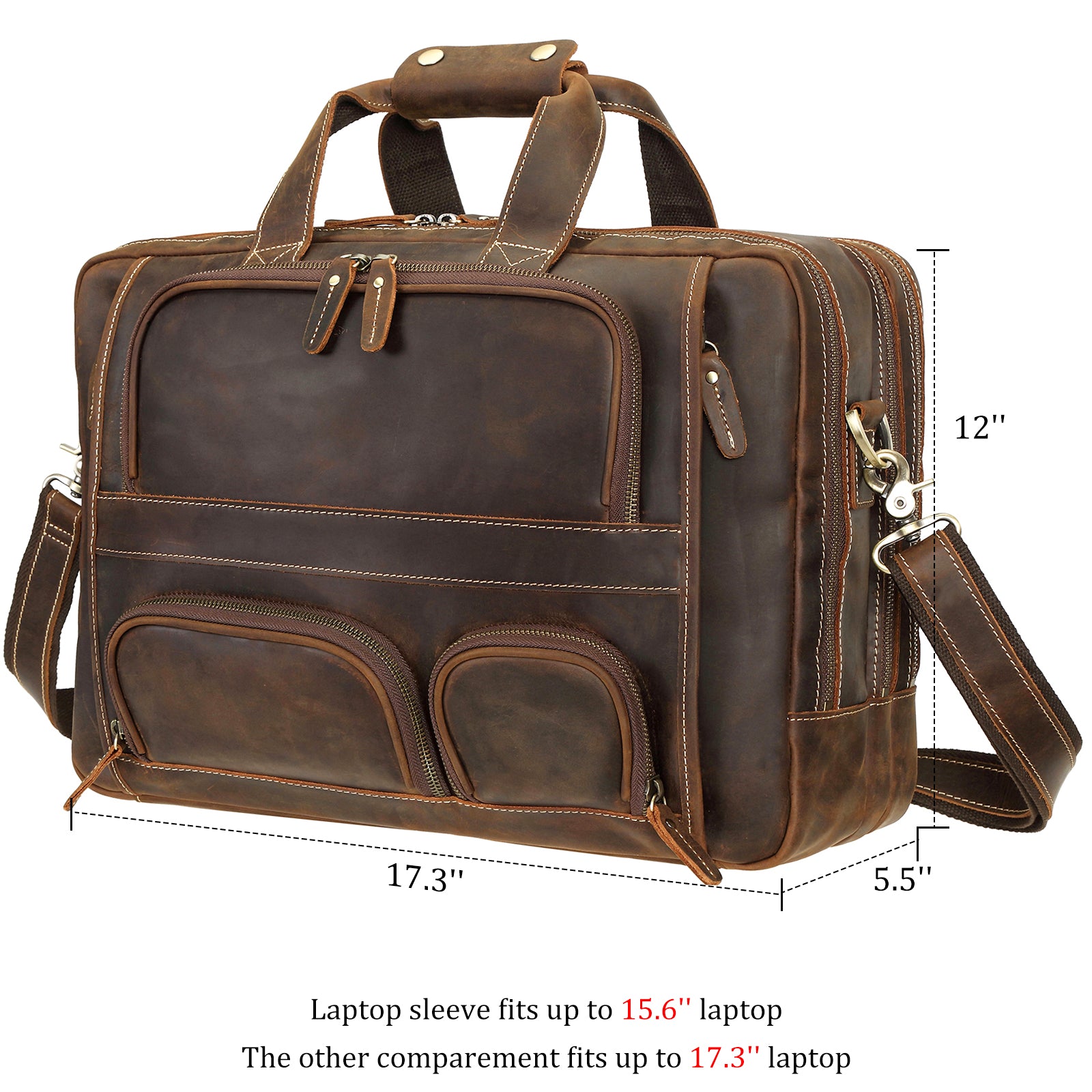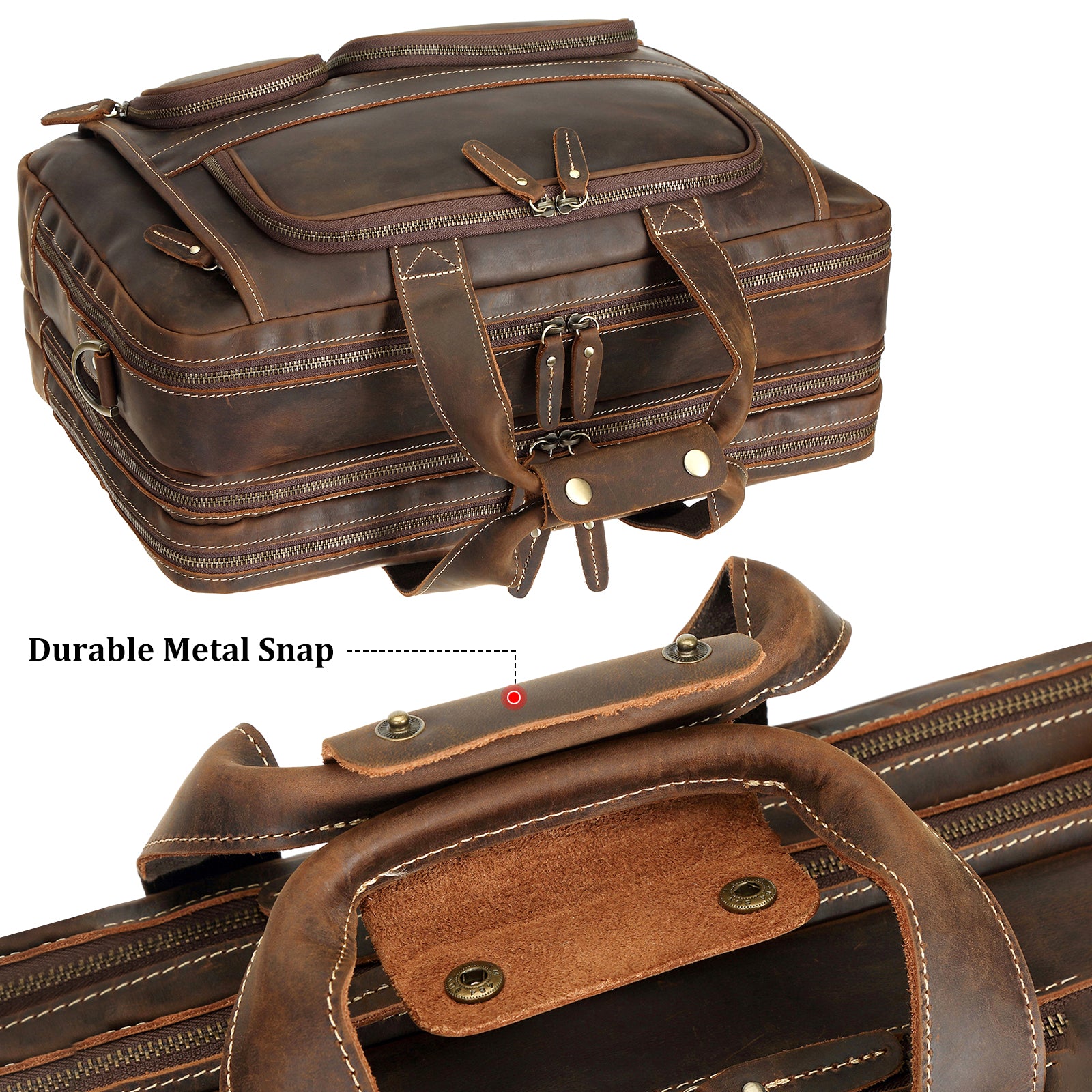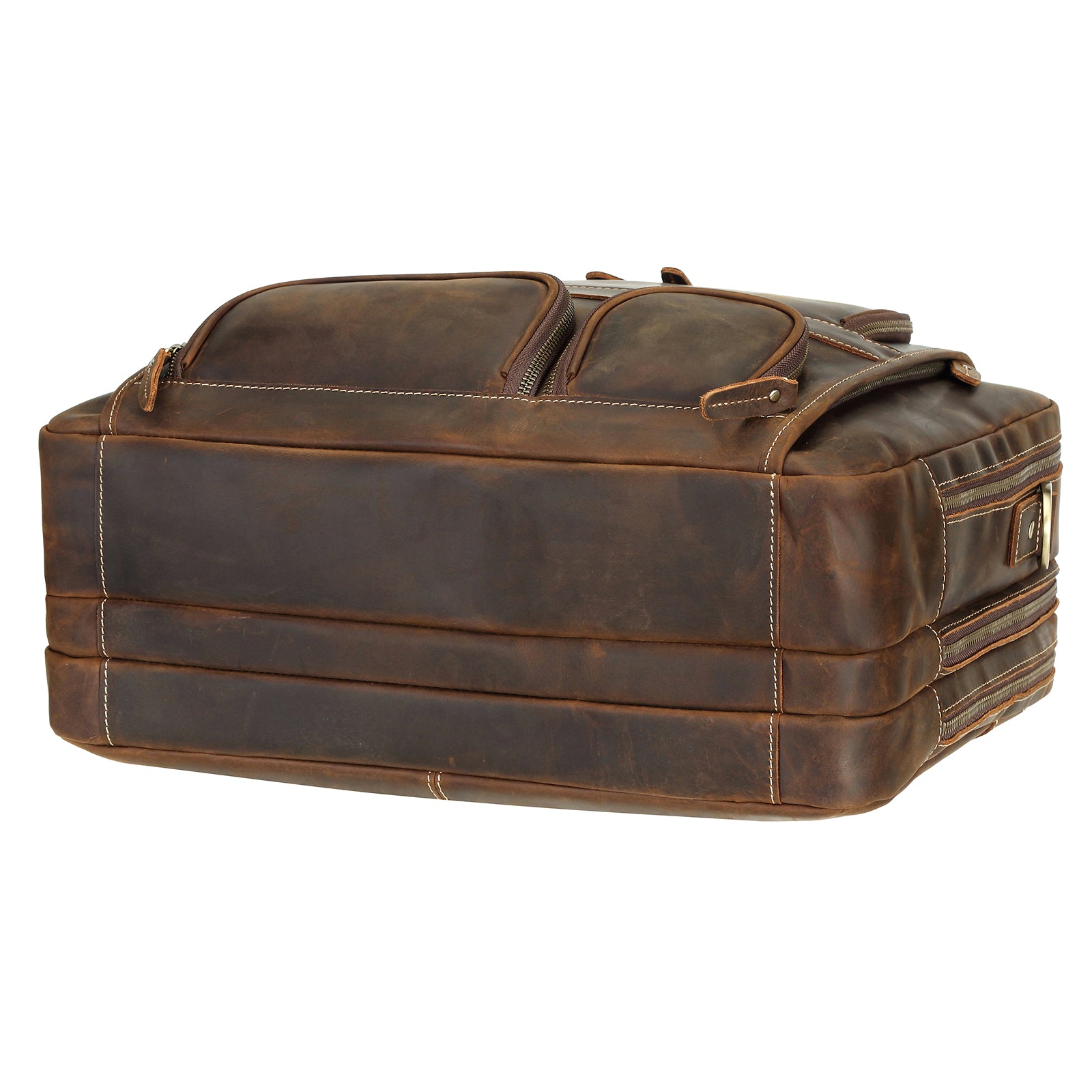 Polare Full Grain Cowhide Leather 17'' Laptop Large Briefcase for Men Business Messenger Bag Work Bag
---
- MADE OF FULL GRAIN COWHIDE LEATHER. CLASSIC DESIGN. Inspired by classic Italian designers. Made from full grain cowhide leather with YKK zippers for a professional and trendy appearance. The hardware parts are made of silver bronze. Double stitched seams with th ick stitching.
- LARGE SIZE FOR BUSINESS AND OVERNIGHT TRAVEL. Dimensions: Length 17.5"(44.5cm) x Width 5.5"(14cm) x Height 12"(31cm).
- Handle approx. 3 inches. Item weight: 3.3lb/1.5kg. The laptop padding fits 16" laptop for business travel. Other compartment fits 17.3'' Laptop. Front and interior pocket organization for all your business needs.
- LUGGAGE STRAP DESIGN: The backside of the bag has a belt that can easy carry along with a suitcase.
- PERFECT GIFT IDEA FOR HIM- Men Love the rugged Professional Business bags Hence They Are A Perfect Gift For Fathers Day , Birthdays , Valentines Day , Christmas, Graduation, Back To College Or Any Occasion Which Calls For A Gift
1 YEAR MANUFACTURER'S QUALITY WARRANTY!!!! If you have any problem after purchase within 1 year. Pls contact us: service@polareoriginal.comWe will try our best to support you.
Product details

- Style: Messenger Bag/Briefcase
- Material: 100% Pure Genuine Leather
- Color: Dark Brown
- Dimensions: 17.5''*5.5''*12''inch.
Ships Same Business Day, Delivery Time: Within 3-7 Business Day!

POLARE proudly offers FREE shipping on all orders to United States and Canada.
We will ship in same business day when get paid, The delivery time is within 3-7 business day!
very nice all purpose bag

Item arrived quickly and it great condition. This bag meets all of my needs. spacious and well padded for laptop protection. it looks very professional and is sturdy. I expect this bag to last a long time. very good quality.

Thank you for your support.

Good Leather Quality and Look

I am very happy with this bag. The look and quality is great. I ISE it to transport my Laptop and supplies . Really nice

Thank you for your support.

ruggedly handsome

I had been looking for a bag to carry my laptop that matched my favorite duffle bag (Polare's 22" Indiana Jones duffle) and this fits the bill really well. The bag has a nice waft of leathery smell and just the right amount of rugged good looks that an Indiana Jones whip in one of the pockets wouldn't seem out of place. It easily swallows my 17" laptop along with room to carry a change of clothes and any odds or ends that one may need for an overnight stay or short archeological expedition if so inclined. The zippers are robust, work smoothly, and have nice-sized leather tabs to grip. The leather seems quite thick yet soft and I'm looking forward to getting a bit of patina on it in my travels. If you want a bag that not only protects your laptop but exudes character, I highly recommend this bag.

Thank you for your support.

Trying to find the perfect winter bag. Is this it?

I bought this bag hoping to upgrade my current bag (also from Polare) and switch it up a bit for winter time. I also wanted to get some nicer features presented in a different way. Really love Polare bags for the look and feel. I always get some many compliments on their bags and they truly last a lifetime. Simply put, these bags are an absolute value.

Received the bag a bit late due to shipping delays. Not sure what happened there. But that's on Amazon. Bag came shipped in it's own box, wrapped in a plastic bag, pretty tightly. It was hard to unwrap, but I appreciate the care they took to seal the bag and protect it against damage or moisture.

Unwrapped the bag and was greeted by this beautiful chocolate leather work bag. From the exterior the bag is certainly appealing. Features three front pockets (more on this in a bit) and three main compartments.

The three main compartments are pretty straightforward. They switched it up a bit from my other bags and put the laptop compartment in the front. Not sure if I like this yet, but I can't imagine it would be too bad. I kind of like the support of a flat surface on my leg as I'm walking through the airport. It also helps give the bag more structure - so I'll let this one be a toss up until I try it out. The padding on the laptop compartment was improved from my last bag and is a lot thicker. The rear compartment is the functional compartment with one zipper pocket and two medium deep storage pockets. The middle compartment is a file compartment. I don't really use this one as it typically gets flanked by the front and rear compartment, but it does come in handy if you put some rigid folders in there to give it some resilience and support. The bag kind of collapses on the center compartment, otherwise.

There's not much fanfare in the major compartments on this bag, fairly straightforward and uneventful. Where they decided to change it up was on the front pockets and larger front access pouch. There is a small wireless headphone zippered pocket for your iPods or Pixel Buds, a medium zippered pocket to allow for quick access to your phone and then a larger zippered pocket that actually opens up to the inside of the larger secret-ish front pocket that actually spans the entire front side of the bag. It's kind of strange and uniquely intriguing at the same time.

The larger front pocket actually has two zippered side access openings that allow you to store additional files, books, or anything larger that you don't want to add into the three main compartments. I think this was a nice, thoughtful addition that makes this bag really unique for those who travel extensively and don't want to show what they have inside their bag and it allows you to unzip and slide your hand in for super quick access. The pocket also has business card slots and a two medium sewen in pockets to also keep your wallet or passport alongside some pen loop slots as well.

It's super different and quite interesting to me, never having owned or even seen a bag like this, I can already tell the functionality was definitely intentional and designed for those on the move. That's not to say it's not perfect for anyone to use as a daily work bag, but really would be the perfect companion for traveling.

And as always, the leather is beautifully supple, tanned with vegan dyes, and flawless. The zippers are robust and the features of the bag really pop with those gold accents. The strap is heavy duty and so is the strap hardware. I mean, Polare knows how to make a bag. I've known this. They also know how to take feedback and improve. My guess is, they have listened and made this bag based on feedback received. I love the changes.

If there was one thing I would improve upon for future iterations, I would say make the sewen in pockets a bit more robust and accessible. One of my bags has a really cool, leather reinforced pocket that is absolutely incredible - easy to reach and robust and by far my most favorite feature of my other work bag. I'd love to see this implemented on more of these styles of bags because it really adds that premium feel and works well, from a functionality standpoint.

All on all, love this bag. Can't wait to try it out, but no doubt in my mind it'll be the perfect winter bag for me.

Thank you for your support.

Superb Product

I recommend Polare brand for anyone who aims to have great quality and looks: "Real Leather" carry-bags at an affordable price. Very well-done Polare!

Thank you for your support.
Polare Full Grain Cowhide Leather 17'' Laptop Large Briefcase for Men Business Messenger Bag Work Bag
Sale price

US$149.99
Regular price

US$159.99
Choose options