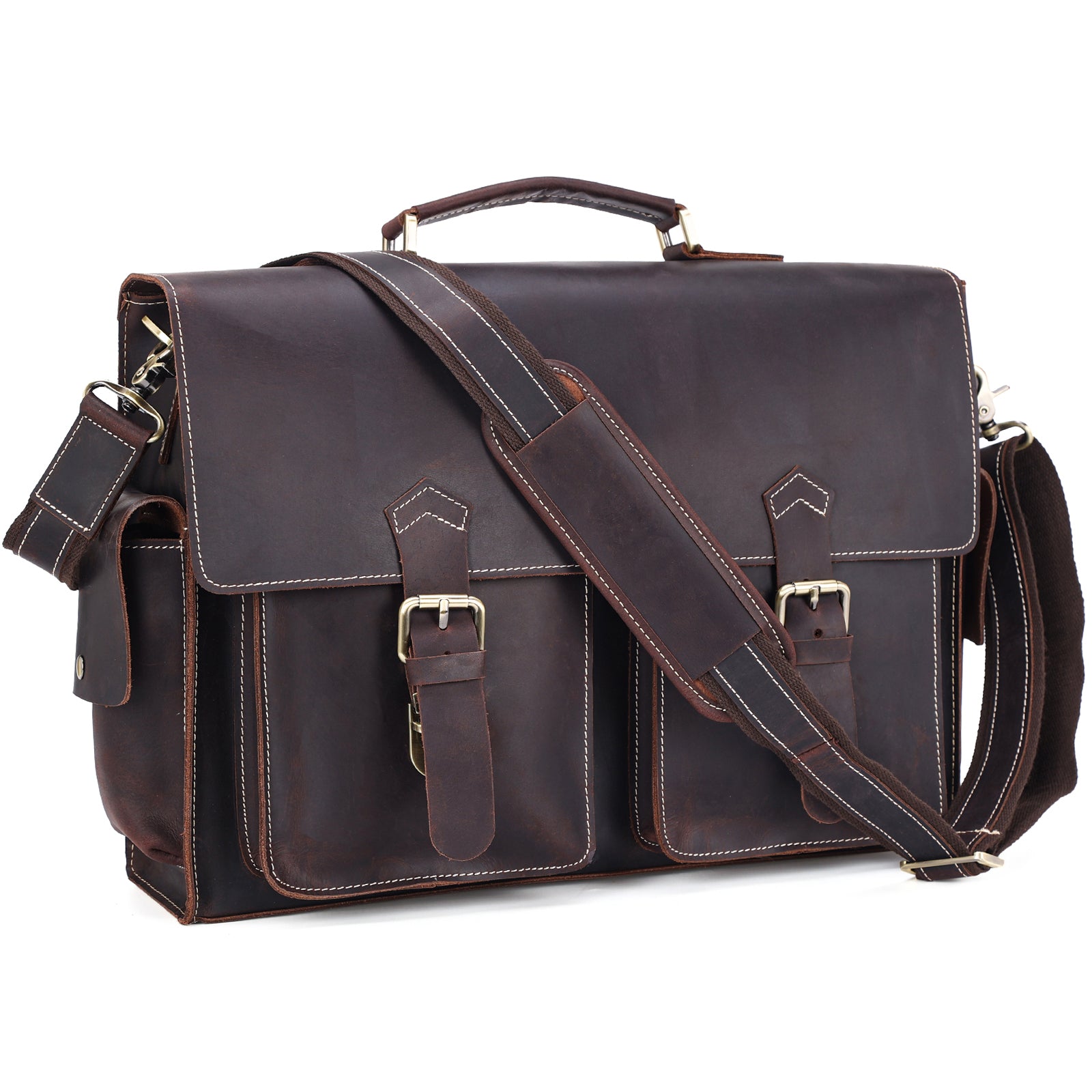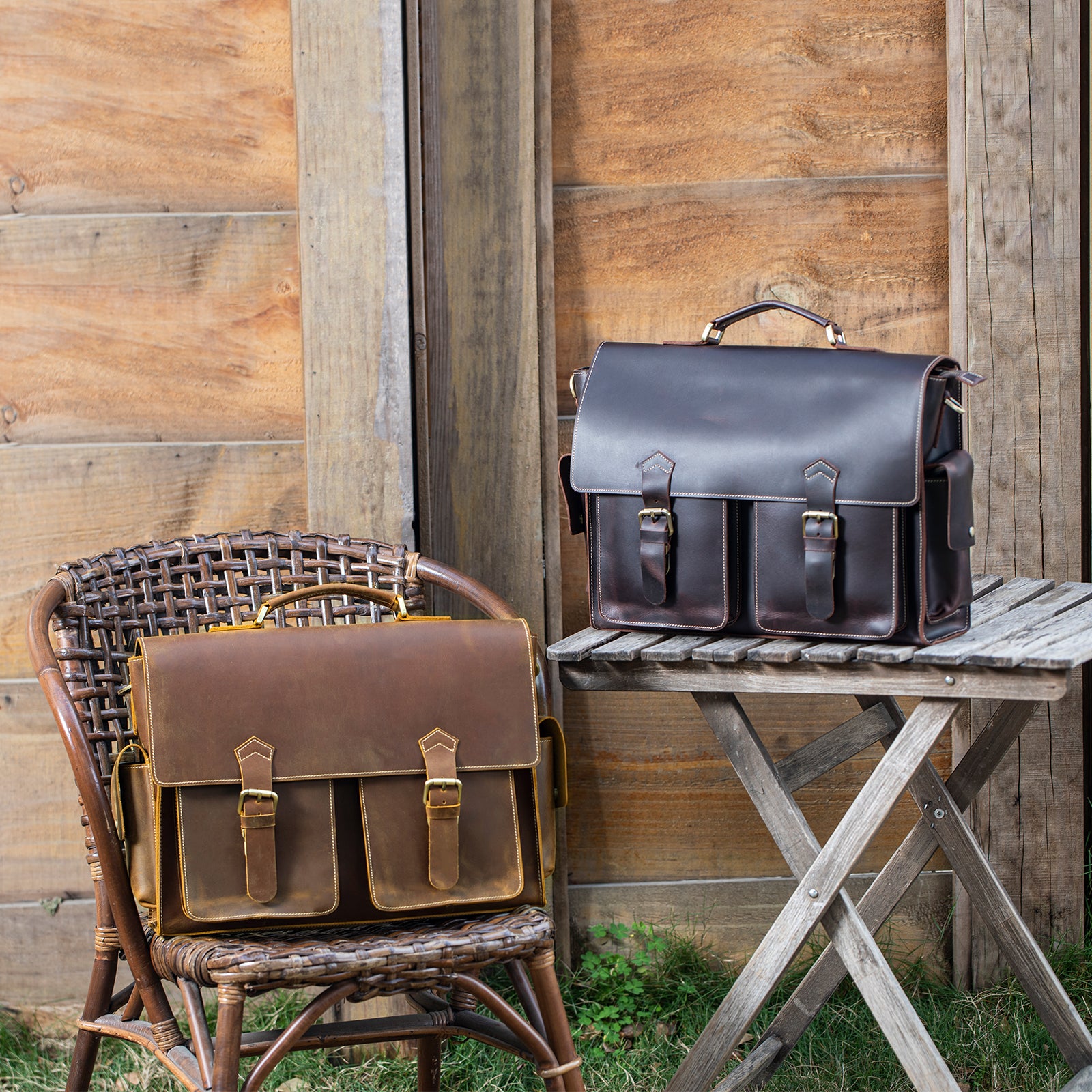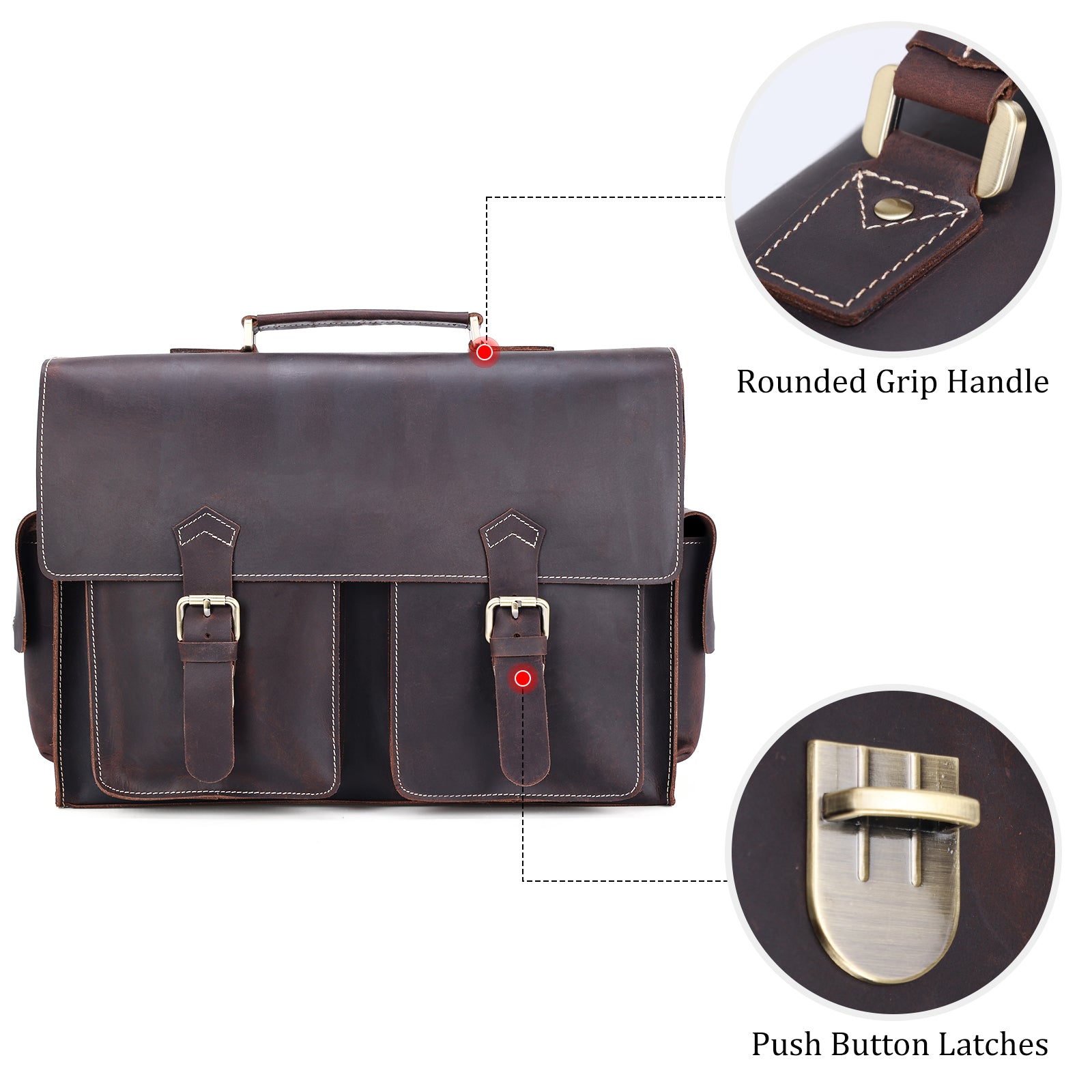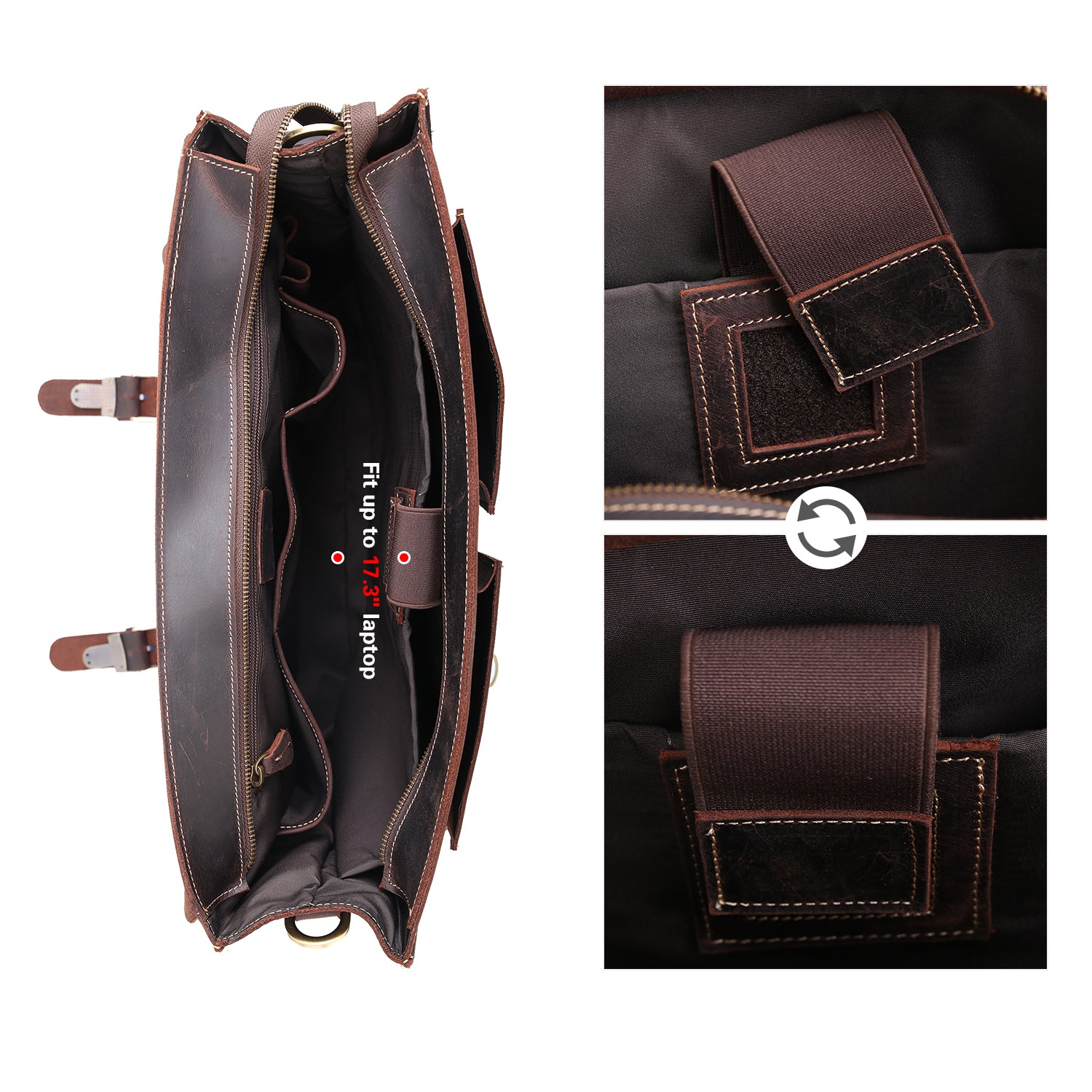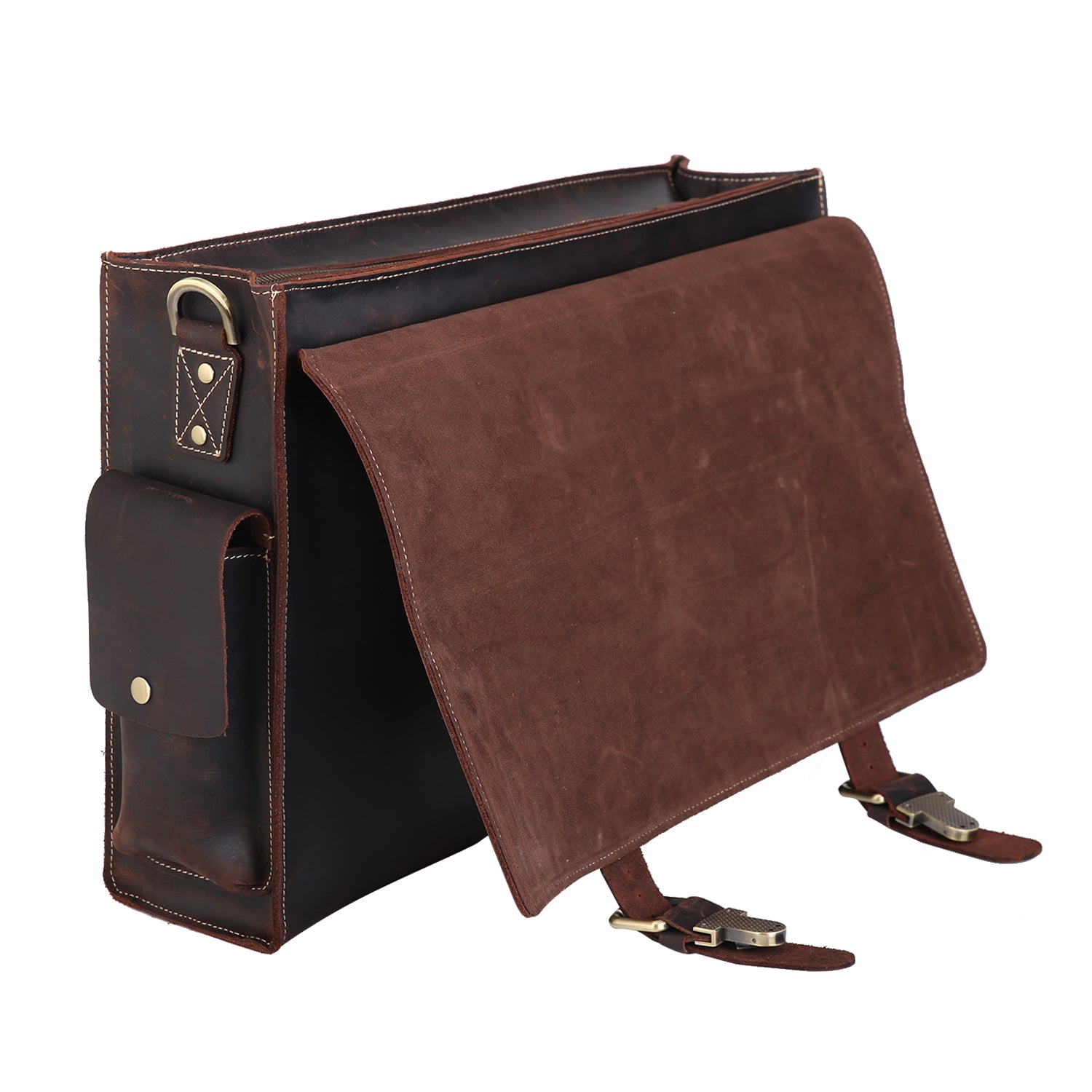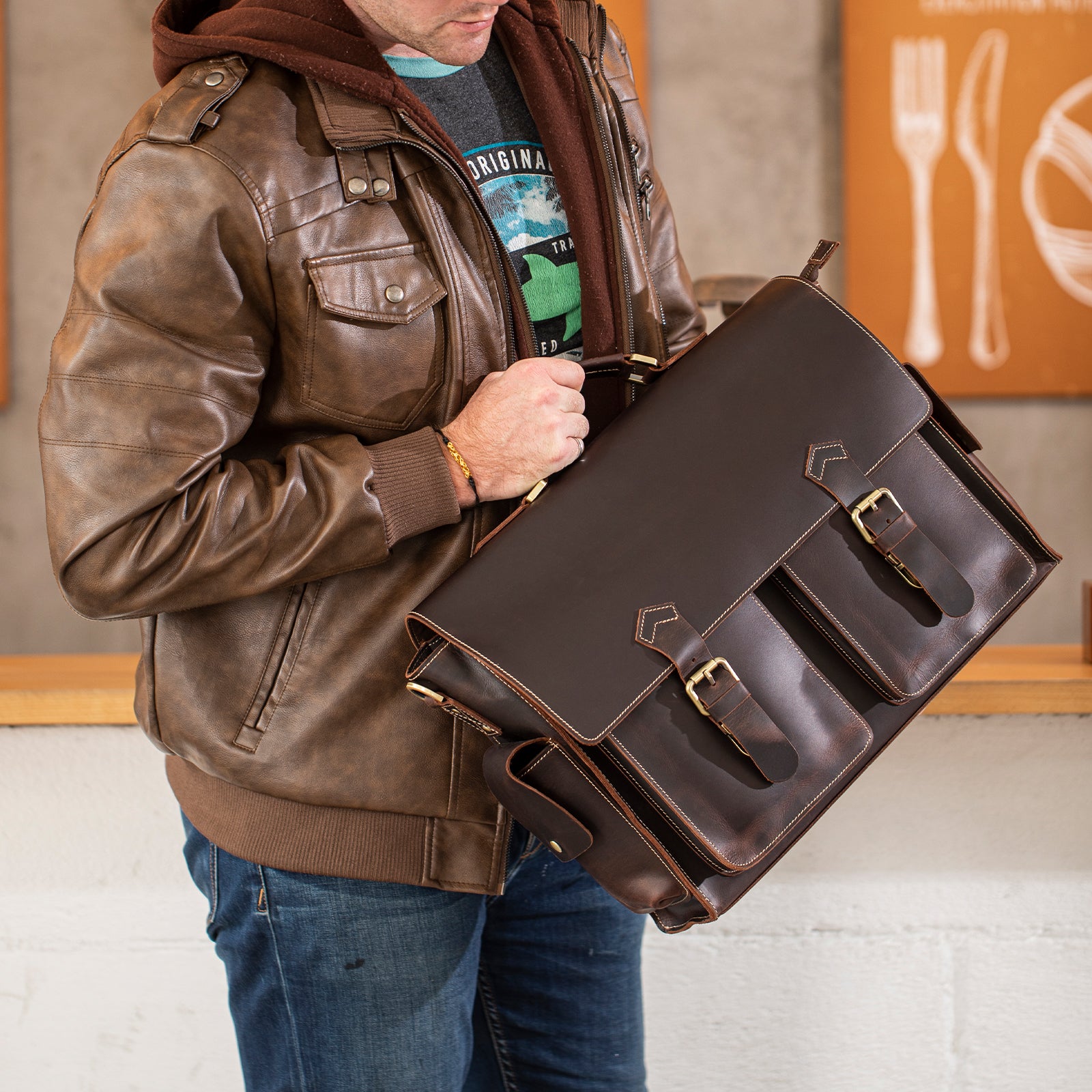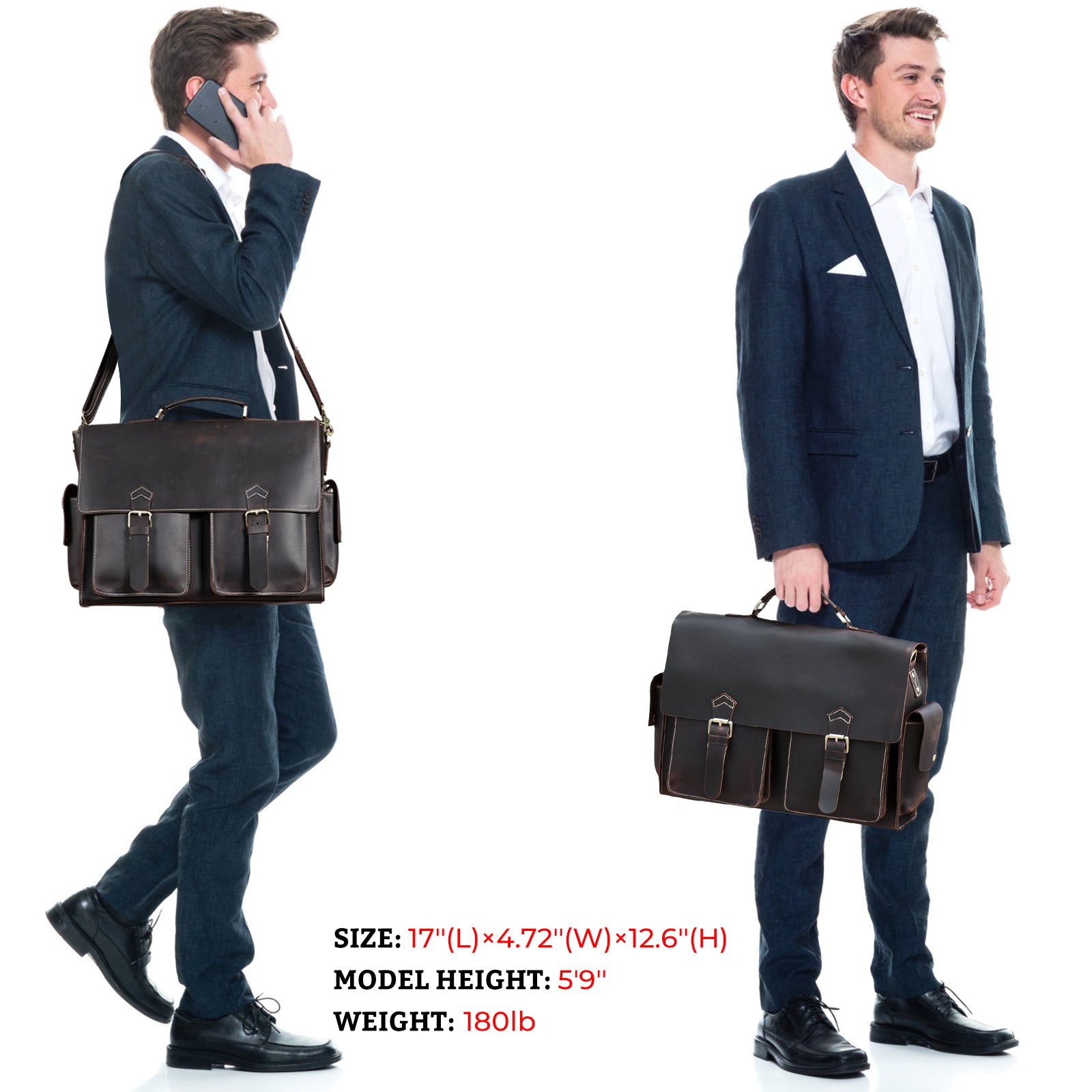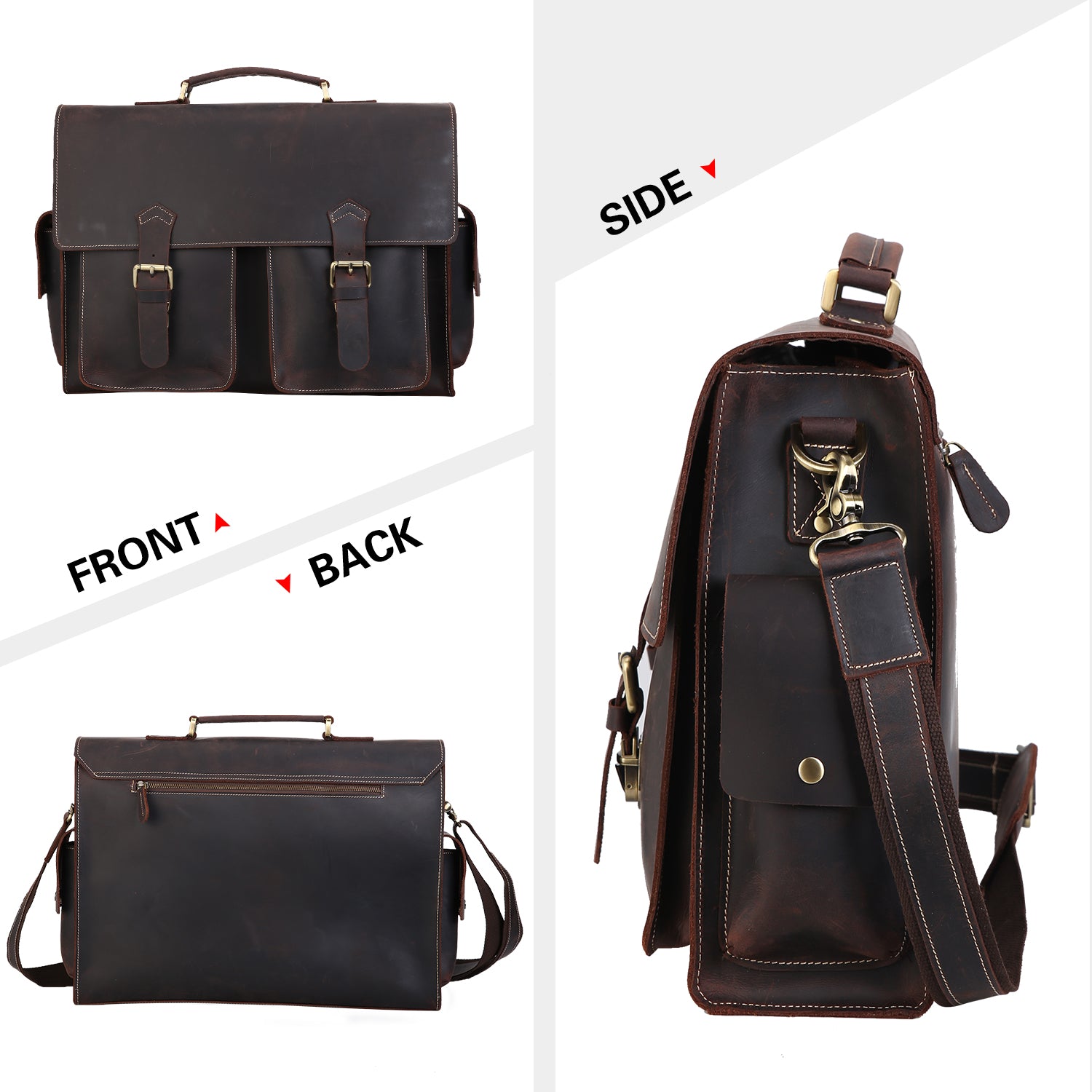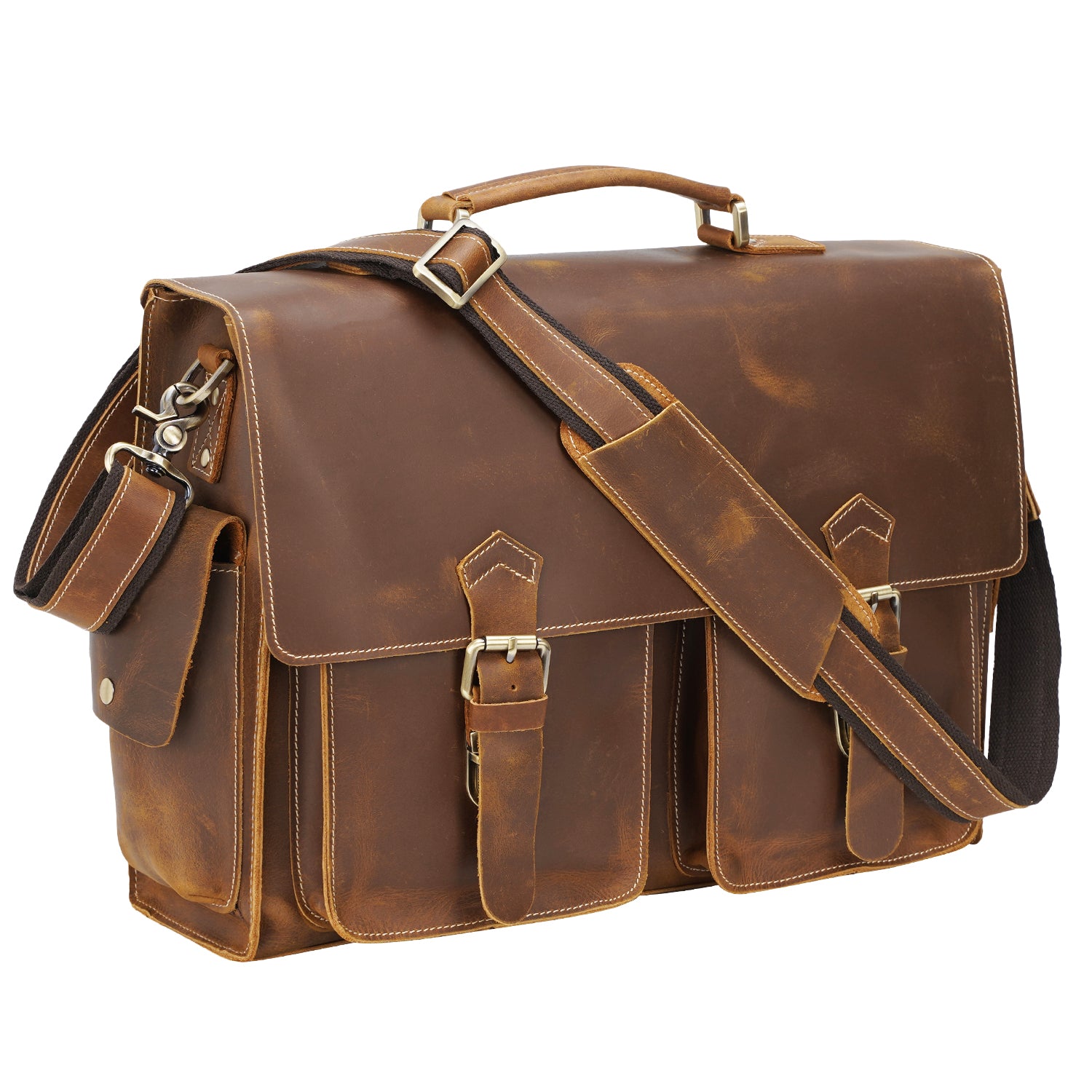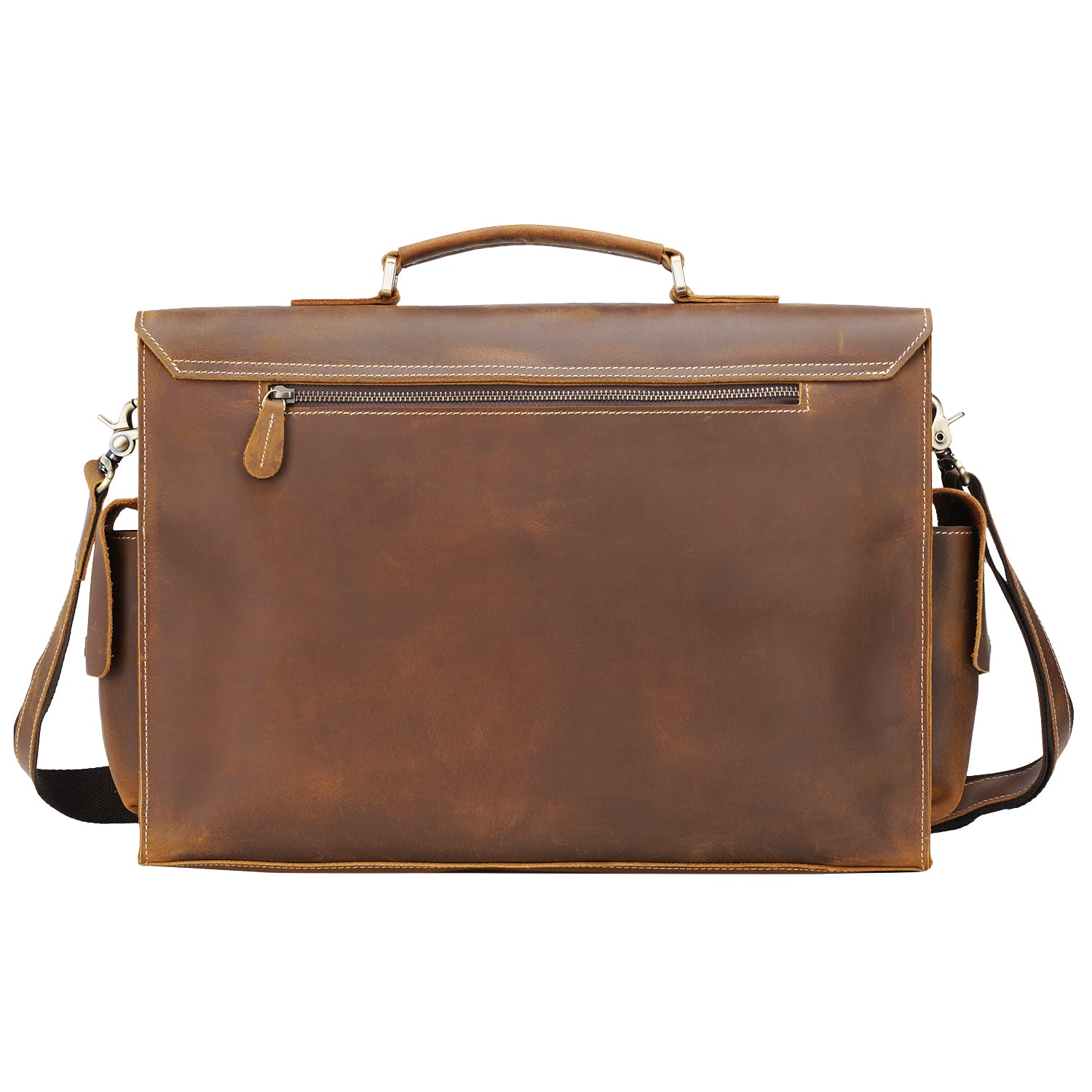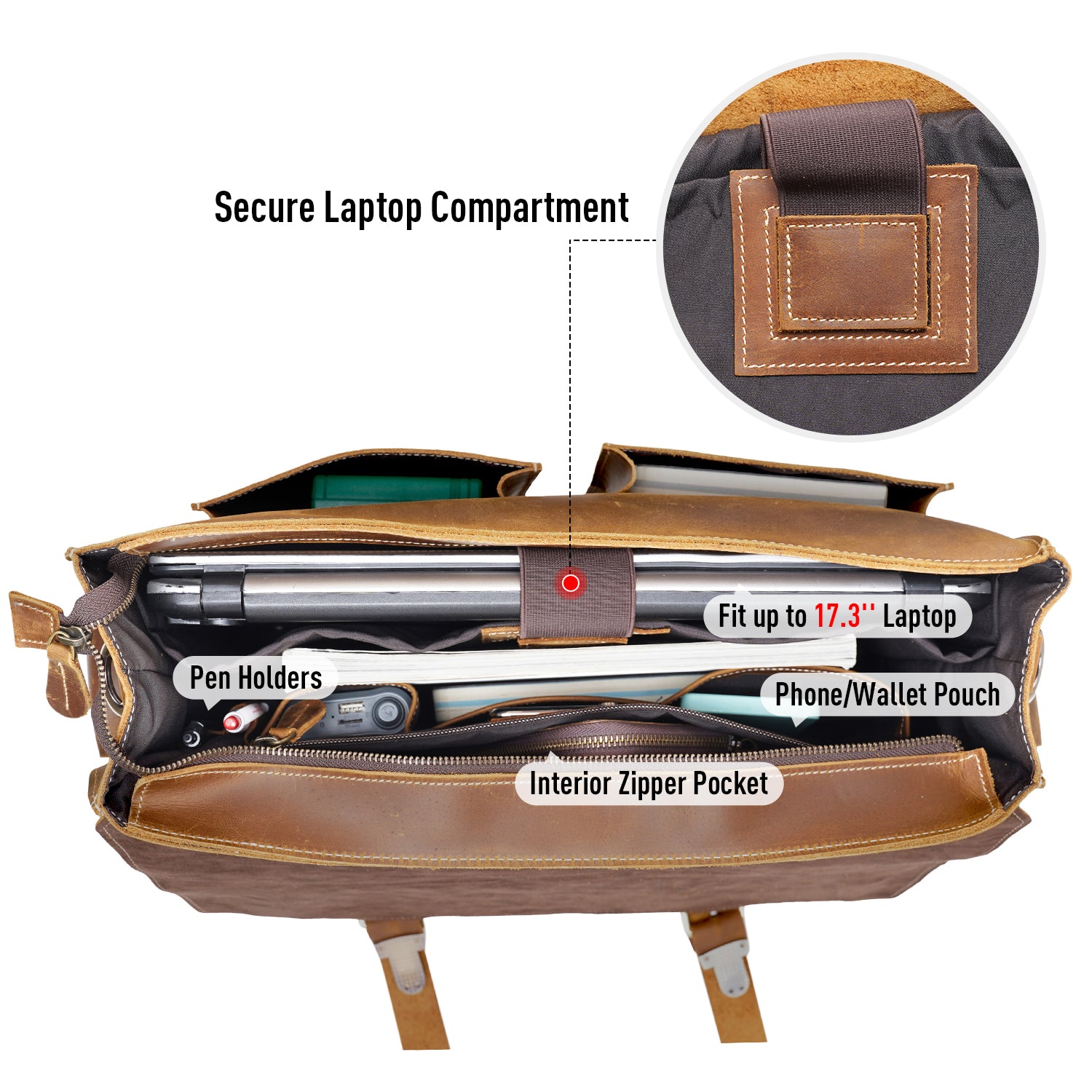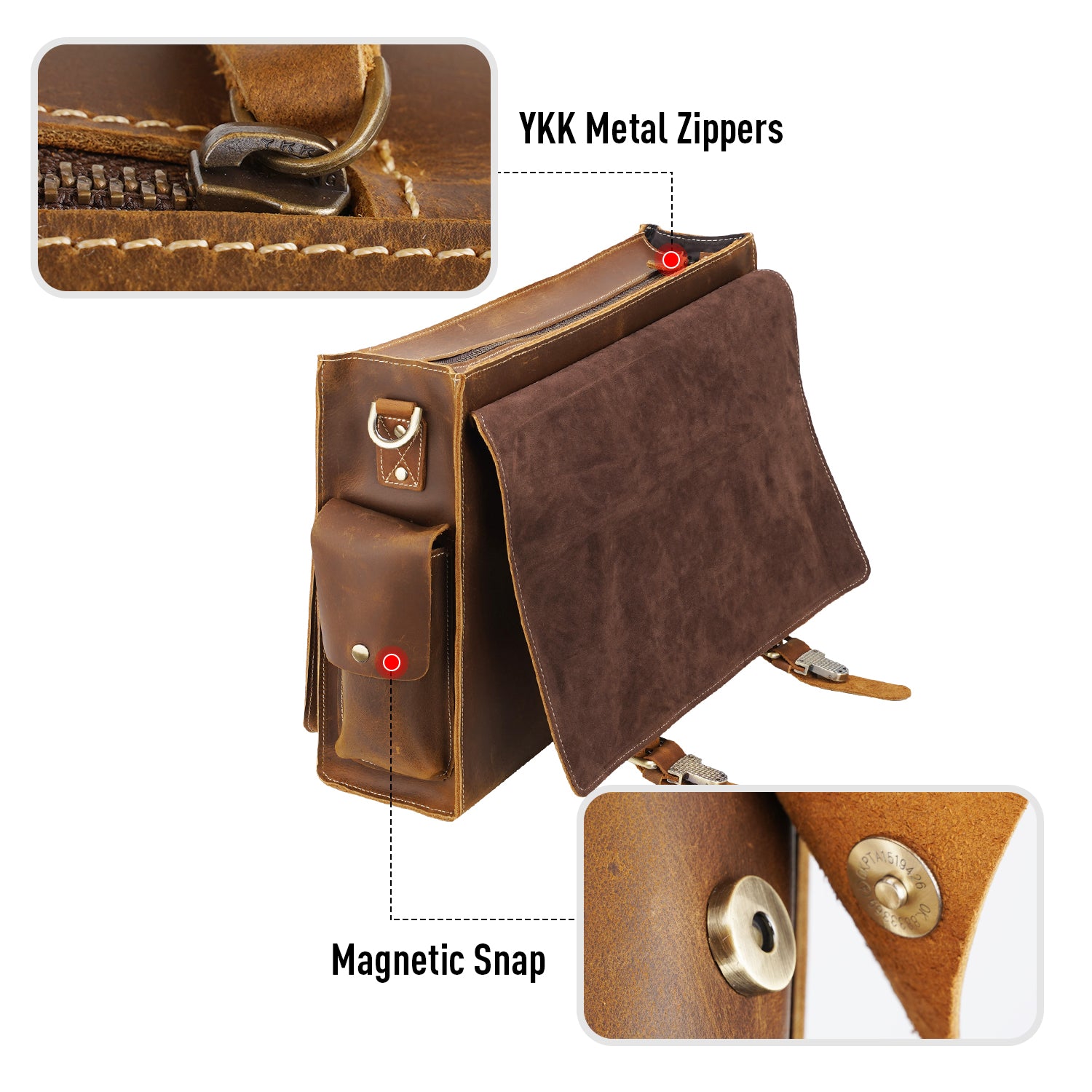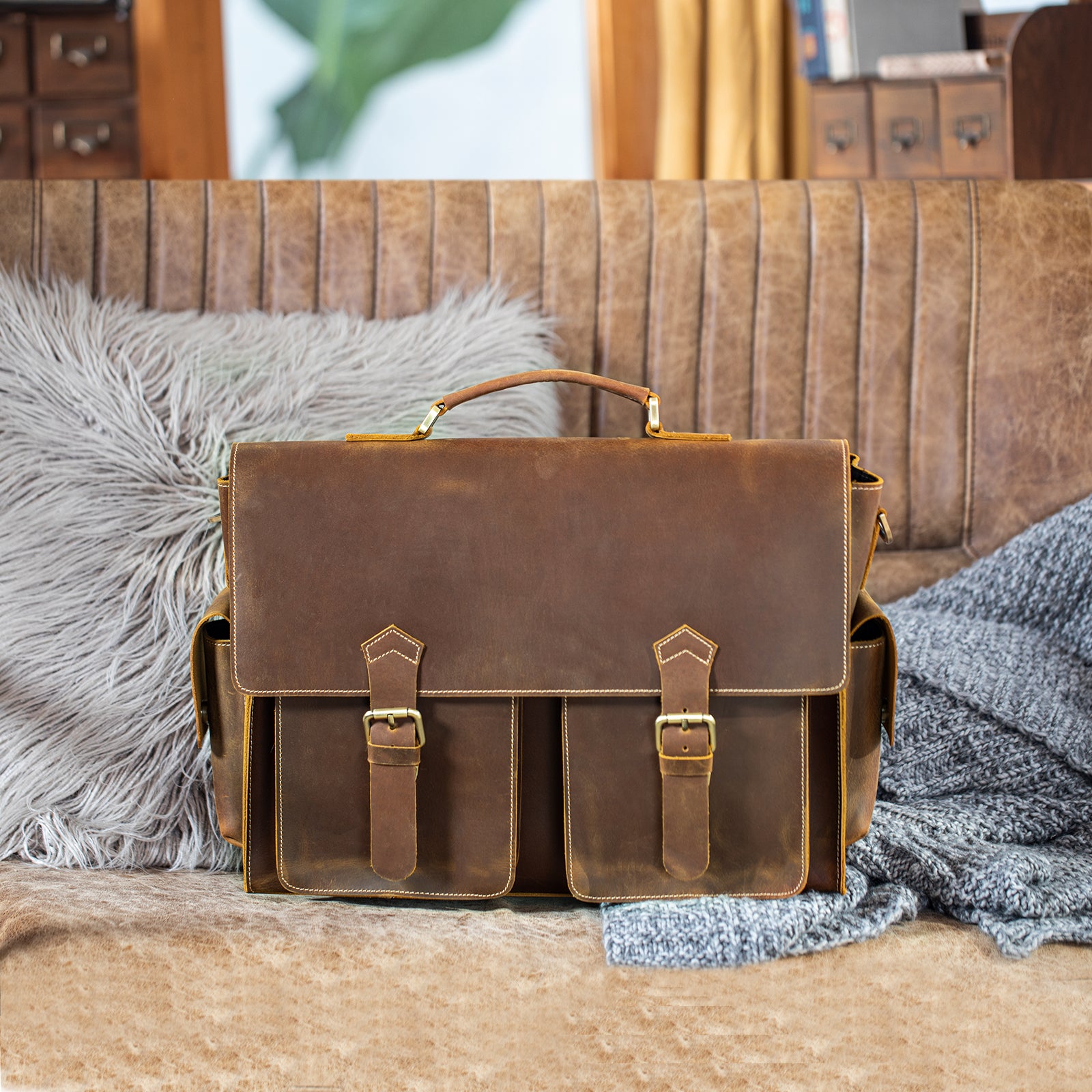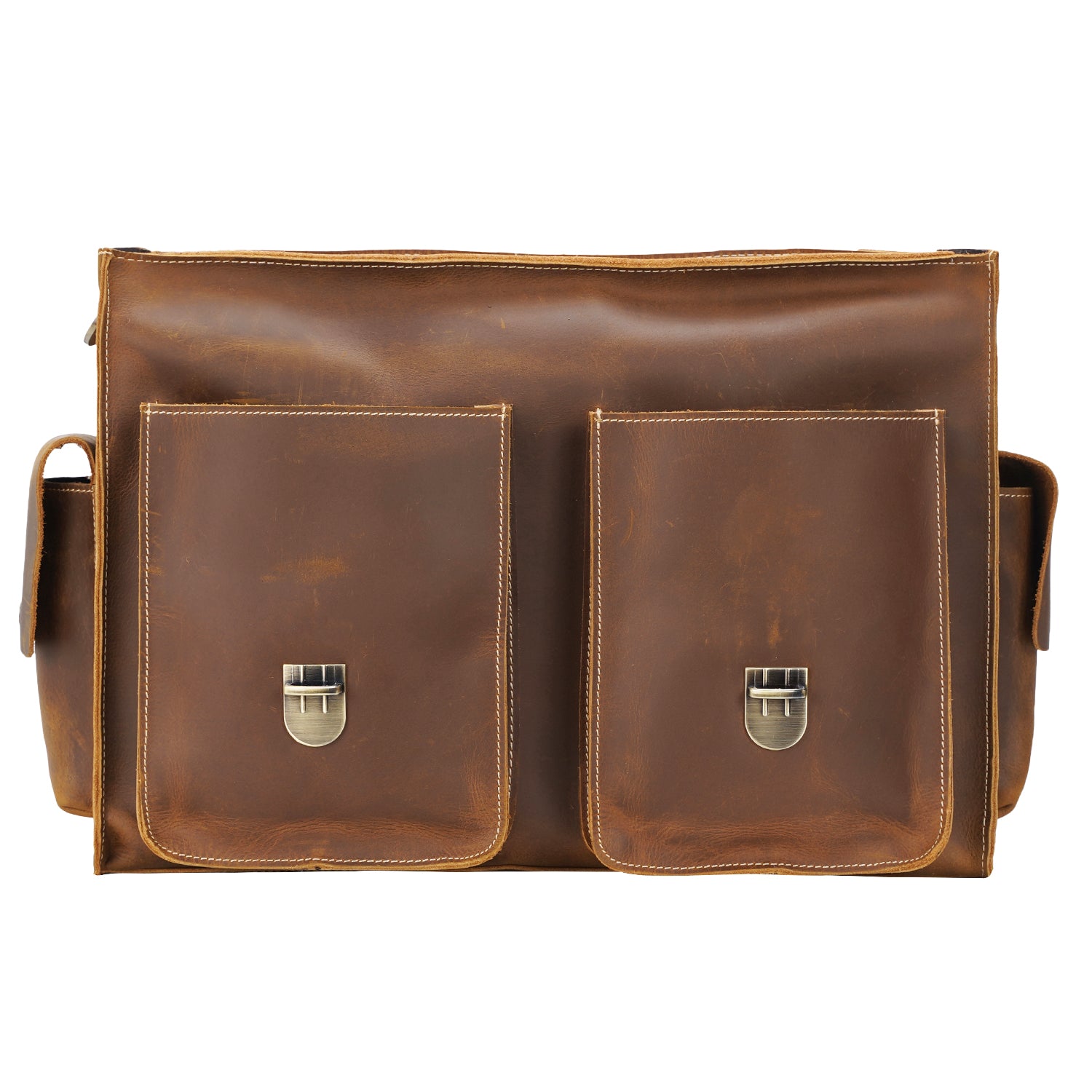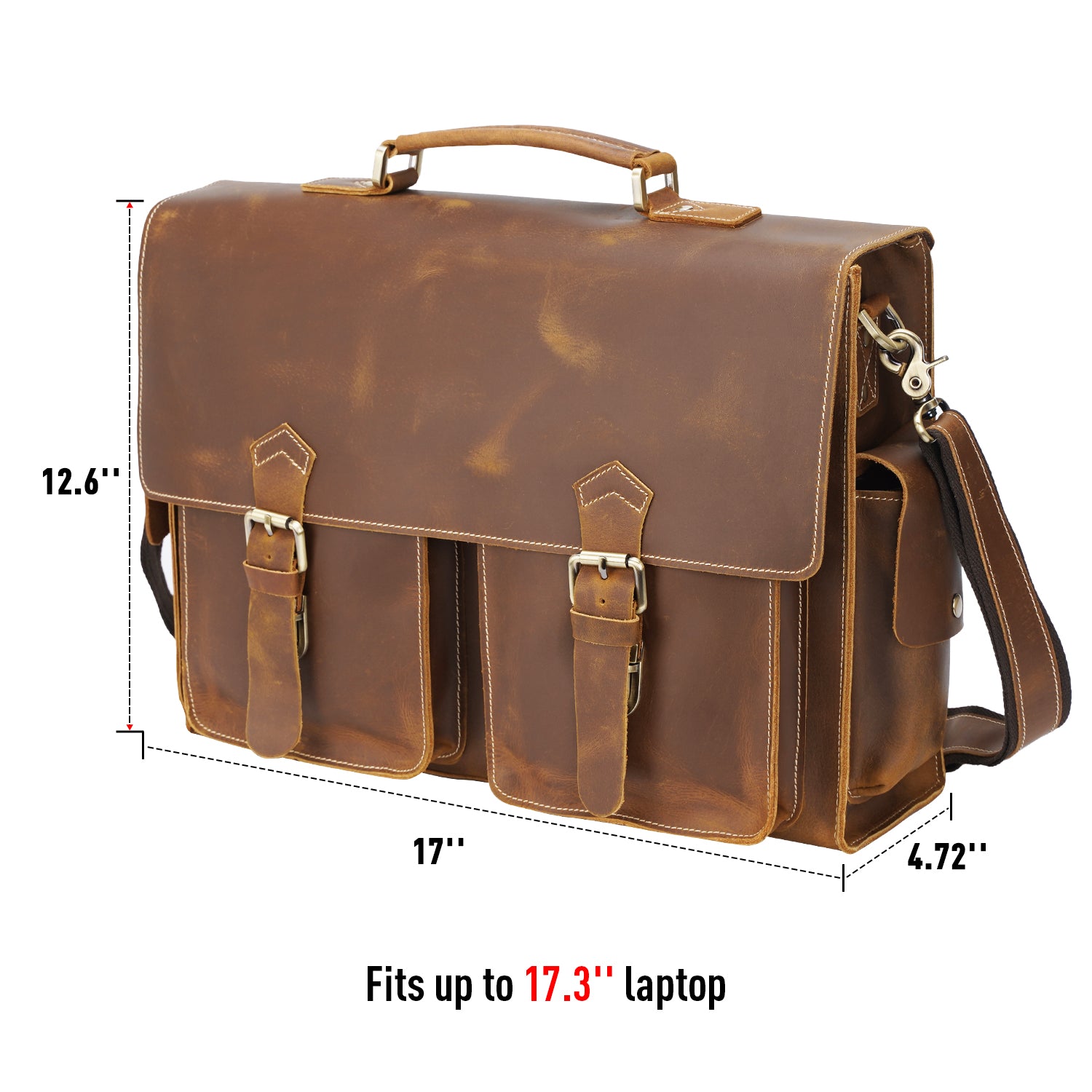 Polare Mens Full Grain Leather Laptop Briefcase Business Messenger Bag Satchel with YKK Metal Zippers
---
- HIGHEST QUALITY MATERIALS. Crafted from pure full grain leather imported directly from Italy, decorated with bronze-coloured hardware for a professional and trendy yet sturdy appearance, only use YKK zippers to ensure quality and reliability.
- FUNCTIONAL POCKETS ORGANIZATION. Two big pockets organization for all your daily needs, can fit for ipad and note book etc.
- PERFECTLY SIZED BOTH FOR PROFESSIONAL AND CASUAL UTILITY. Dimensions: Length 17 in.±(43cm) x Width 4.72 in.±(12cm) x Height 12.6 in.±(32cm) with an approx. 3 in. handle. Net Weight: 4lbs. (1.85kg). Fits laptops with up to a 17.3 in. screen size.
  1 YEAR MANUFACTURER'S QUALITY WARRANTY!!!! If you have any problem after purchase within 1 year,pls contact us:service@polareoriginal.com. We will try our best to support you.
Product details

- Style: Messenger Bag/Briefcase/Shoulder Bag
- Material: 100% Pure Full Grain Leather
- Color : Dark Brown/Light Brown
- Dimensions: 17" L x 4.72" Wx 12.6" H
Ships Same Business Day, Delivery Time: Within 3-7 Business Day!

POLARE proudly offers FREE shipping on all orders to United States and Canada.
We will ship in same business day when get paid, The delivery time is within 3-7 business day!
Beautiful Bag

I'm very happy with this bag. Looks great and has a good build quality.

Better than expected and far better than other brands, but not perfect.

This Polare messenger bag has greatly exceeded my expectations and is far better than similarly priced bags that I've tried, mostly because of the high quality leather.

One huge problem with a lot of leather bags (and leather products in general) is that the leather is very thin and sometimes they'll sew sheets of thin leather together to make it seem thicker. So it caught my eye that the description said that this bag was made with 2mm thick leather.
I measured all over it with calipers and while not every piece is 2mm thick, most of it is, which is very impressive and makes the bag fairly tough and high quality. I'll put the thickness measurements at the end of this review.
The leather is a very nice color too, it's a very dark brown that's not as edgy looking as a black bag but still looks very professional.

Another thing I dislike about a lot of bags is when they have permanent branding. But this Polare bag very nicely has none, it just has a removable leather tag with the Polare logo on it.

This bag is also surprisingly big, it is only one of two messenger bags I've ever found that is big enough to hold a Dell Alienware R17 laptop. I imagine it's big enough to hold anything someone would be putting into a messenger bag.

While it is a very good bag that I would recommend to most anyone, it does have some problems and things that could be better.

The biggest problems are the false advertising.
The description says that the bag has a cotton lining inside, when the bag I got has a polyester lining. I do not mind and in fact would probably prefer polyester lining, but it is still false advertising from Polare.
The description also says that the zippers are YKK zippers, but these on mine have no branding on them.

The only two real problems I've found are that the finish on the leather scratches too easily (a fingernail will scratch it), and that it could use more stitching in some places. The flap has double stitching holding it to the body of the bag and everything else is single stitched, but some other areas could really benefit from double stitching, mostly anything that gets pulled on (the shoulder strap connectors, flap straps, handle connectors, etc).

Something that's not necessarily a problem but could still be better is the shoulder strap. The strap is made of cotton canvas with a thin leather strip sewn to the outside for aesthetics. While the cotton strap does look cool, a thick leather strap would be higher quality and more durable.

One thing that's just personal preference, is that I would prefer if the side pockets were held closed with snap buttons instead of magnets. Magnets seem a little cheap.

Overall though I would definitely recommend this if you're looking for a messenger bag. It looks very professional and stylish and still uses higher quality materials that should last a long time. It has some issues, but nothing very serious, and it's far superior to bags I've seen from other brands.

The leather thickness measurements that I took with machinist calipers:
Flap: 3mm
Flap straps: 1.75mm
Front pockets: 2.1mm
Sides of front pockets: 1.3mm
Main body front wall: 2.5mm
Main body side walls: 2.2mm
Main body back wall: 2.45mm
Main body bottom: 1.6mm
Side pocket flaps: 1.5mm
Side pocket walls: 2.0mm
Inside compartment pen holder: 0.9mm
Top handle: 1.9mm
Shoulder strap connector: 2.0mm
Leather sewn to shoulder strap: 1.1mm
Bottom of shoulder pad: 1.9mm
Top of shoulder pad: 1.6mm
Removable brand tag: 1.8mm

Perfect, and priced just right!

This bag is absolutely beautiful! I got the dark brown and completely love it! I purchased it as a teacher bag, and it has all the compartments I was hoping for. The end pockets have snaps just in case you want to put some thing in there that might fall out. The zipper and clips are all heavy duty so I'm not at all worried about breaking. It also has a few compartments inside for a pen, my cell phone, and a few other small things. I plan on leaving my purse at home throughout the week when I go to my classroom because this bag gives me everything I need! The laptop sleeve has a strap so no worries about your computer falling out and there is plenty of room for my teacher planner, etc. The leather is beautiful and soft, and I'm looking forward to using it so it becomes mine!

Top quality

Great product, more durable than i thought.

Thank you for your support.

Fantastic

Fantastic craftsmanship, great for all occasions. Very sturdy and durable.

Thank you for your support.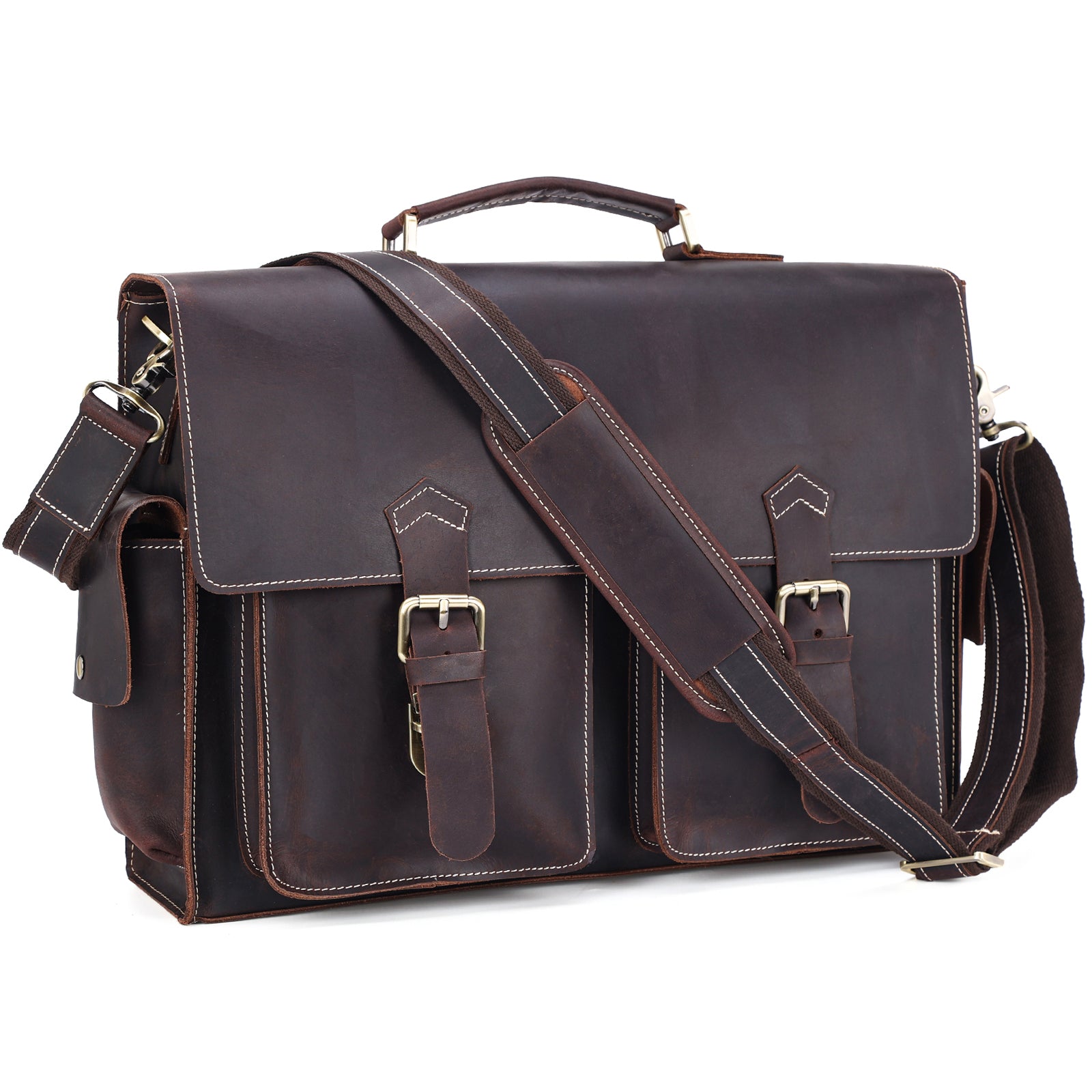 Polare Mens Full Grain Leather Laptop Briefcase Business Messenger Bag Satchel with YKK Metal Zippers
Sale price

US$129.99
Regular price
Choose options