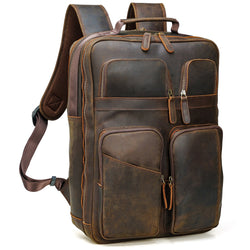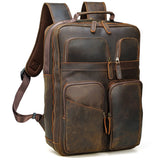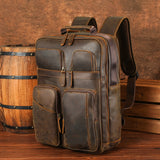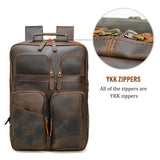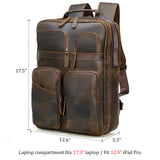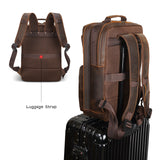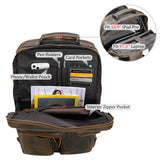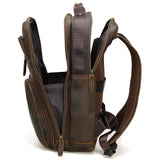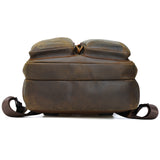 Polare 17.3 Inch Full Grain Leather Backpack for Men Multi Pockets Business Travel Laptop Rucksack
Buy Without Risk - We guarantee 1 Year Quality Warranty and Lifetime Customer Service!
Handcrafted by Artisans - Made of Full Grain Leather with YKK Zipper, durable hardware and soft cotton lining. Over time and use, a nice unique patina will develop.
Designed for Storage - Features two large compartments and variety of front and interior zipper pockets, laptop compartment can accommodate a 17.3 inch laptop, better for all your daily needs. The travel strap on the back of the bag makes combining luggage a breeze.
Dimensions - 12.6(L)*5.3(W)*17.5(H) inches. Weight: 3.75lb.
Improved Breathable & Soft Padding Backside - The back side comes with protective padded design, breathable and comfortable, easy to carry throughout all day.

PRODUCT FEATURES:

- Color : Brown/Light Brown

- Style: Laptop Backpack/Travel Bag/Casual Daypack

- Material: 100% Pure Real Italian Leather

- Dimensions: 12.6(L)*5.3(W)*17.5(H) inch

- Ship From USA

1 YEAR MANUFACTURER'S QUALITY WARRANTY!!!! If you have any problem after purchase within 1 year,pls contact us:service@polareoriginal.com. We will try our best to support you.
POLARE proudly offers FREE shipping on all orders to United States and Canada. We will ship in same business day when get paid, The delivery time is within 3-7 business day!
Great PDW bag
I use it to hold my CZ Scorpion, laptop, and tablet at work. Great quality leather and craftsmanship!
Great Buy
This was a great buy. With so many pockets to organize stuff, the bag is sturdy and stylish at the same time. I can carry my 17.3 inch laptop without any issue. The first time I used it was a momentous occasion in my life - hospital bag for birth of my son!! And the bag served me extremely well.
PERFECT for Traveling Professionals with Big Laptops!
This was exactly the right bag for me, I made the right call.
I have a 17" workstation laptop and a separate graphics tablet, and I work on the go. It's kind of the dream, right? My "office" is wherever I want it to be... except, I have to take all my stuff wherever that is, which means I need a big bag to carry it all. And my laptop alone cost $4000+, so it also better be a tough bag that won't fail - it has to protect my computer at all times.
So right off the bat, I'm excited about the size of this bag. It fits my big workstation perfectly and it has PLENTY of room for the XL charger that computer needs, and the extra tablet gets its own whole pocket. It also fits my chunky programmable mouse, extra device cable, graphics pen, about half a dozen pens and pencils, a stack of notecards, a mini dictionary, a mini paper tablet, two sets of headphones, and there's also a ton of extra space, like I could really get way more in here. I'm pretty sure I could fit like a textbook or a hoodie or something, at the very least I know I can fit a whole 'nother laptop because I bought my girlfriend the same one I use (for Christmas) and hers fits in my bag WITH mine.
And the leather is super thick and supple, which, that's a word I never thought I would have to use but it's the only one that actually makes sense. The leather is sturdy and tough, like leather should be, but it also feels soft and has a lot of move/flex to it. The zippers are metal, which feels tough for now (and I hope it holds up). The straps are wide and soft, so kind of surprisingly the bag actually fits on my giant shoulders (I'm 6'3 and built like a fat football player lol, I have a big wingspan and a thick torso). Just for poops and chuckles I put the bag on my girl too, she's muuuuch smaller than me, and if the straps are tightened most of the way down it fits her as well (though, as for that, the bag is bigger than her torso, so it's a little funny to see).
In any case, the bag is beautiful and functions perfectly for my needs, and honestly I'm also excited about how it was packed and sent to me. I think it shows a lot of care, it was packed inside a protective canvas drawstring bag which was then wrapped in plastic, so i had two layers of protection. And I'm gonna use the canvas bag for something - I don't know what, but it's nice and I'm keeping it lol.
Thank you for your support.