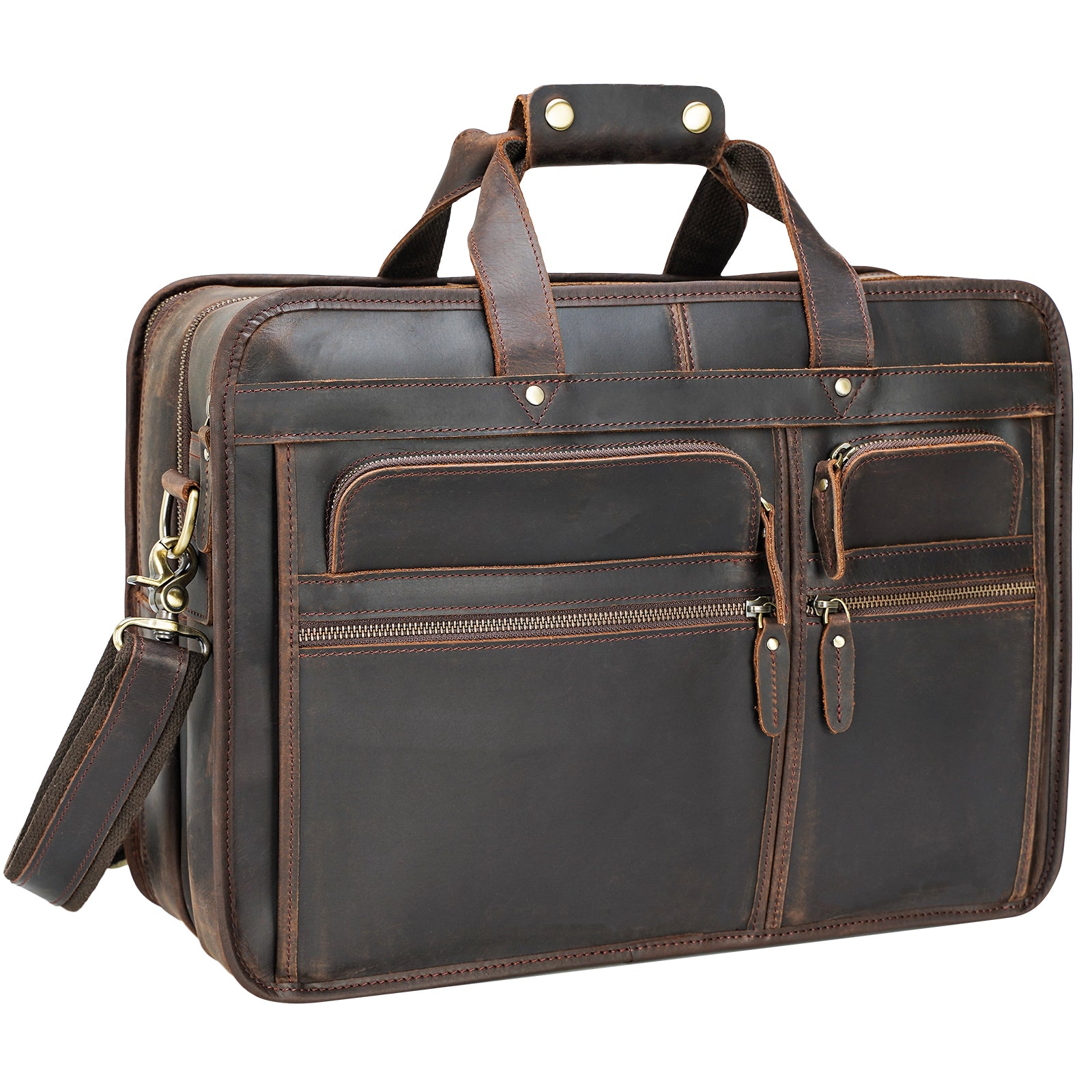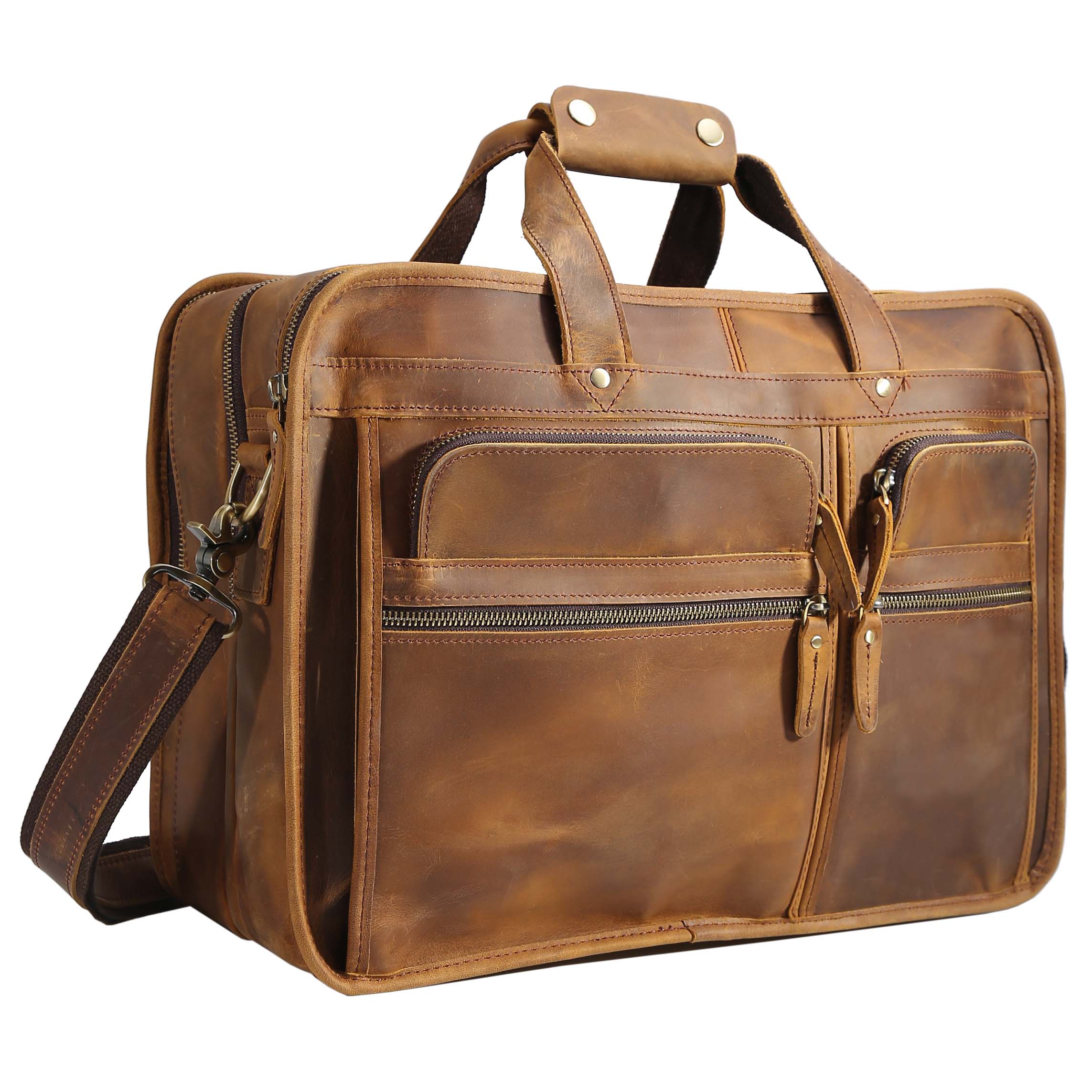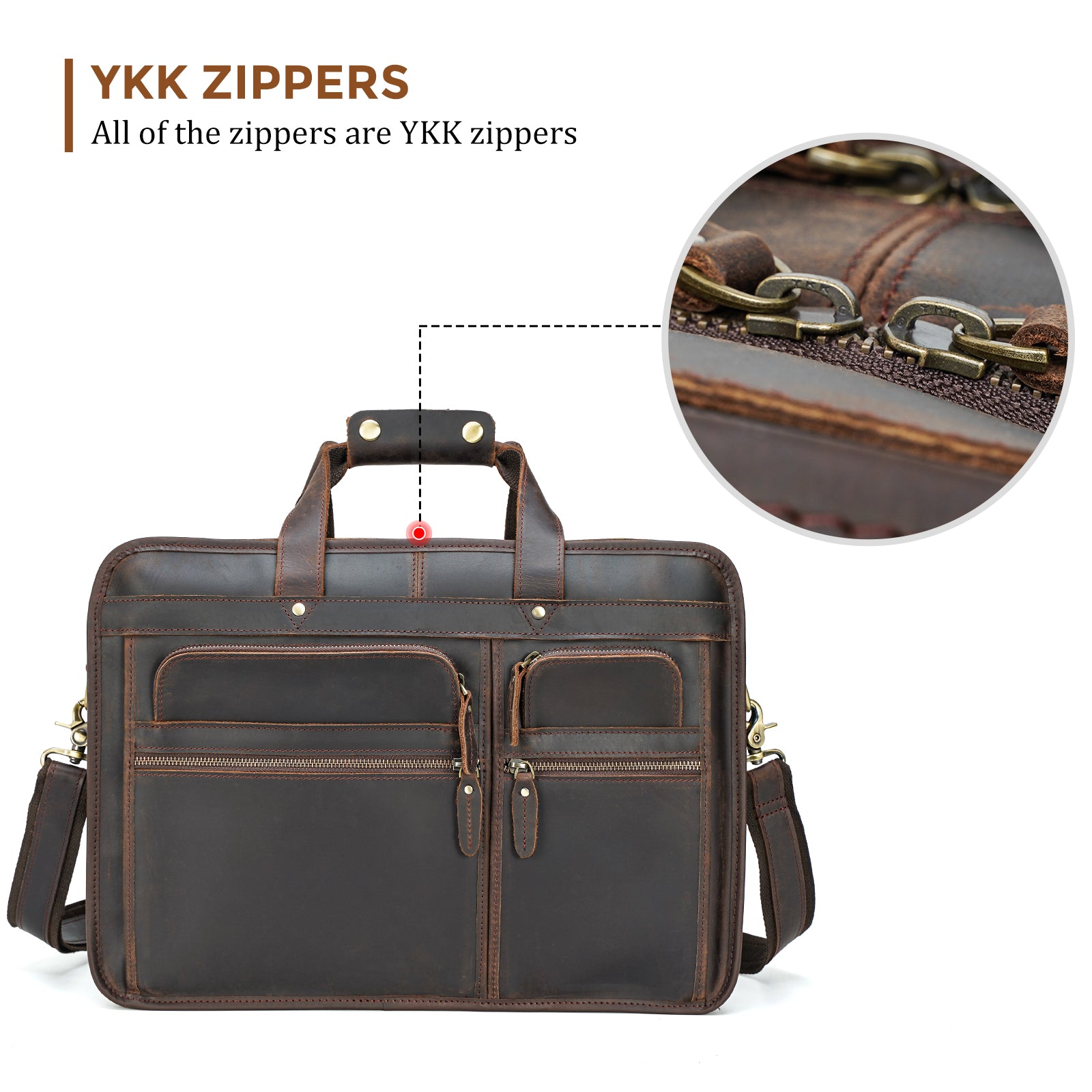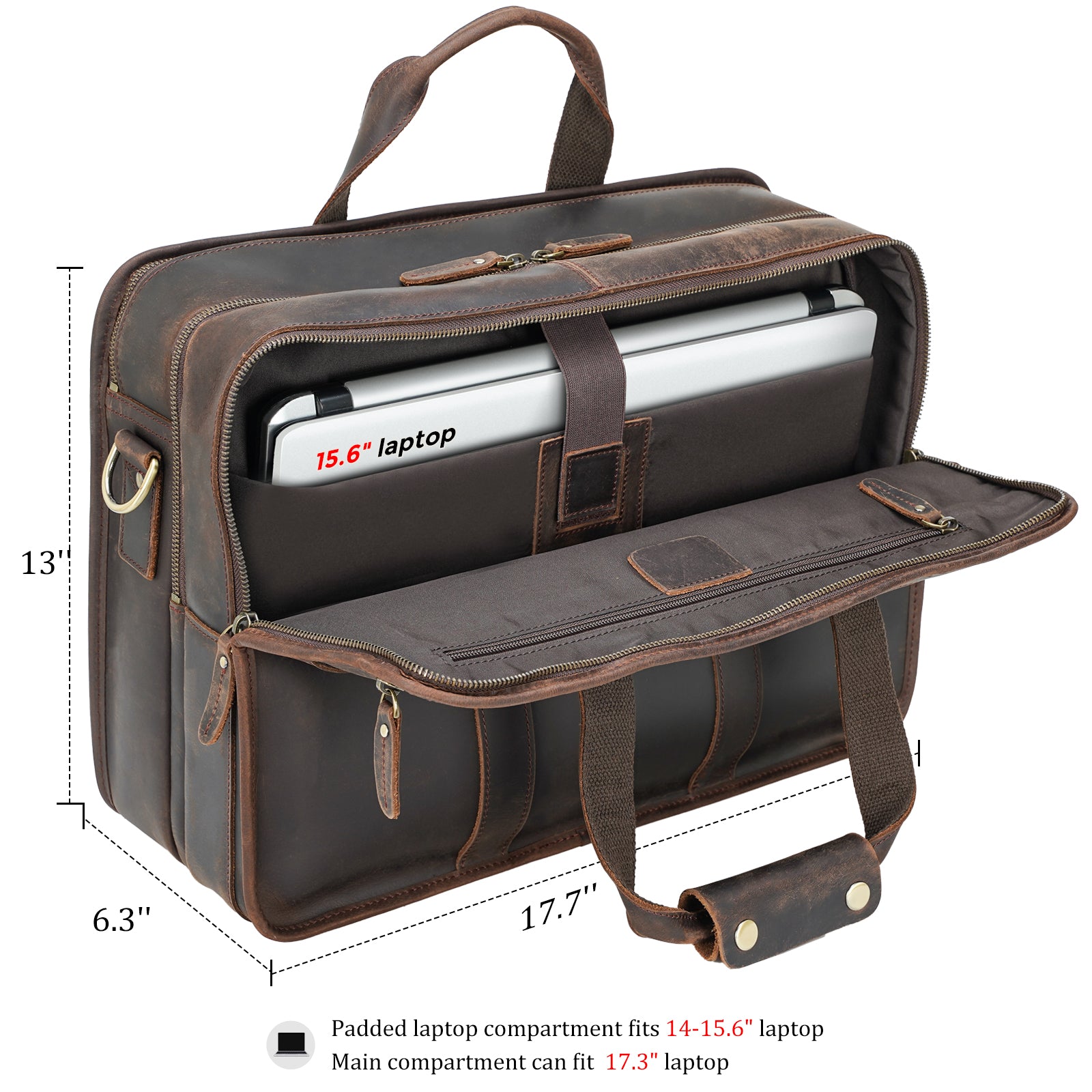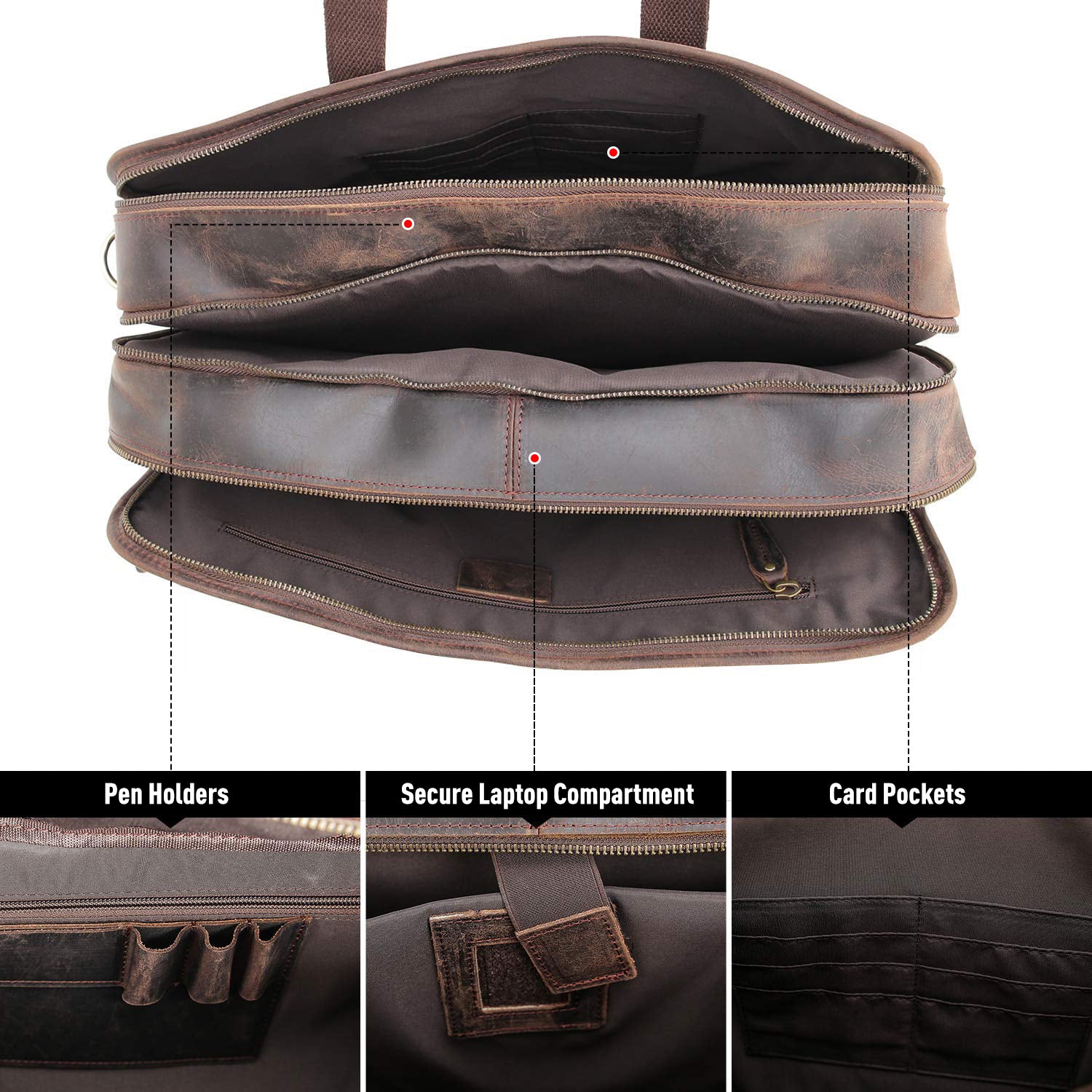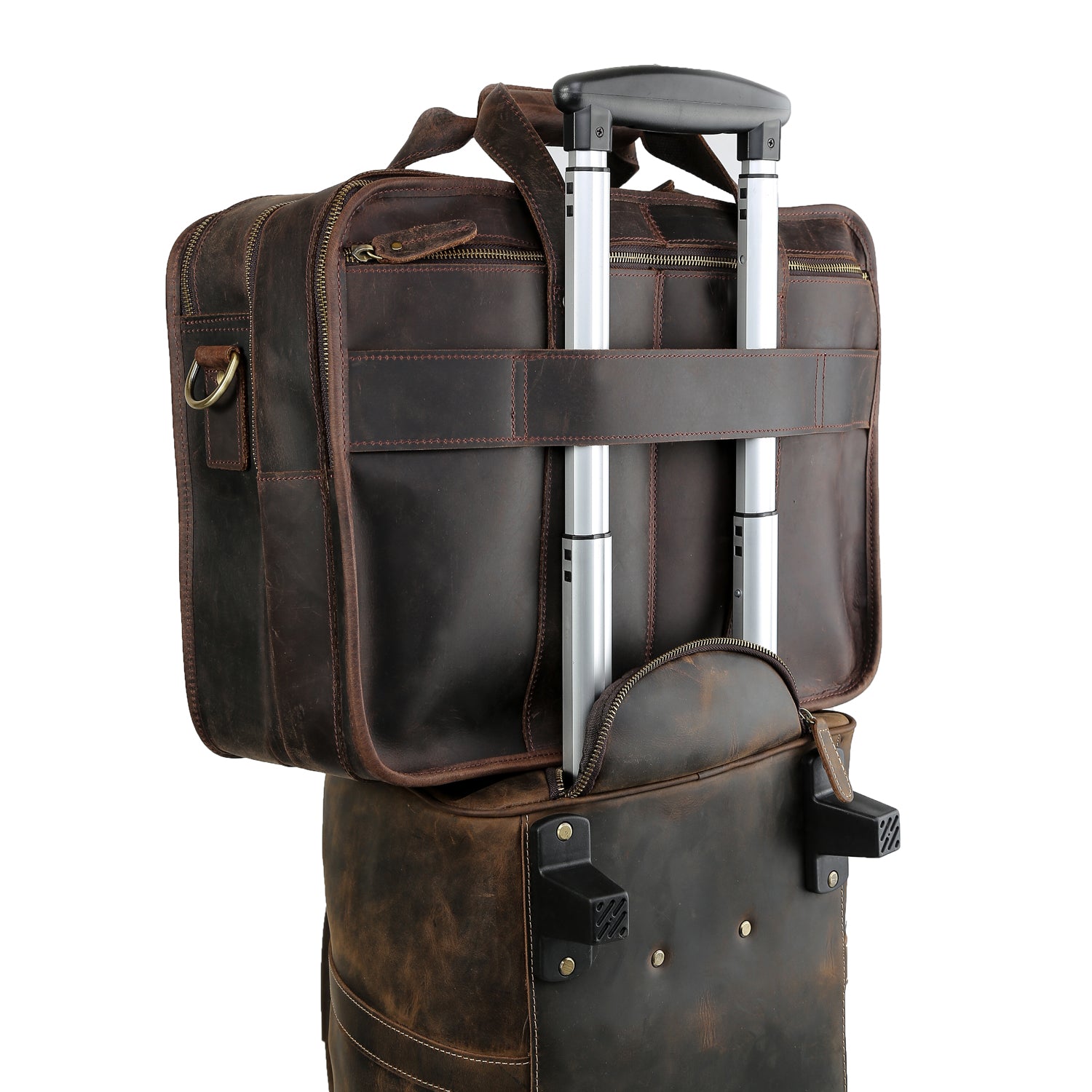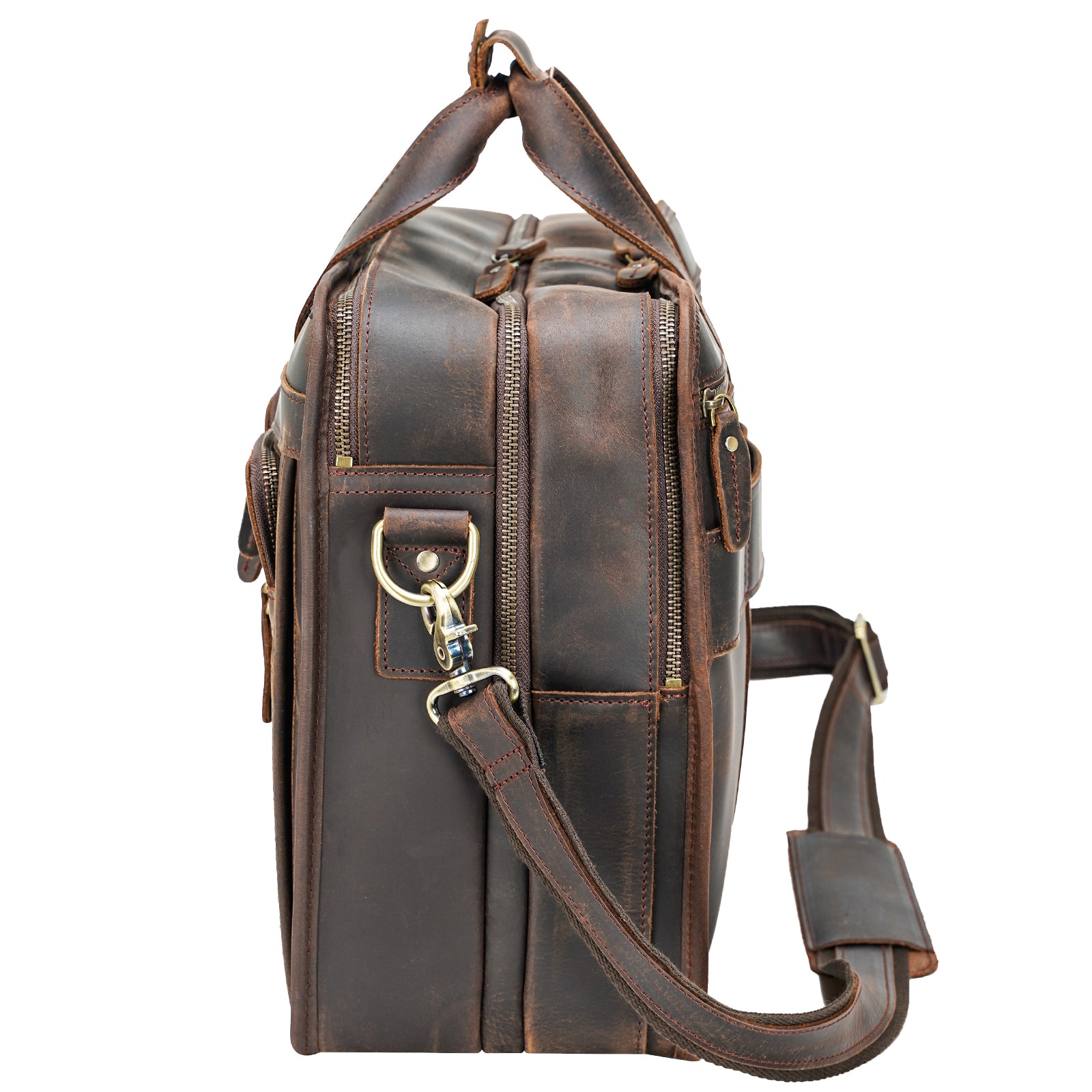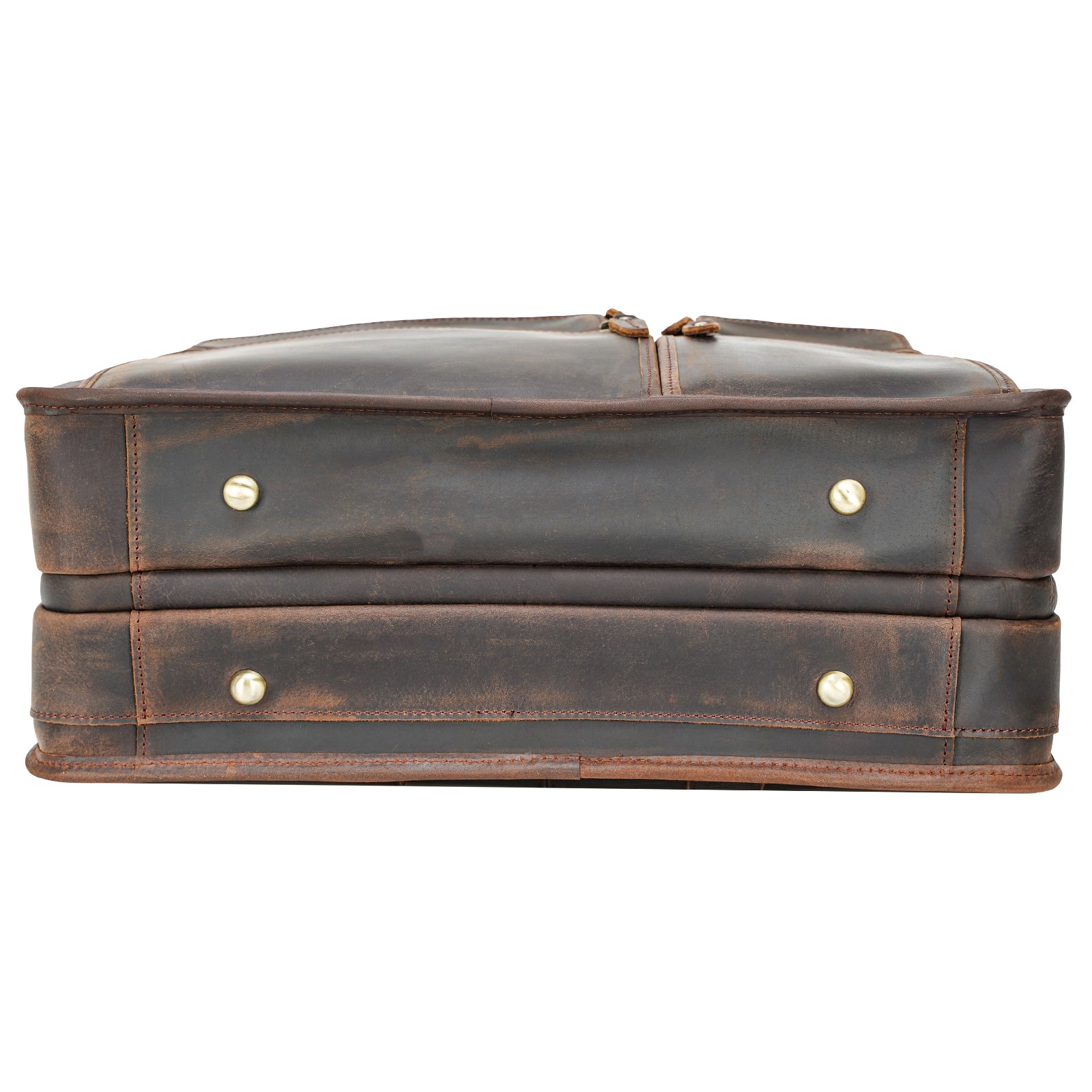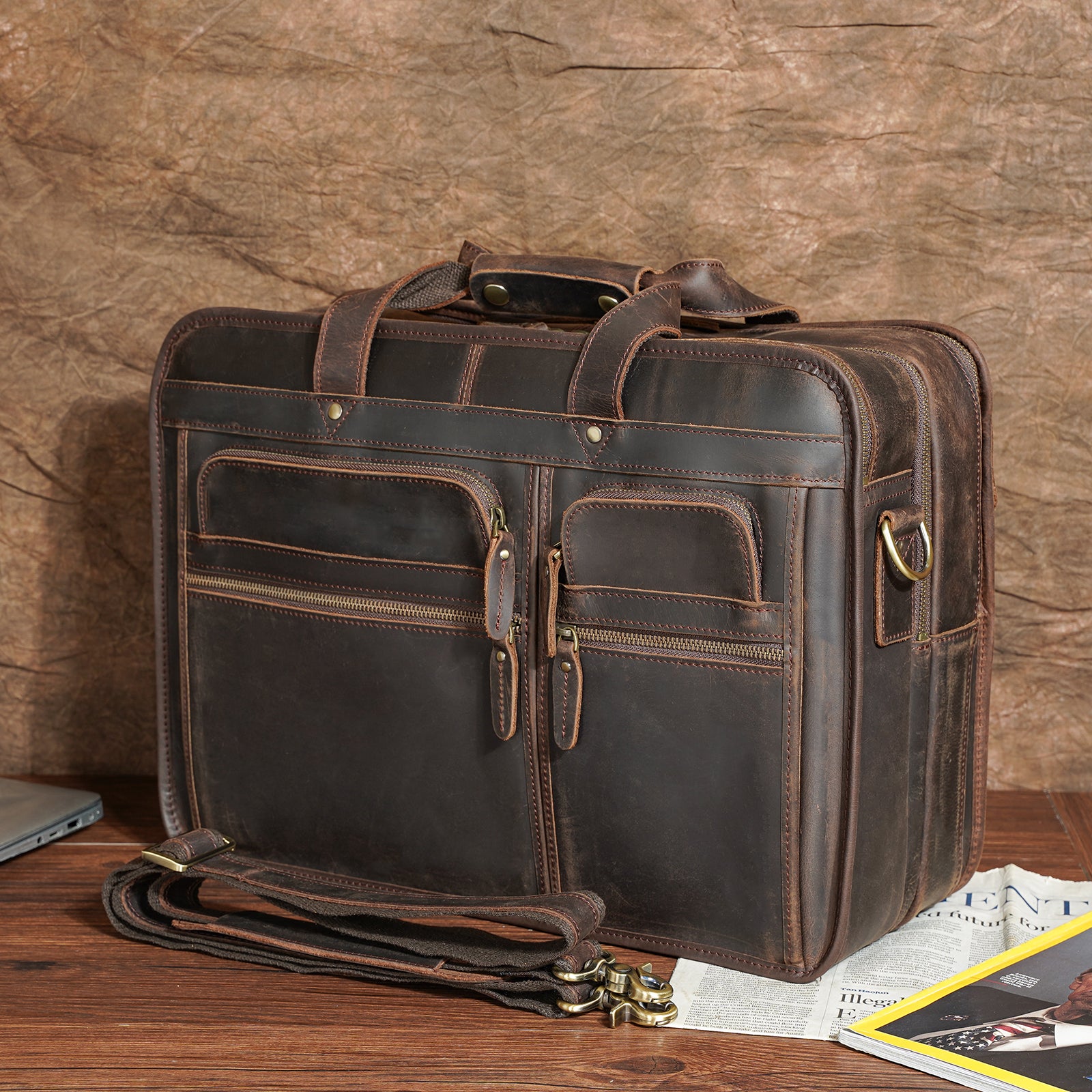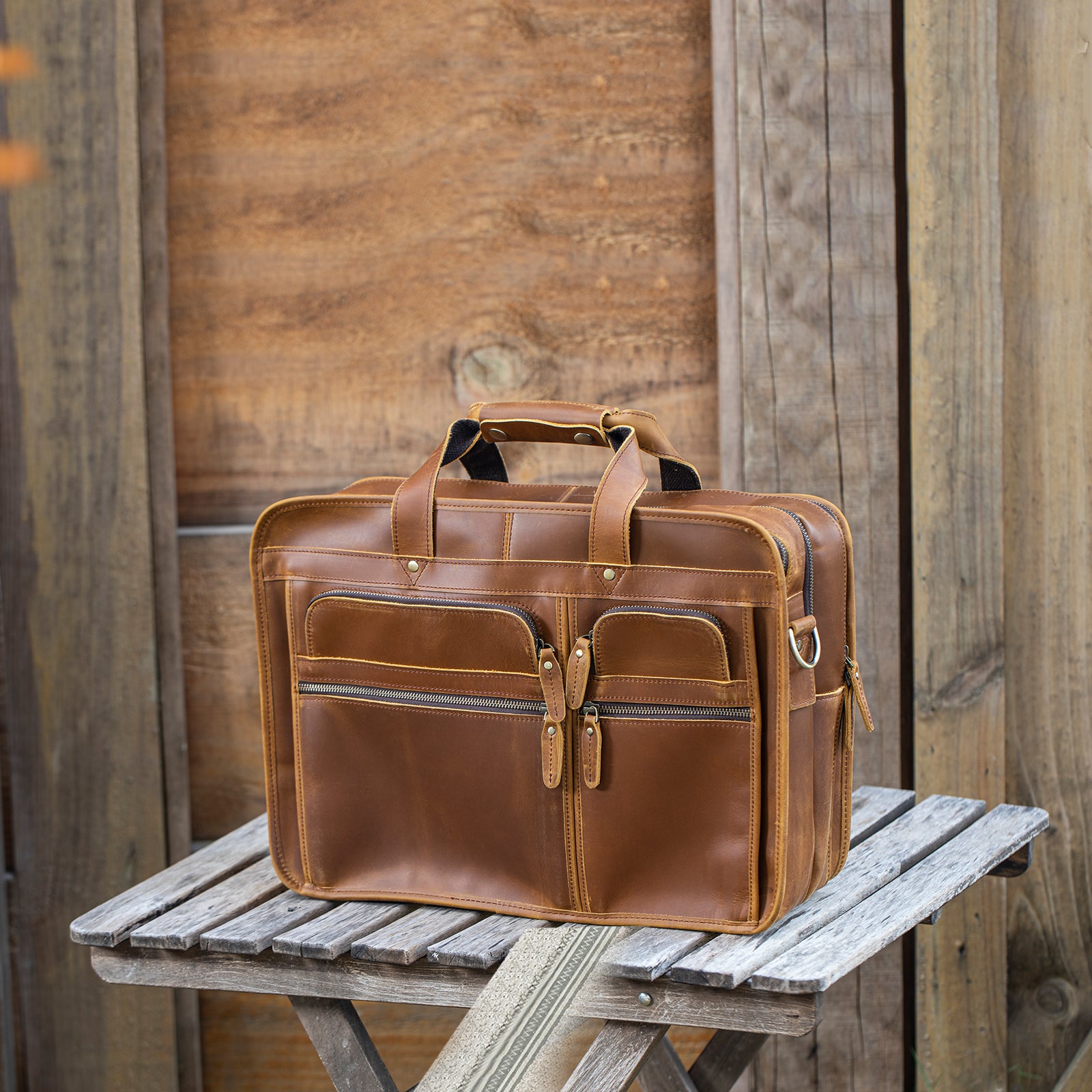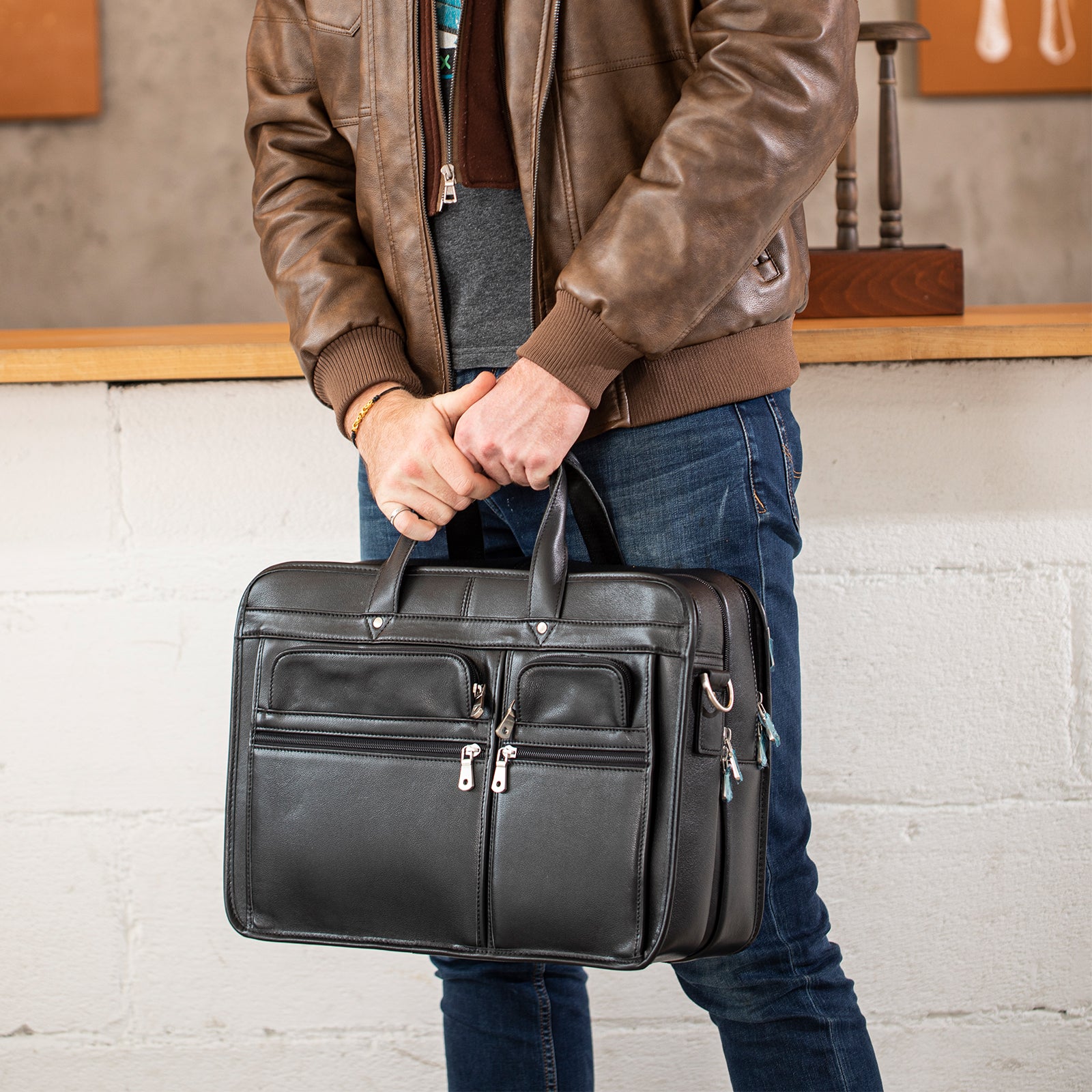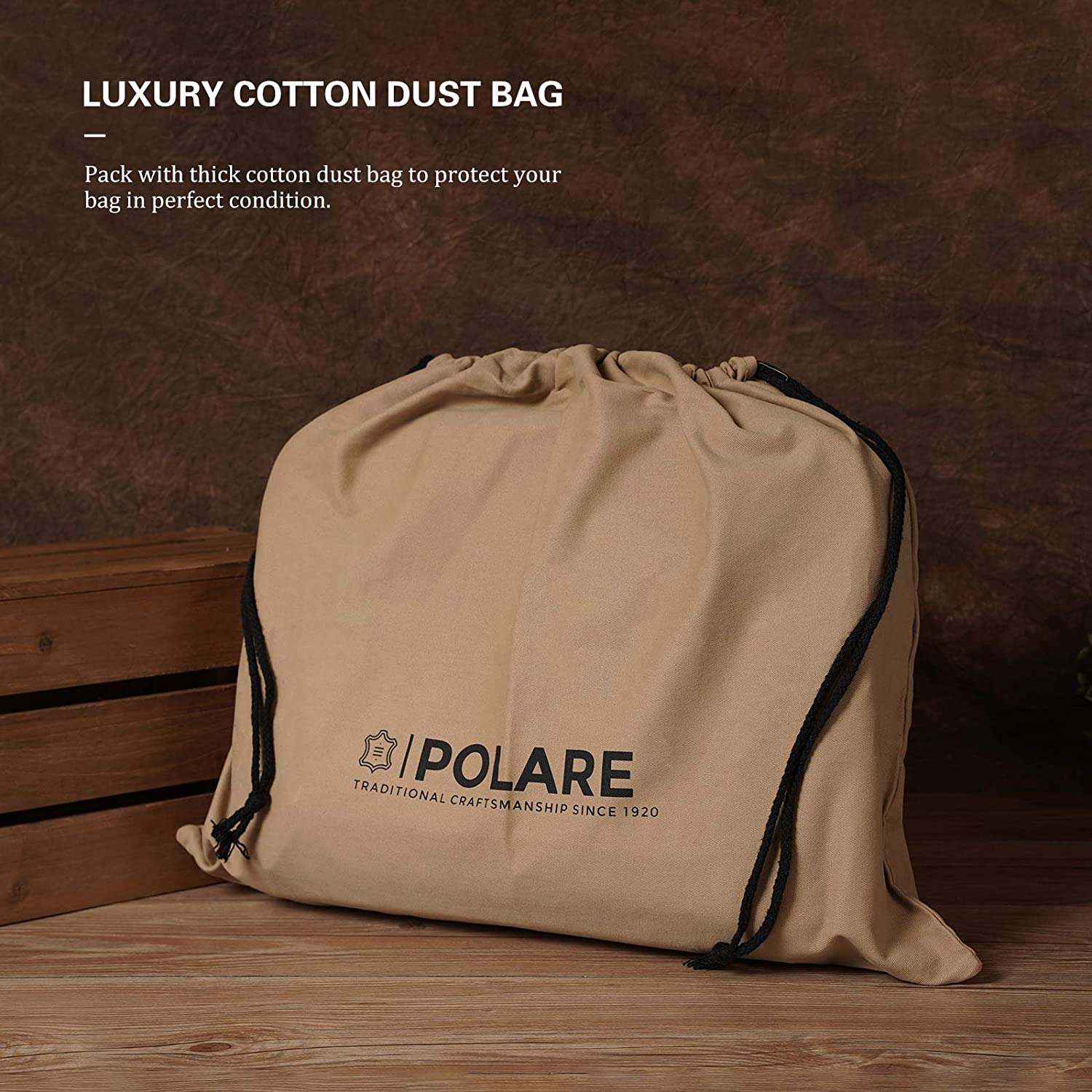 Polare 17'' Full Grain Leather Briefcase Laptop Attache Case Messenger Bag For Men Fits 15.6'' Laptop
---
- Handcrafted by Artisans - Made with Soft Full Grain Leather, outfitted with robust hardware, and premium YKK zippers - Plan to have this for years to come.
- Dimensions - 17.7(L)*6.3(W)*13(H) inches /45(L)*16(W)*33(H) cm. Item weight: 4.63lbs/2.1kg.
- Notes: Padded storage pocket fits 14-15.6" laptop. The other compartments can accommodate a laptop size of up to 17.3". The travel strap on the back of the bag makes combining luggage a breeze.
- Versatile Design: Business meeting? Coffee shop date? Outing with the family? Travel? We've got your back. Our designers know you want to keep it classy wherever the day may take you, we've built a bag that keeps up with you.
1 YEAR MANUFACTURER'S QUALITY WARRANTY!!!! If you have any problem after purchase within 1 year,pls contact us: service@polareoriginal.com. We will try our best to support you.
Product details

- Style: Messenger Bag/Shoulder Bag/Briefcase
- Material: 100% Pure Full Grain Leather
- Color : Dark Brown/Light Brown/Black
- Dimensions: 17.7''*6.3''*13''inch.
Ships Same Business Day, Delivery Time: Within 3-7 Business Day!

POLARE proudly offers FREE shipping on all orders to United States and Canada.
We will ship in same business day when get paid, The delivery time is within 3-7 business day!
My new briefcase is great!

My first briefcase was an old hard-side traditional style that was made of alligator. Nice, about $400 and lasted about 9 years. My next was a Tumi leather that lasted me 15 years. It cost about $700. My next was an off-brand leather bag that cost about $400 and only lasted about 5 years. Never got to like that bag. So far this new Polare bag is amazing. It checks all the boxes, and at $159, what a bargain. I look forward to every scratch on this bag as a badge of honor and can't wait to see what it looks like and feels like 4, 7, 11, and 15 years from now. Can't tell you how impressed I am with the value of this bag. Will be telling all who ask about it to buy a Polare!

Fantastic product!

This briefcase/messenger bag is made with loving care. The leather is top notch, the zippers are strong, and the product looks and feels durable. I looked at many other briefcases and this one is the winner!

Rugged and a looker

My husband is a plumber and excavator that works inside and out. He has had the same bag for many years and it held up,it was a nylon blend. The problem? It is ugly and unprofessional looking as it was bulging at the seams with no storage. There weren't individual pockets for supplies so it was a hunt to find a pen, receipt or scratch pad. This bag is a looker with leather that will take on a nice panting, many pockets and very quality made. Bottom line, impressive!

Thank you for your support.

Great Quality

What a gorgeous bag! 3 large compartments and plenty of storage space. The leather is beautiful!

Thank you for your support.

So close

This might be the first time I ever give a product four stars and return it. The bag is beautiful. The leather is thick and supple and the finishings all look solid, inside and out. This feels like a bag you would hand down to your kids, who would hand it down to theirs. It's the way the storage is designed that ruins it. There are some small issues - a oddly large number of credit card pockets and far too few useful pockets for pens, chargers, etc - but the main problem is how limiting the main storage areas are for a bag this big. The bottom of the bag expands nicely, so it looks like you could put a ton of papers, notebooks, laptop, etc in it, but the interior is divided into three, discrete sections that are each too small to be useful. I don't think I'm describing it well, but it's like a car from the 70s that is huge on the outside and cramped on the inside. I'll keep it a week to bring back and forth to work and may revise it up or down a star depending on how it goes.

Thank you for your support.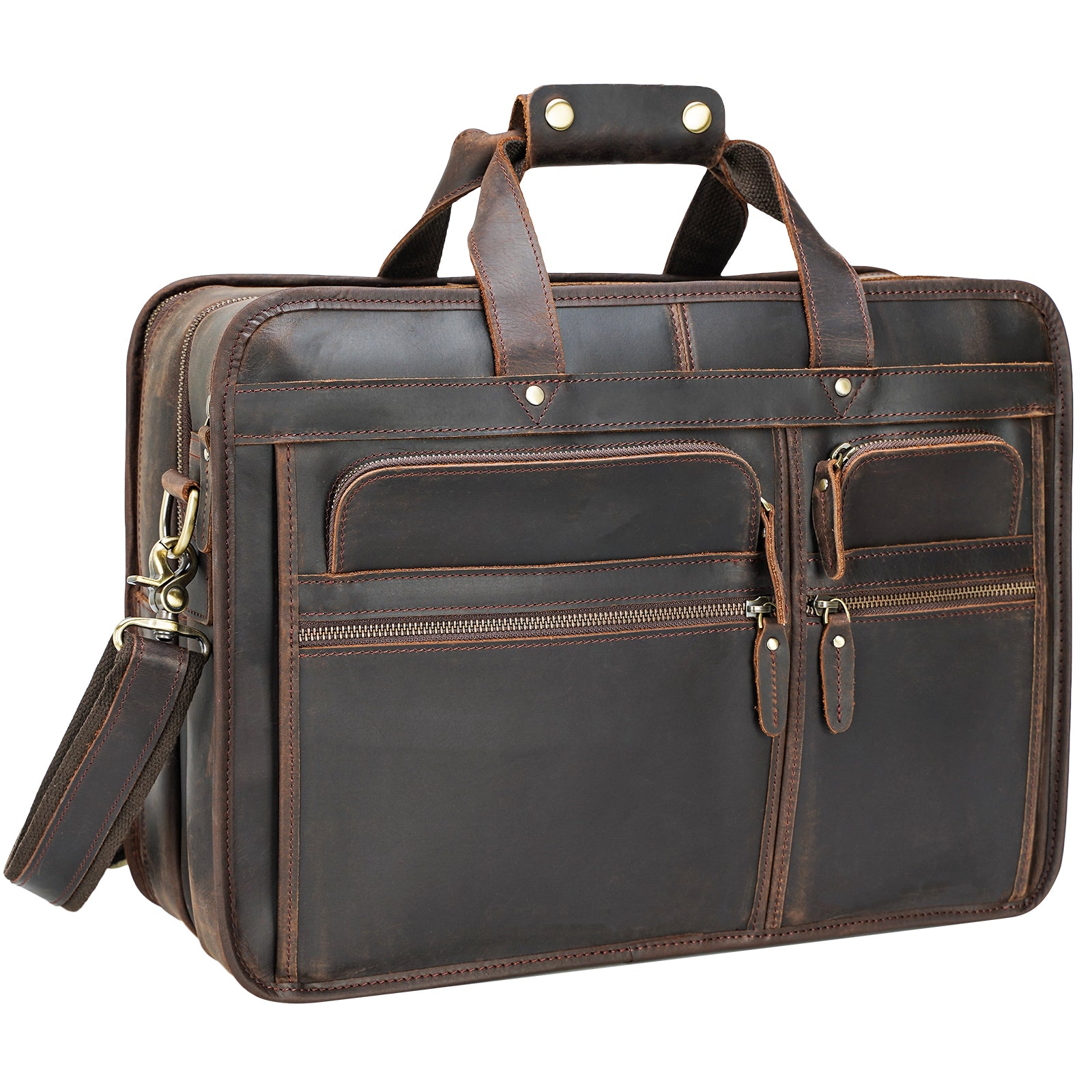 Polare 17'' Full Grain Leather Briefcase Laptop Attache Case Messenger Bag For Men Fits 15.6'' Laptop
Sale price

US$159.99
Regular price
Choose options