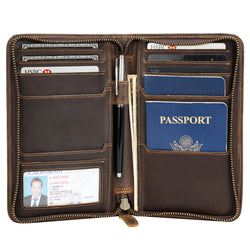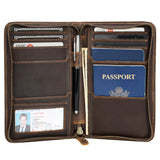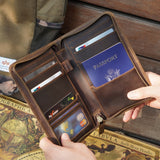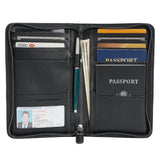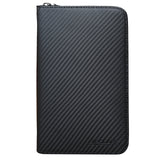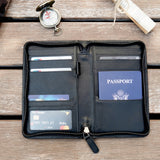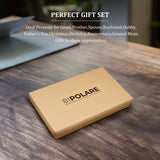 Polare Full Grain Leather Passport Holder Cover Case for Men RFID Blocking Travel Wallet Holds 4 Passports
Premium Material - Each wallet is made from luxury full grain leather with YKK zipper. It has a smooth, soft and luxurious feeling in your hand.
Dimensions - 5" L x 8" H. Item weight: ~0.44lbs. Spacious enough to keep your projects close at hand. This Leather Travel Wallet will hold up to 4 passports, cards and other documents.
RFID Protection - Along with a premium texture, these RFID blocking wallets keep "chip" cards, personal and financial information safe from digital scans.
Travel Organizer - Includes 4 medium slots (for passports & journals), 6 small slots (for Credit Cards, IDs and Business Cards), 2 Large Pockets (for Cash, Receipts, Tickets, Itineraries and other documents), and 1 Pen Holder.
100 % Satisfaction Guaranteed - We proudly stand behind our products with 100% Money Back guarantee.
PRODUCT FEATURES:
- Color: Dark Brown/Black/Coffee/Red/
Retro Brown
- Type: Bifold
-Material: 100% Italian Full Grain Leather
-Style: Passport Wallet/Money Organizer/Card Case
-Dimensions: 5(L)*8(H)inch
- Ship From USA
1 YEAR MANUFACTURER'S QUALITY WARRANTY!!!!
If you have any problem after purchase within 1 year,pls contact us:
service@polareoriginal.com
. We will try our best to support you.
POLARE proudly offers FREE shipping on all orders to United States and Canada. We will ship in same business day when get paid, The delivery time is within 3-7 business day!
Nice
Yea good deal and fit 2 passports perfecto
Sleek looking passport & Documentation pouch
I was looking for a handy & compact pouch to store my family passports and birth certificates and this pouch seems to do the trick. Besides using it for 4 passports and a couple of birth certificates, I also stored my kids social security cards as well. The leather has a nice look and feel. Also place to store a pen as well. I would recommend buying the passport pouch if you're looking for something to store your documentations.
Thank you for your support.
Very pleased
This is a well-made and very useful case. There are multiple compartments that fit cards and passports securely. The leather is also quite nice and gives it a professional, rustic look. This case makes it very easy to have all of your important documents in one place, which is very important when traveling and decreases the risk of any one item getting misplaced.
Thank you for your support.
Very high quality
After 10+ years of using a floppy pleather passport holder, I decided to upgrade - and this was a significant upgrade! I travel internationally a few times a year - often with my family of four. Since our two kids are still quite little, I am constantly juggling all of the documents that come with customs, immigration, and travel - and this wallet should help keep peace of mind during moments when documents matter.
I wanted something that zippered shut - to avoid my worst nightmare of a dropped passport for one of us. The zipper is exceedingly smooth for something so sturdy. It reminds me of a Levi jeans zipper, but smoother - no catching at all. The big leather pull is easy to get a hold of quickly. All four passports fit inside easily without causing the thing to bulge out like my previous one. The pen loop inside is a nice addition. I suspect I'll just leave a pen in there at all times to avoid last minute digging to fill out immigration forms. Boarding docs fit comfortably inside (see pic), but I really, really appreciate the snug back slot for boarding docs for domestic connections that won't require the docs from inside the wallet. Snug enough that I feel they won't fall out without being too difficult to slide in.
Besides the excellent zipper, the leather's quality was the biggest surprise. It's very attractive, and the finish is perfect (for my taste), slightly less brushed than nubuck - a nice matte. I really enjoy solid leather, and can compare this in quality to my Thorogood boots and Hanks 100-year belt as being truly outstanding. Not hard at all to give this wallet 5 stars. I sincerely expect to be using this for at least the next 20 years. I'll try to come back and update it after a couple of years to update how it handles wear and tear - which I suspect it to have no issue.
Thank you for your support.
Beautiful wallet for multiple passports
While we're not doing nearly as much traveling right now as we'd planned, it's always been a bit stressful keeping track of several passports on a family trip. This wallet has space for all of our passports, it's beautifully constructed with solid zippers and nice leather, and it's just honestly really nice to look at and hold. Looking forward to getting a lot of use out of this in the future.
Thank you for your support.